Every wedding we share here on Love My Dress gives us pleasure to do so, but never more so than when the wedding involves one (or more!) of our Little Book Wedding Directory members – a resource full of highly recommended wedding suppliers.
This happens to be one of those weddings – bride Gemma wore an incredible gown by our member Rolling in Roses – , whose founder Hayley Neal is passionate about creating ethical bridal fashion. But more on that shortly. Let me introduce you to this lovely couple first; Gemma, A Technology Project Manager married Investment Manager Andy on 22nd February this year, at The Queen's House in Greenwich, London.
Joasis Photography

+ Follow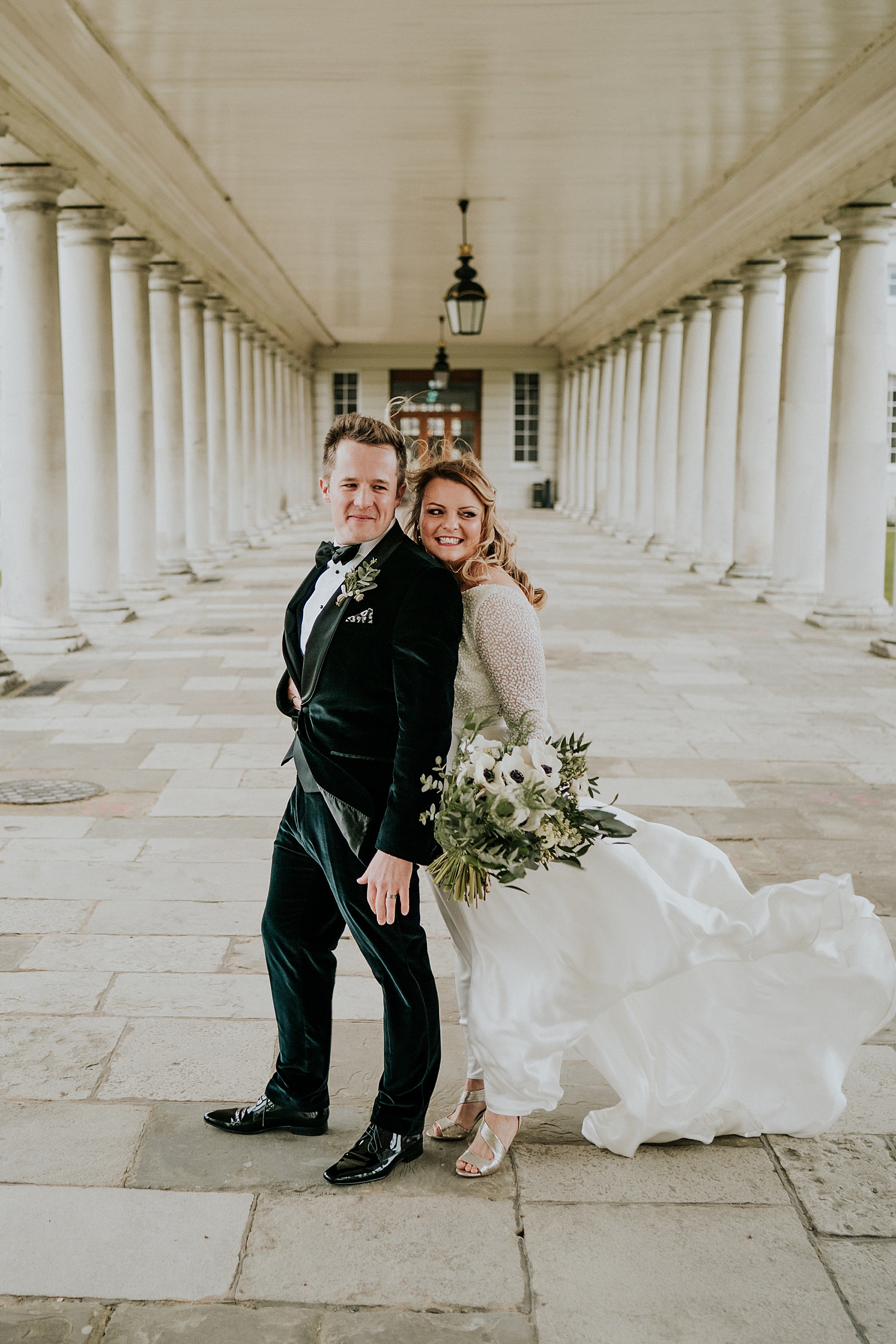 The couple opted for black tie in keeping with the grandeur of their beautiful venue.
"We wanted to keep the style of our wedding quite modern and simple but still in keeping with the historic venue. The black tie dress code was what guided the rest of our décor really and we opted for black, white and gold styling for our stationery and table plan which was created by the incredibly talented 'HappyGirl'. Like several of the suppliers we used, we wanted to support local and independent craftspeople."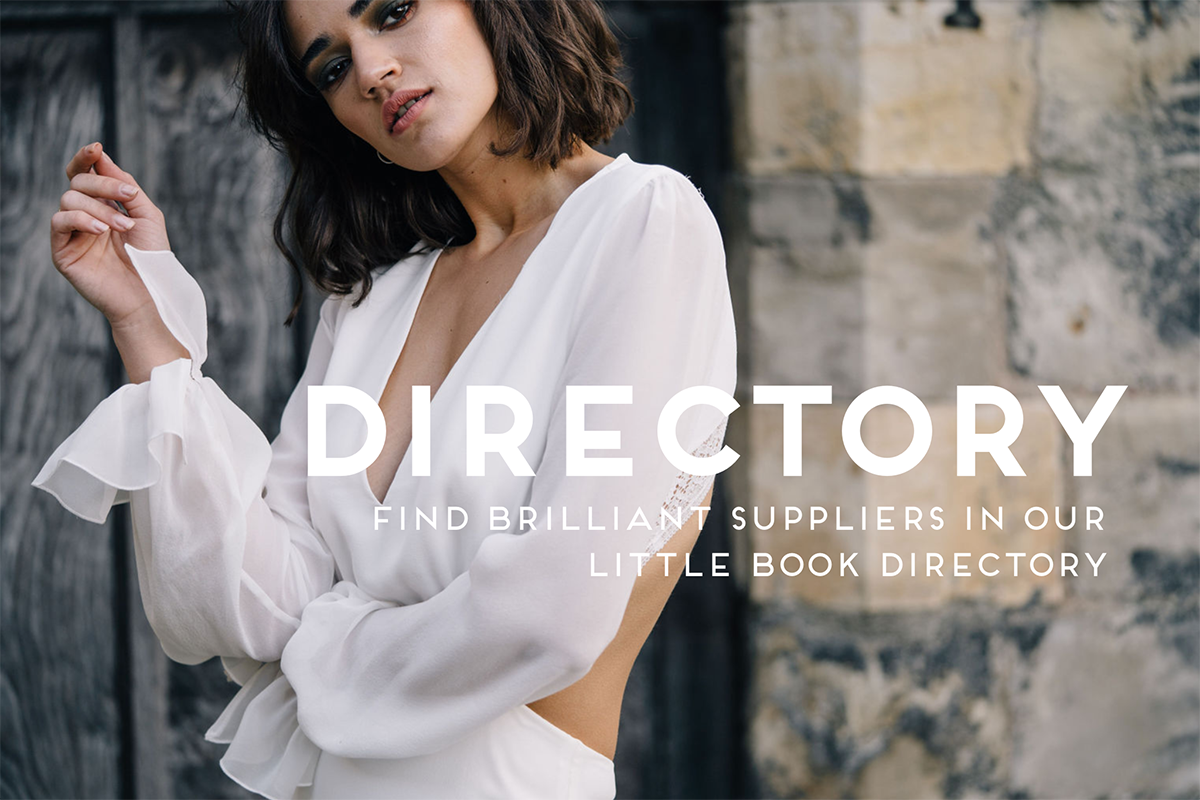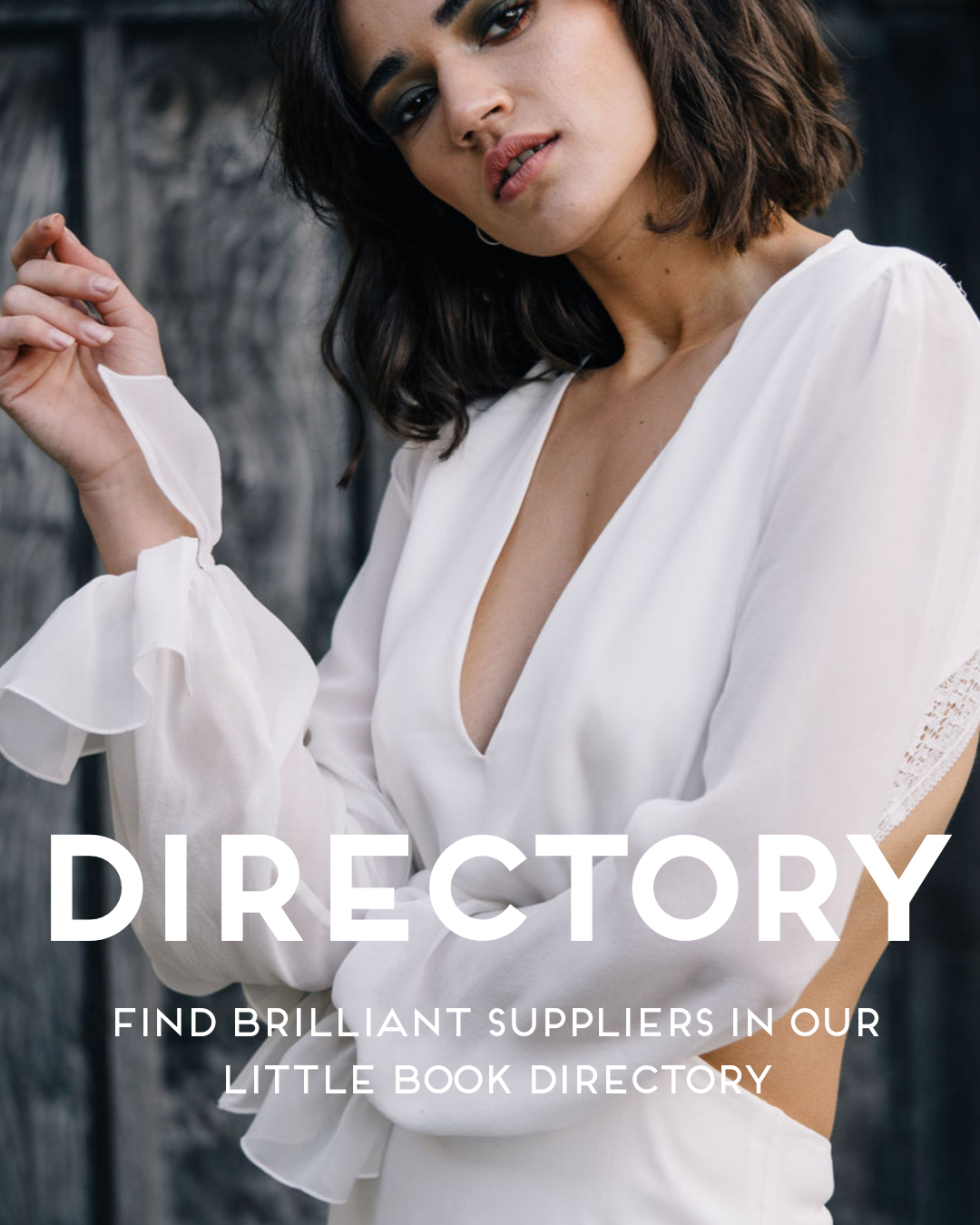 "I wore a beautiful pair of earrings that my aunt had made from a set of my Gran's pearls a few years ago."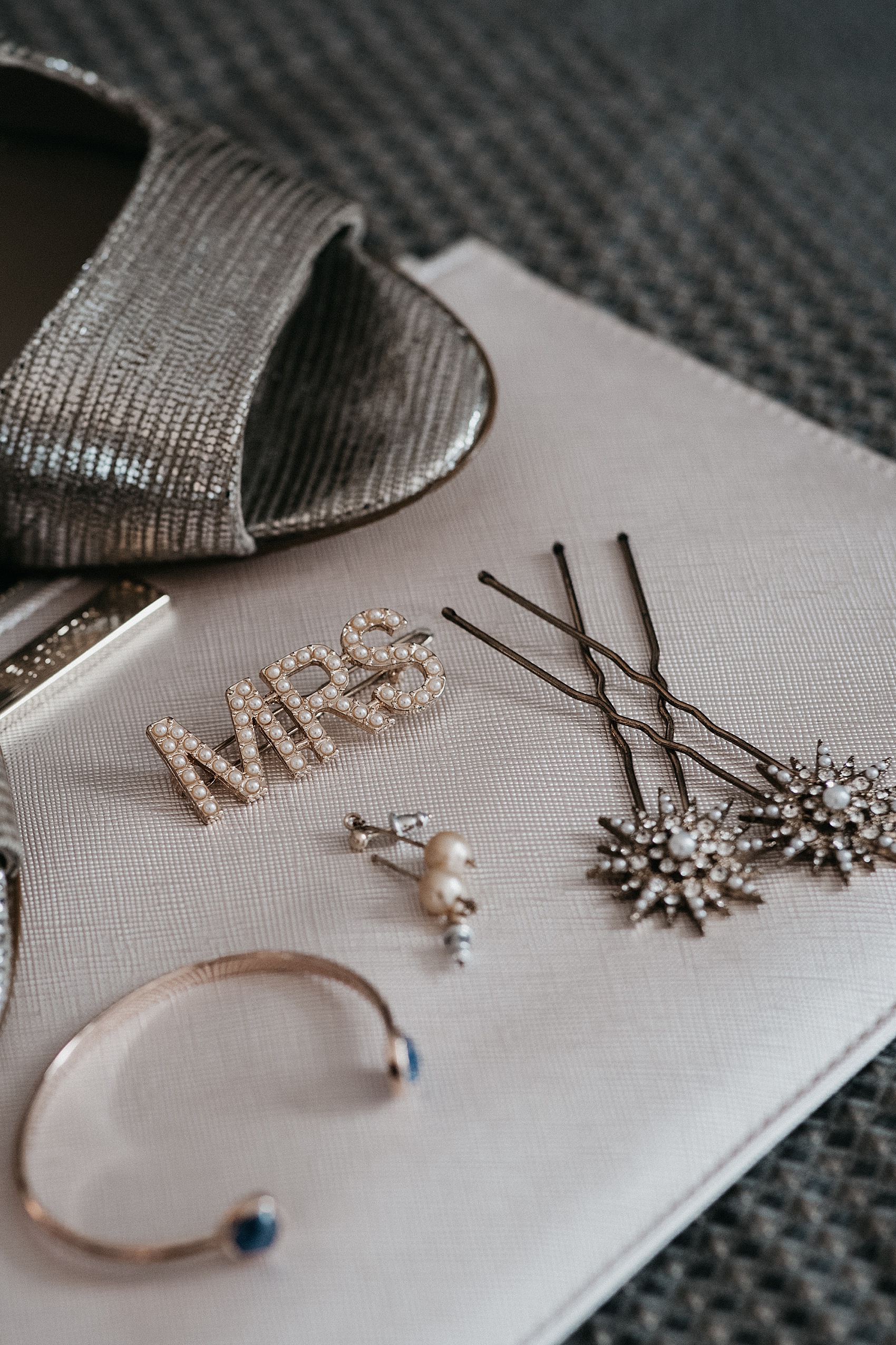 "I wore Jo Malone's Lilly by Jo Malone. It is a gorgeous wintry scent and also the fragrance my best friend wore for her wedding a couple of years before so was another 'something borrowed' from her, which was so sweet."
Now a little about this incredible dress – I urge you to bookmark this link and read this gorgeous interview with the dress designer (not least because we created the film and all the imagery in this gorgeous article, through our new media agency, LMD Collective). For now, lets learn how Gemma discovered her dress…
"I found the gorgeous 'Vega' dress made by 'Rolling in Roses' (who specialise in dresses made with ethical and sustainable fabrics, and handmake their dresses in their studio in York) at the beautiful 'Story of my Dress' shop in West Malling."
"I had seen them on Instagram and knew they had such a selection of beautiful and different dresses; not like I'd seen anywhere else."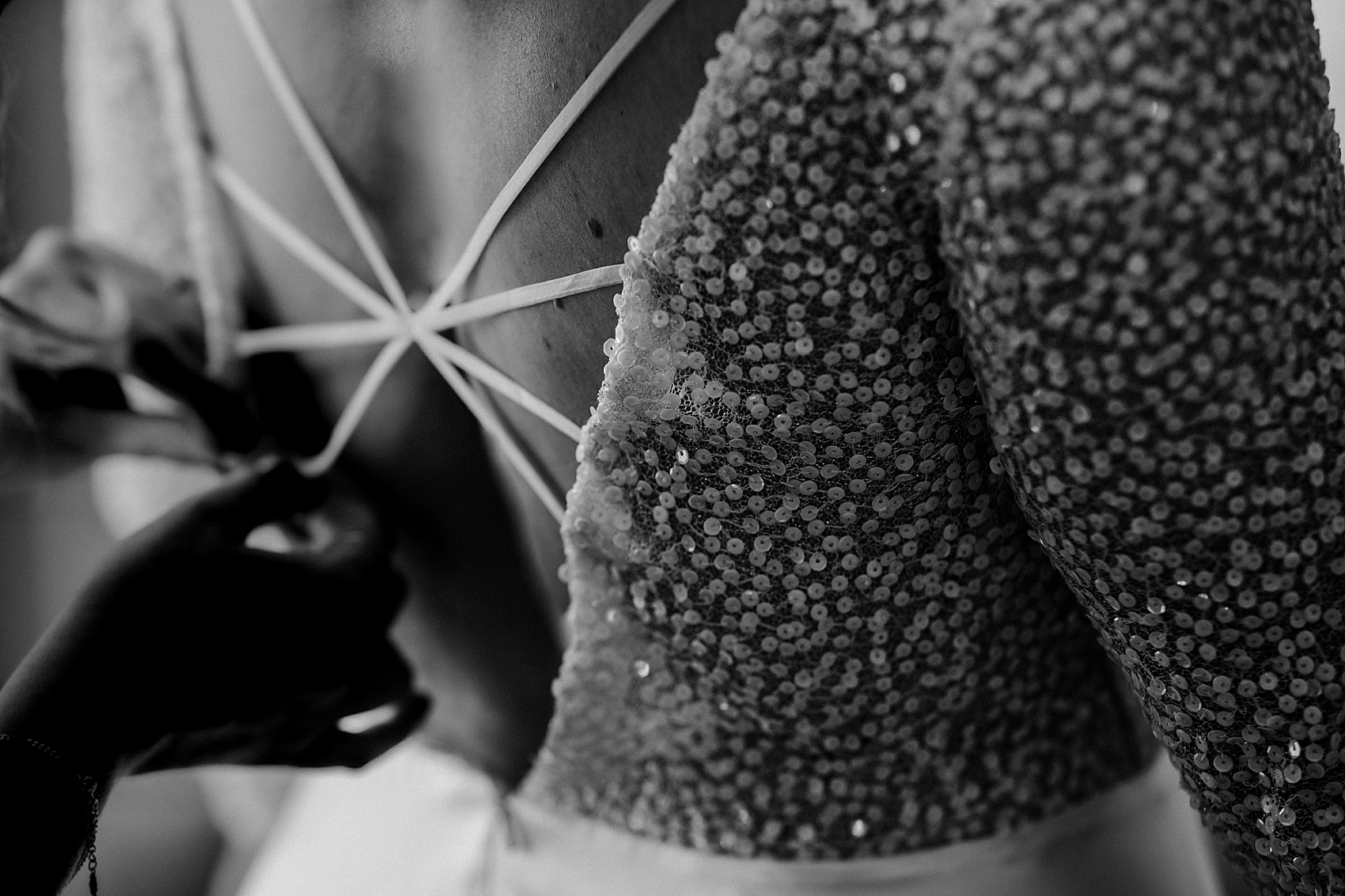 "I love that there are no real rules anymore on what you should wear as a bride and there are so many beautiful stylish dresses out there if you know where to look. My experience of dress shopping was amazing too, so relaxed but exciting, made so special by the lovely sisters, Cara and Sammy who run the Story of my Dress boutique."
"When it came to flowers, we again wanted to keep the palette simple with white flowers paired with lots of trailing, slightly wild green foliage to give the flowers a modern feel. Hayford and Rhodes our florist, really listened to what we wanted but also gave us some great inspiration, even working some natural black into my bouquet."
"The end result of trailing white and green bouquets for me and the bridesmaids, simple foliage button holes with tiny white flowers dotted amongst them for the guys was beautiful."
Dress by Rolling in Roses

+ Follow
"Andy wore a velvet Tux from Hugo Boss, paired with a beautiful double breasted waistcoat from Twisted Tailor, finished off with patent Hugo Boss dress shoes and gorgeous octopus cuff links from Simon Carter."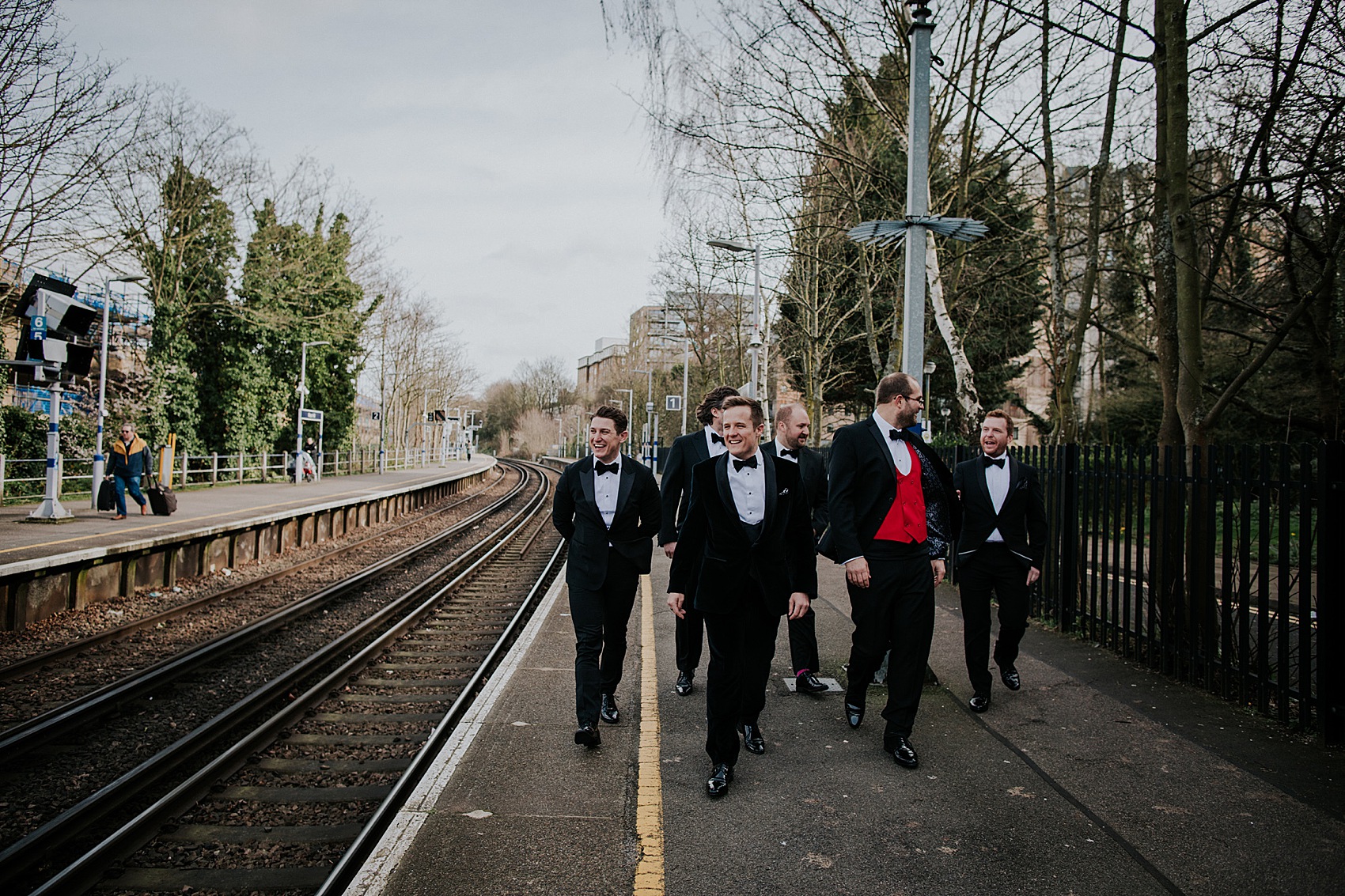 "Andy and I met about nine years ago through mutual friends. We were both living in Greenwich and quickly became firm friends. It wasn't for another four years however that our friendship turned into the best relationship either of us had ever had! Once together we became inseparable and so many of our friends told us they had been hoping we'd get together."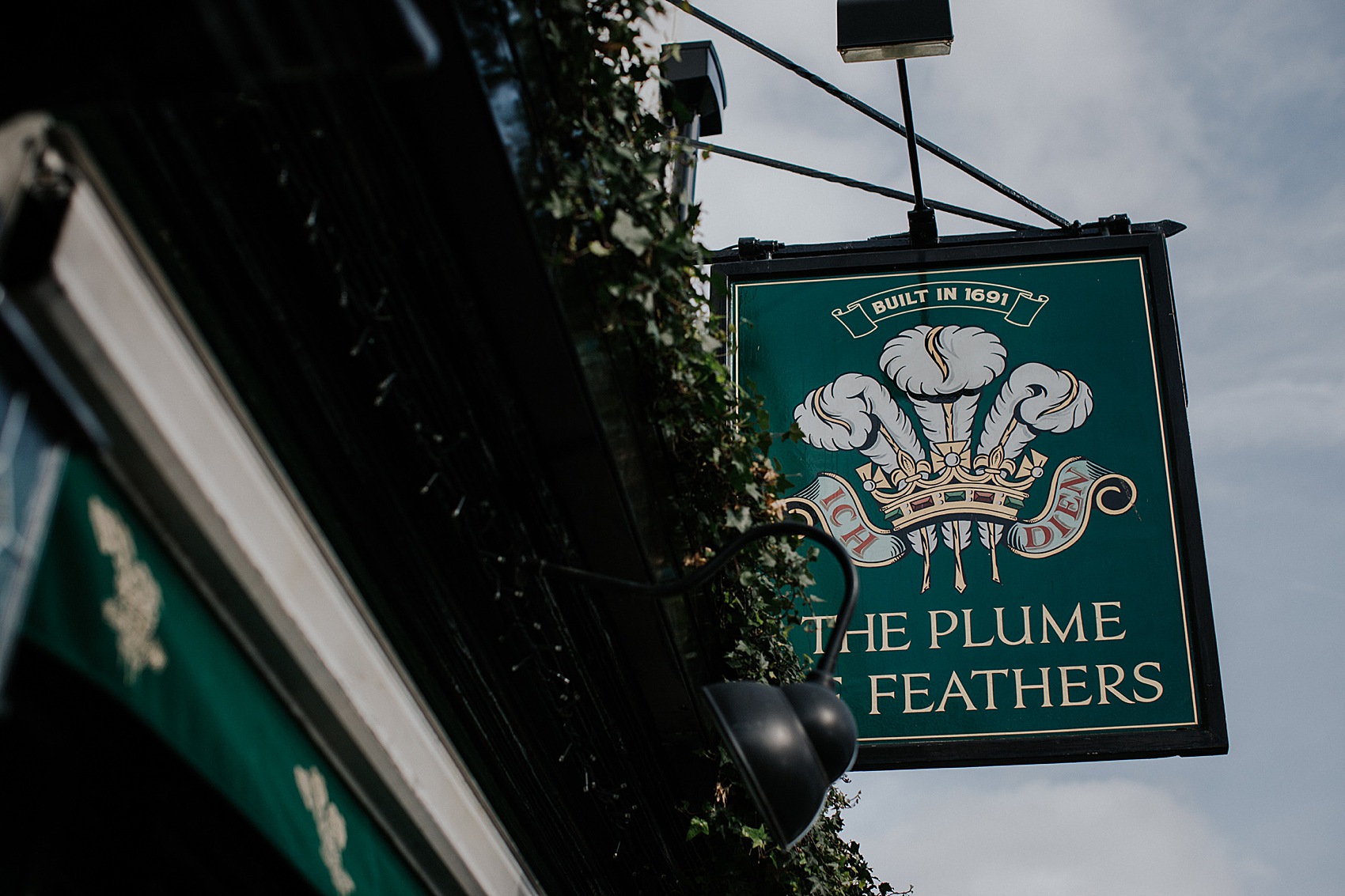 "Once we had decided on The Queens House as our venue we thought it would be fun to have a black tie wedding. The venue suited black tie so well and so I wanted a dress that would be both suitably 'evening' wear but also a modern bridal look. Andy also likes to look stylish, or 'suave' as he has been described in a couple of Jo's photos already."
"Andy also wanted to stand out which, when you're doing black tie, can be harder. But he managed it – in a gorgeous full velvet Tux from Hugo Boss, paired with a beautiful double breasted waistcoat from Twisted Tailor, finished off with patent Hugo Boss dress shoes and gorgeous octopus cuff links from Simon Carter. When I first saw him as I walked down the aisle, all I could think was how good he looked!"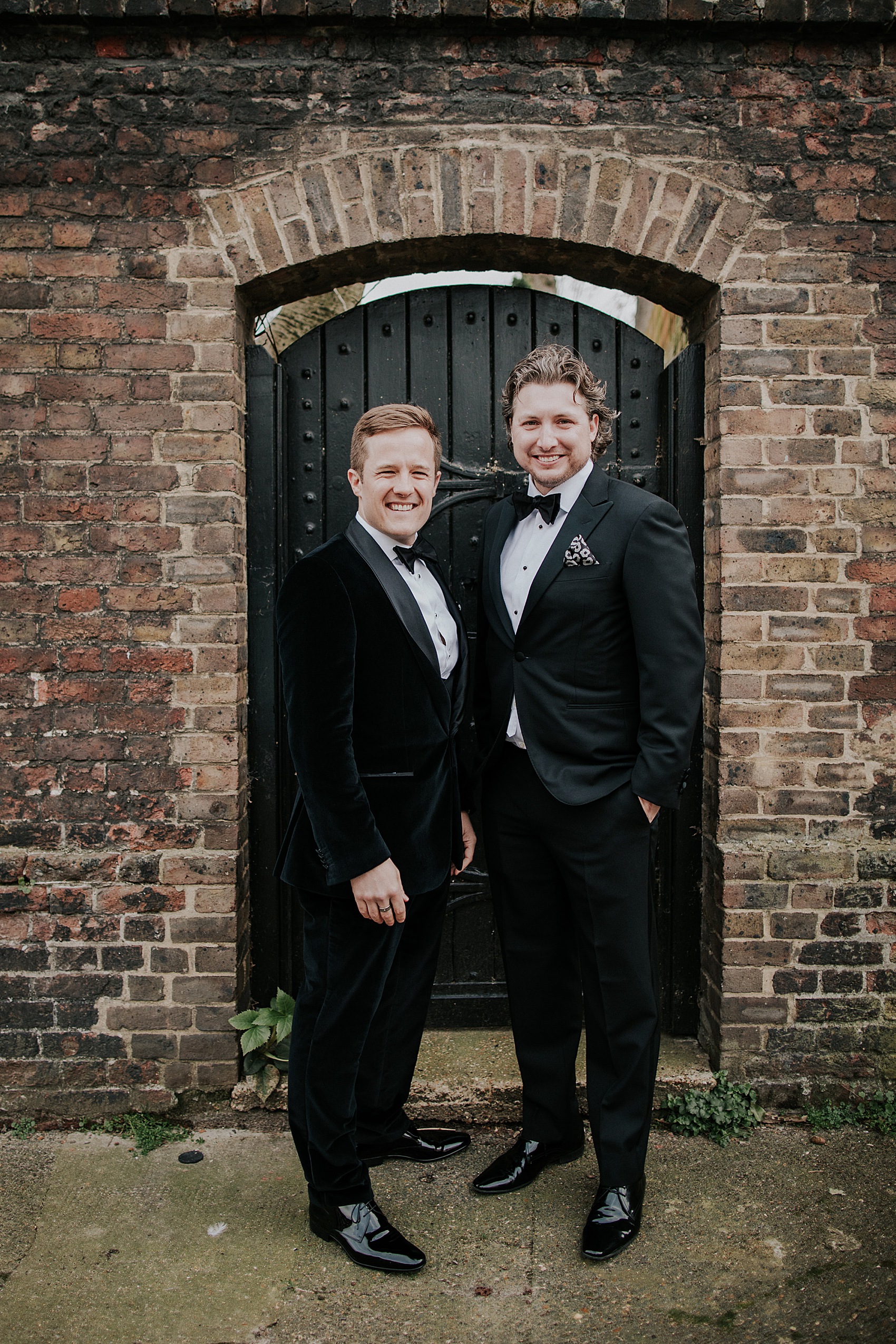 "Having looked at venues across London, once we had realised you could get married at The Queens House, which is on our doorstep (well 5 minutes away) it was a done deal. Getting married so close to where we had met, got together and now lived together was very special to us, not to mention it is a stunning venue!"
"The fact the venue could accommodate all parts of our day was amazing too, with different but equally beautiful areas for the ceremony, drinks reception, dinner and evening party."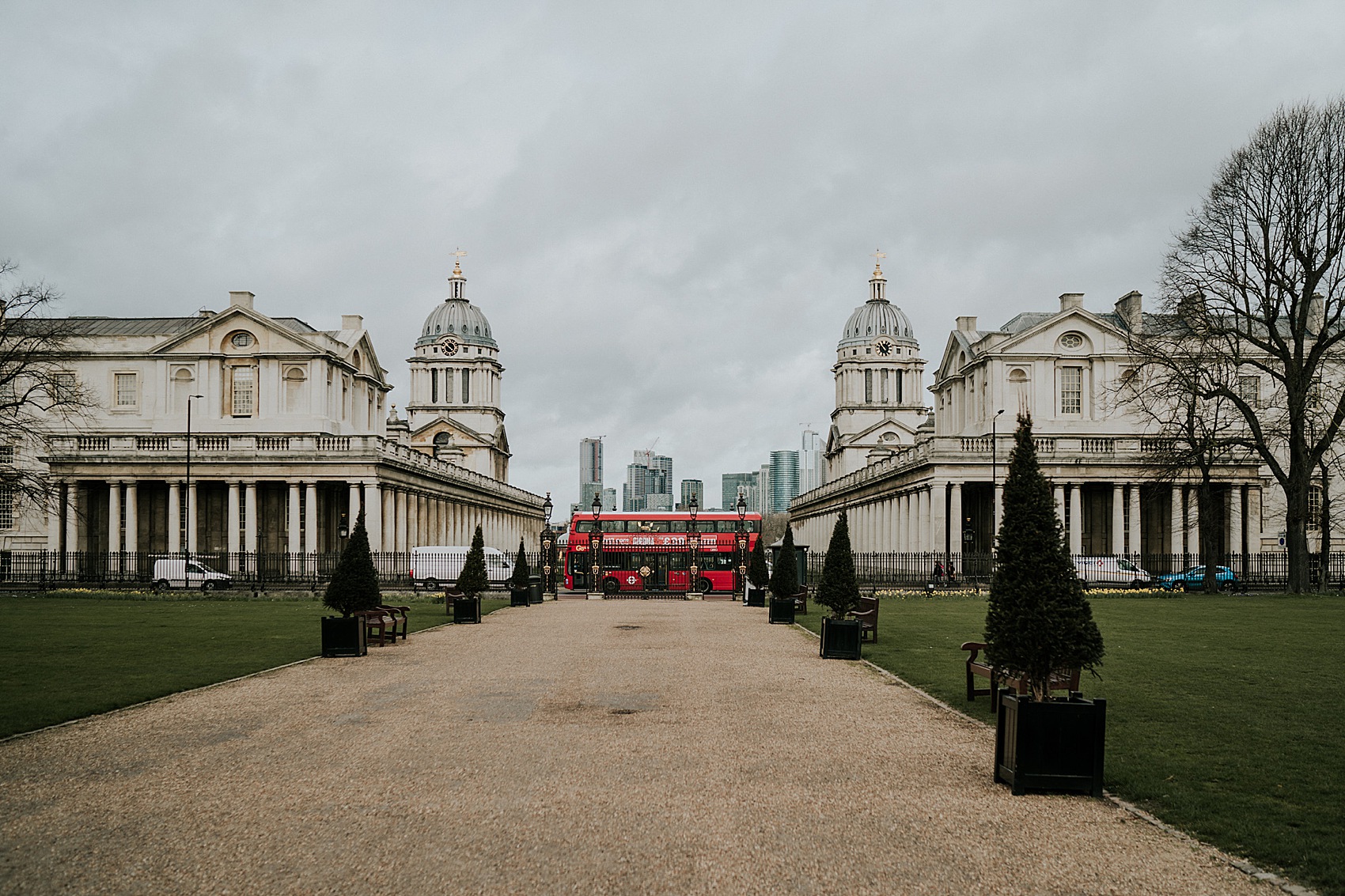 "18 months into our relationship, Andy received a job offer too good to refuse, but it was in New York. We talked everything through in detail and looked at all our options. But one thing was clear, whatever happened we would support each other and do whatever it took to make the relationship work. Over the next two and a half years, we racked up A LOT of air miles, had some incredible trips across the US and probably broke some kind of FaceTime record by video calling at least twice a day, every day."
"In September 2018, Andy moved back to the UK, we moved in together straight away and started adjusting back to being inseparable. In 2019, we planned a few trips, some short, some longer."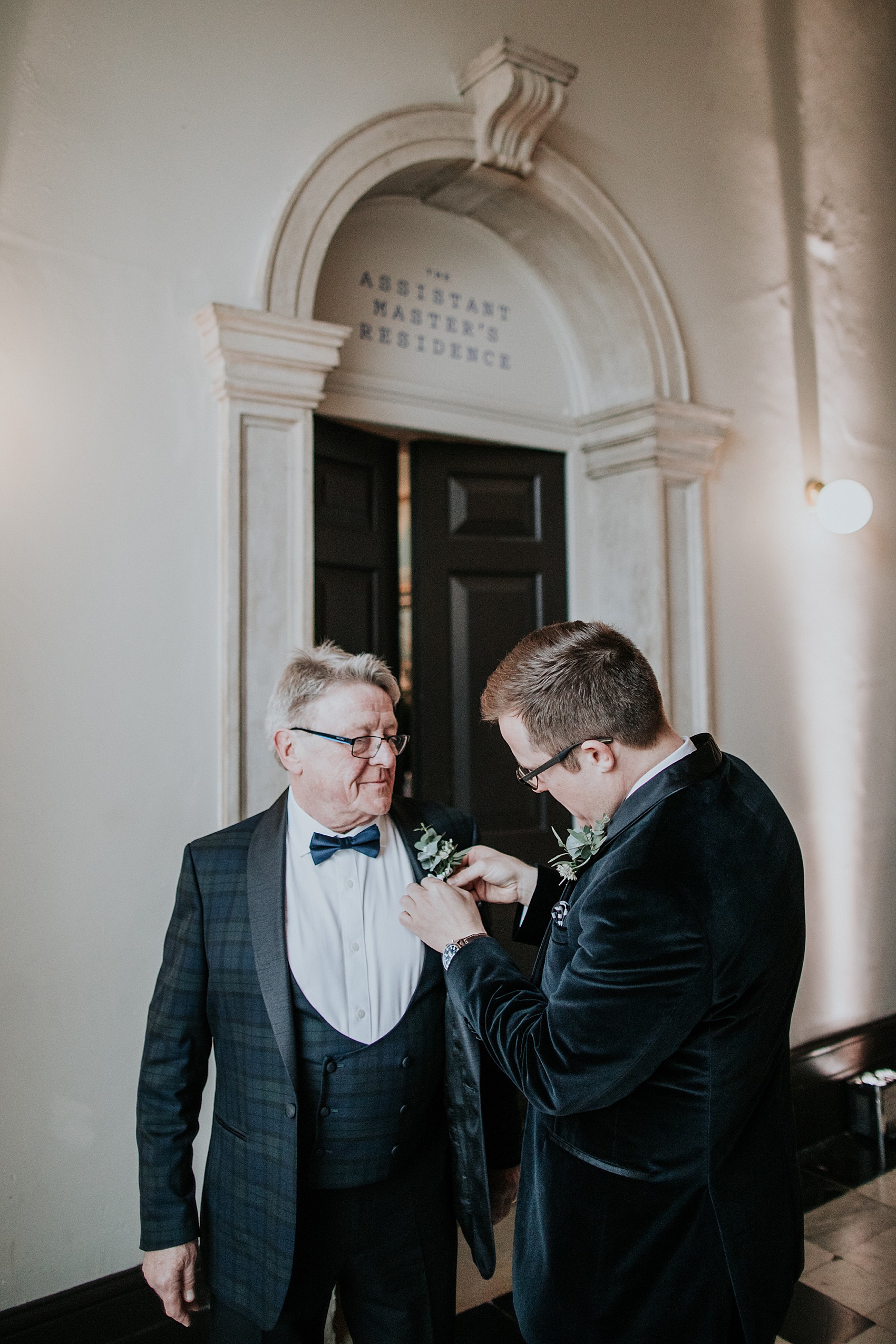 "One of our longer ones we took to Thailand and whilst on a deserted beach in Koh Samui one evening he got down on one knee and proposed. Given we had spent so long apart we knew we wanted to get married quite quickly and (me!) having been keen on more of a winter wedding, we went full steam ahead with 6 months of planning for a February wedding."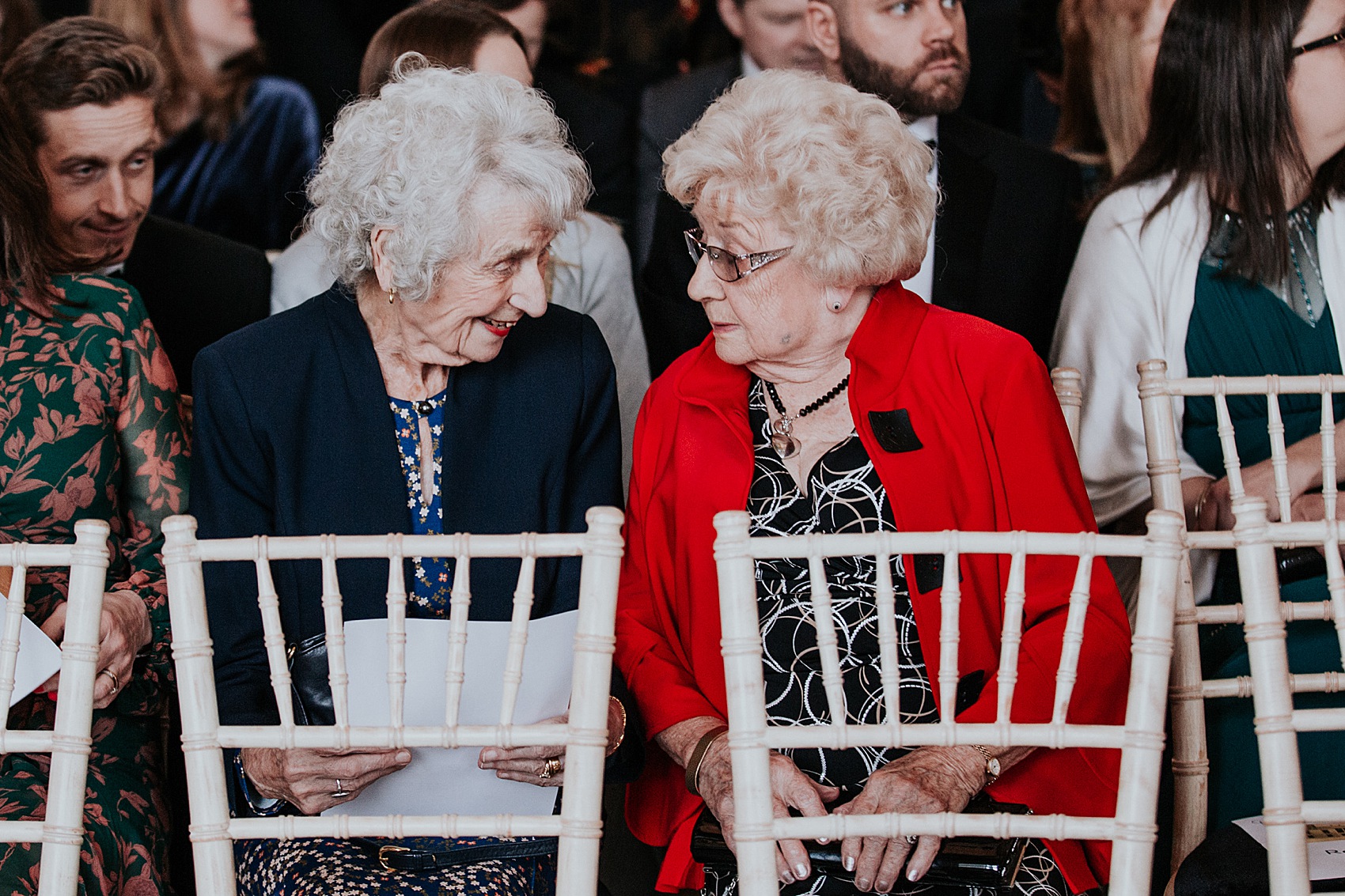 "Getting married in 'wedding off season' was beneficial as we found there was more availability than there might have been in the summer with venues, although we did need some luck with in demand suppliers, like our photographers! But luck was on our side and things started to fall into place."
"Planning the wedding was real team work with all decisions being made together and sharing the workload but also the excitement.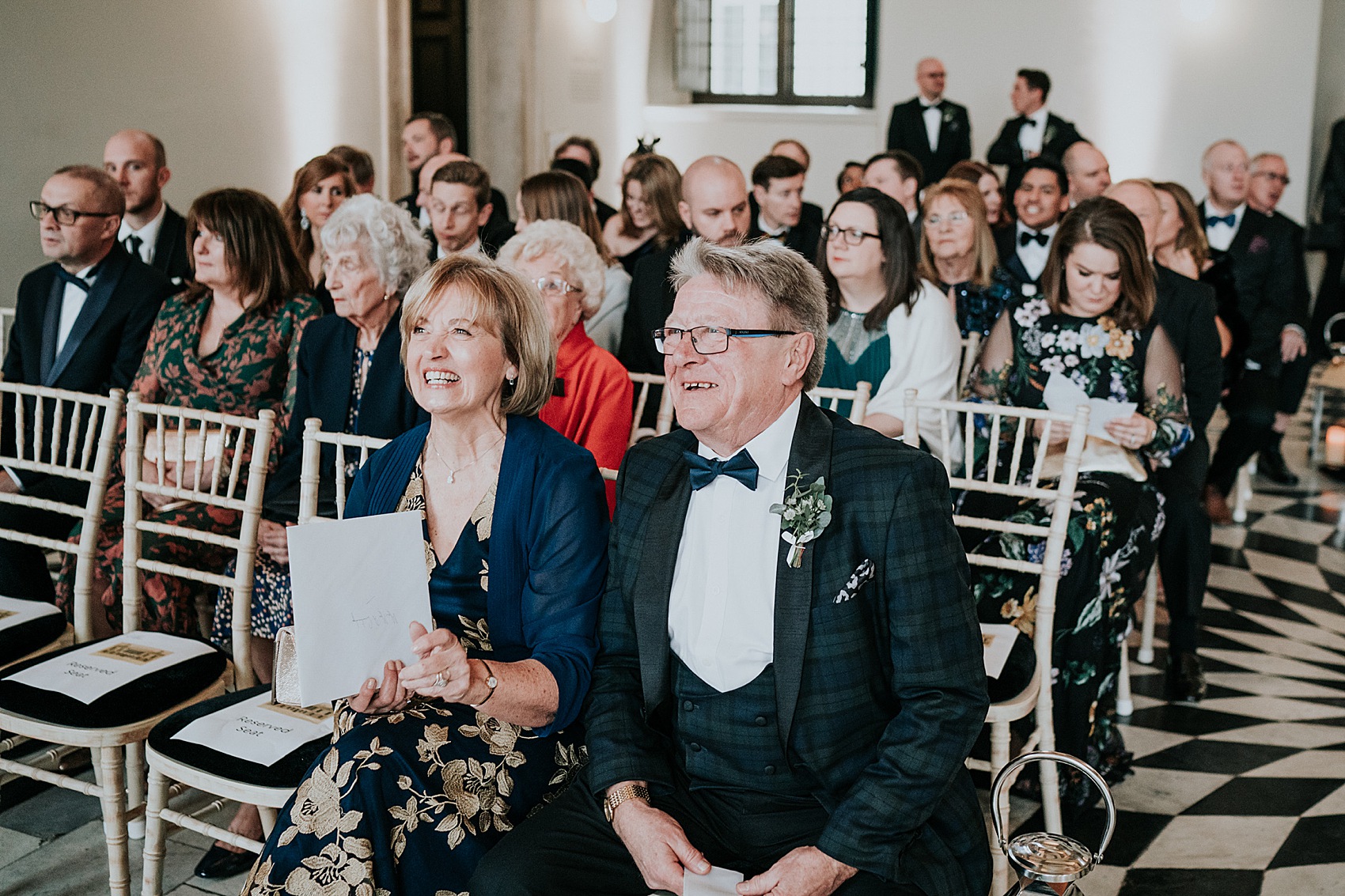 "During the ceremony and drinks reception we had the wonderful Chiqas, a string trio who played both classical and modern songs (in fact virtually anything you could have wanted!). Again we discovered them through local connections, with them being alumni of the Trinity Laban Conservatoire which is based in the next door, Old Royal Naval college."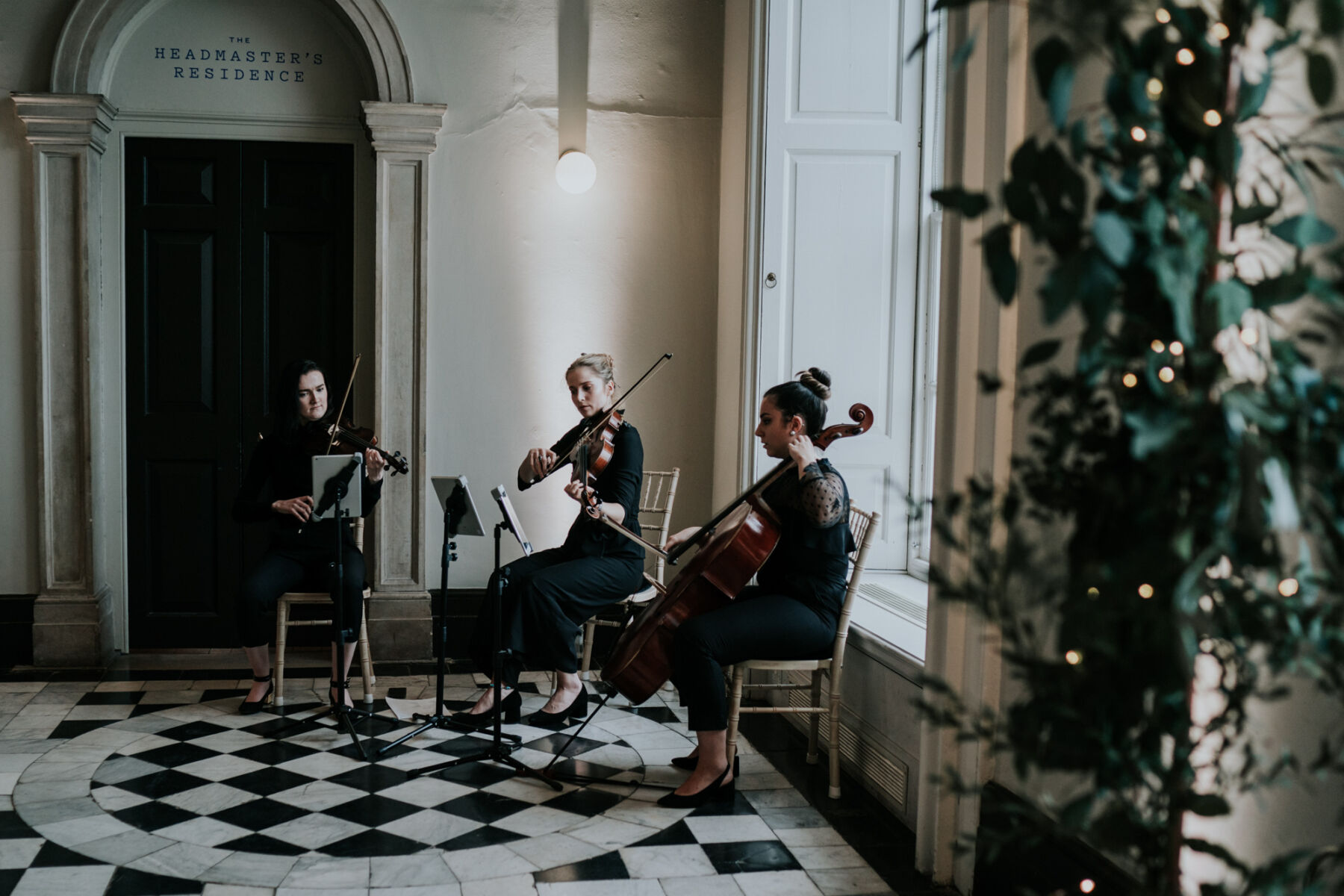 "We used flowers and lighting as our main décor, with a beautiful, more industrial and wild looking metal arch, draped in foliage from our florist at the top of the aisle and lovely big storm lanterns from our production suppliers – Ash Event Productions down the aisle and also, reused outside later in the day."
The bride's father accompanied her into the ceremony…
"I walked down the aisle to 'She' by Elvis Costello played on strings by the Chiqas. It such a beautiful song and a favourite of ours. We walked back out to Mr Blue Sky by E.L.O. too, also a favourite of ours and played by the Chiqas."
"Our ceremony was conducted by a lovely registrar from Greenwich Borough and she really did put us both at ease and was wonderful on the day, ensuring everything went smoothly. We chose our vows from a lovely selection of different options that the registrars provided us with and picked the wording that we felt best reflected us."
"Two of our gorgeous friends did readings for us during the ceremony too. Sean read 'The Bridge Across Forever' by Richard Bach which was a piece we both loved and really resonated with us, as we are definitely best friends and soul mates."
Explore lots of more wedding readings here on Love My Dress
My best friend had also had this reading at her wedding a couple of years before and we had loved it then, so she kindly offered it up as our 'something borrowed'."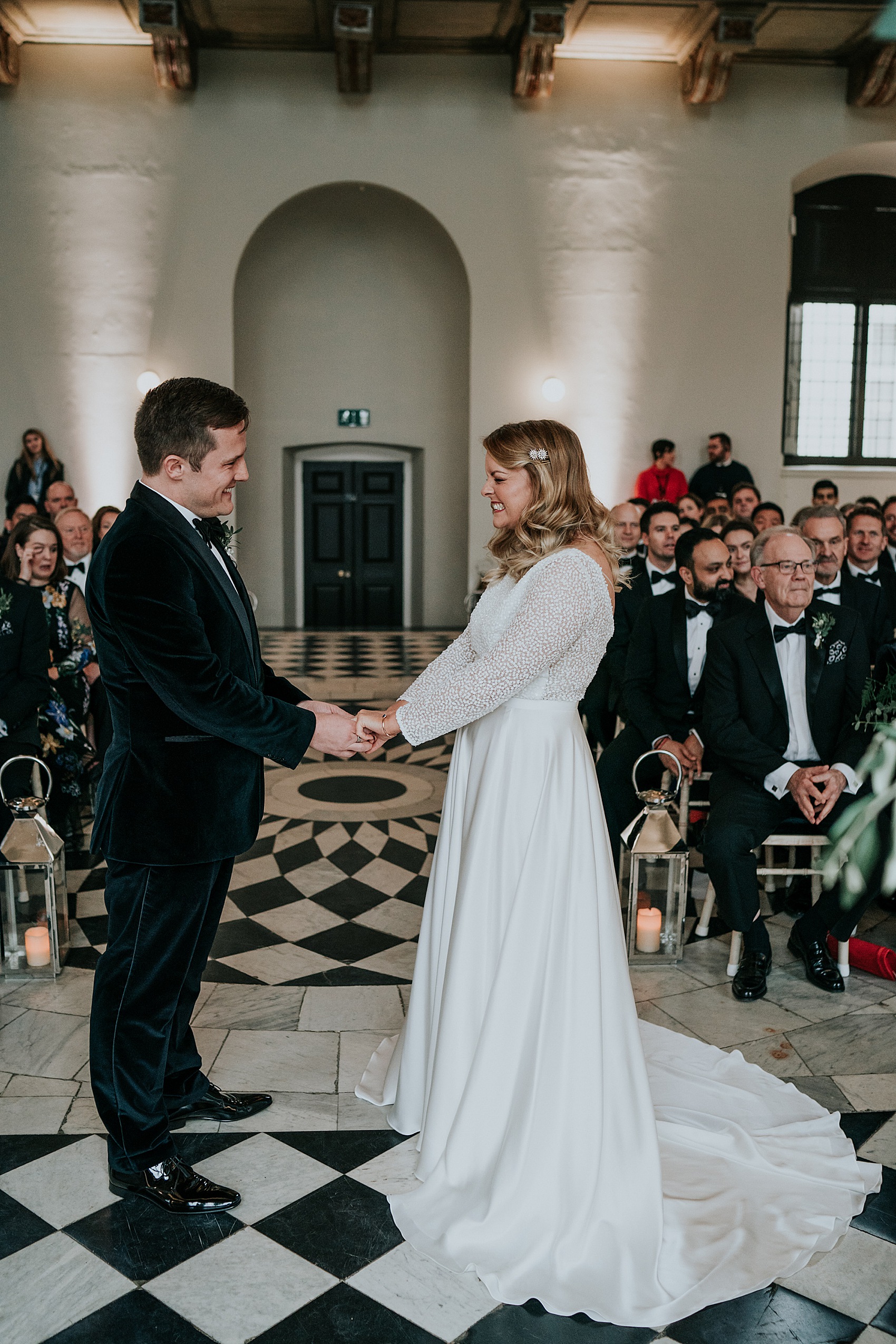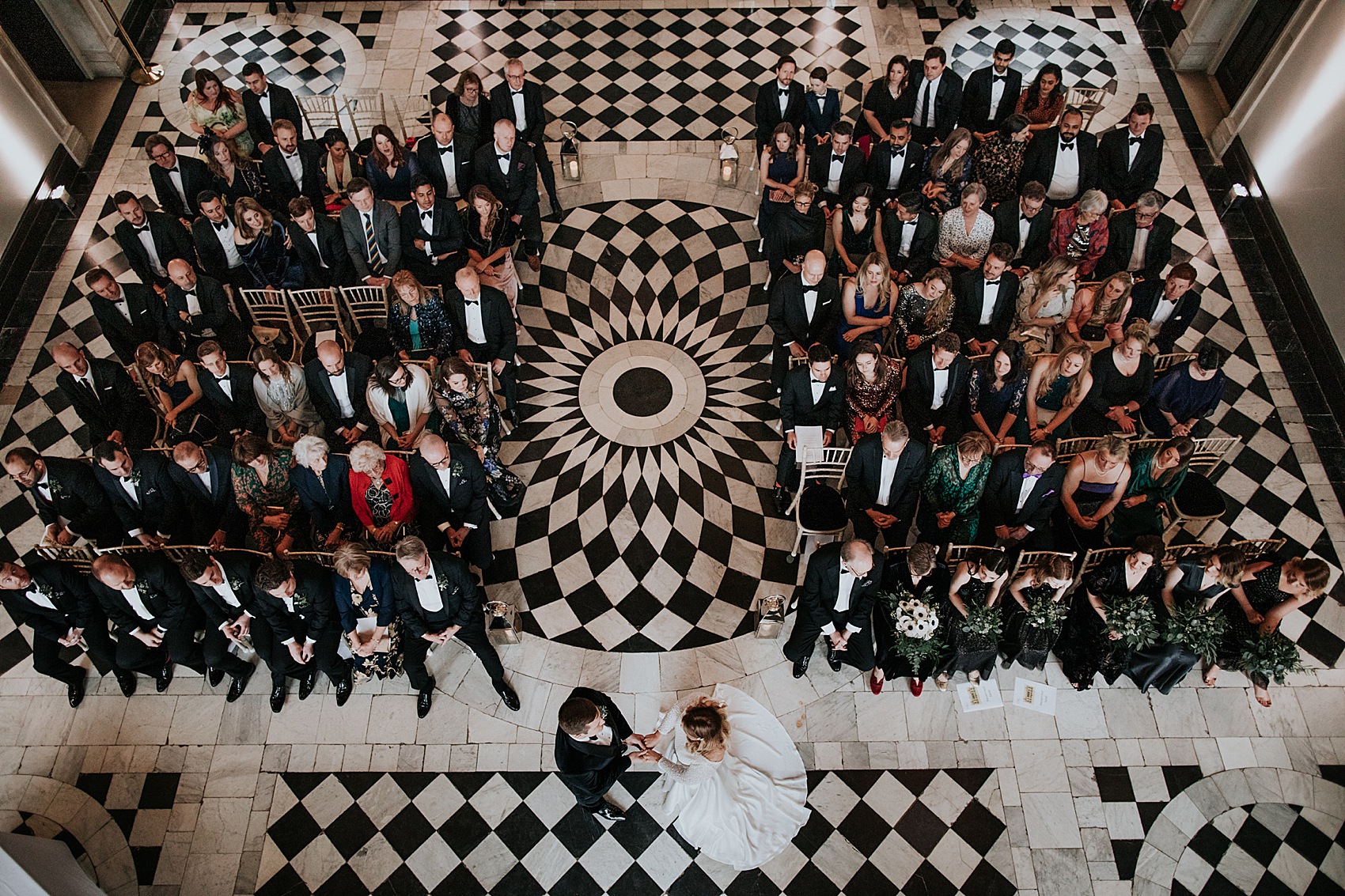 "The second reading by Hollie was an adapted version of a piece by Bob Marley called he's not perfect – although having decided we were both far from perfect, we adapted the wording slightly to apply to both of us!"
Explore all the winter weddings on Love My Dress
"After the sentiment of the first reading, we wanted to ensure our second one reflected our knowledge that a marriage is not all butterflies and happiness, but something that takes work, and requires a real partnership to help each other through, something we are going into with our eyes open, prepared to make that partnership work for the rest of our lives."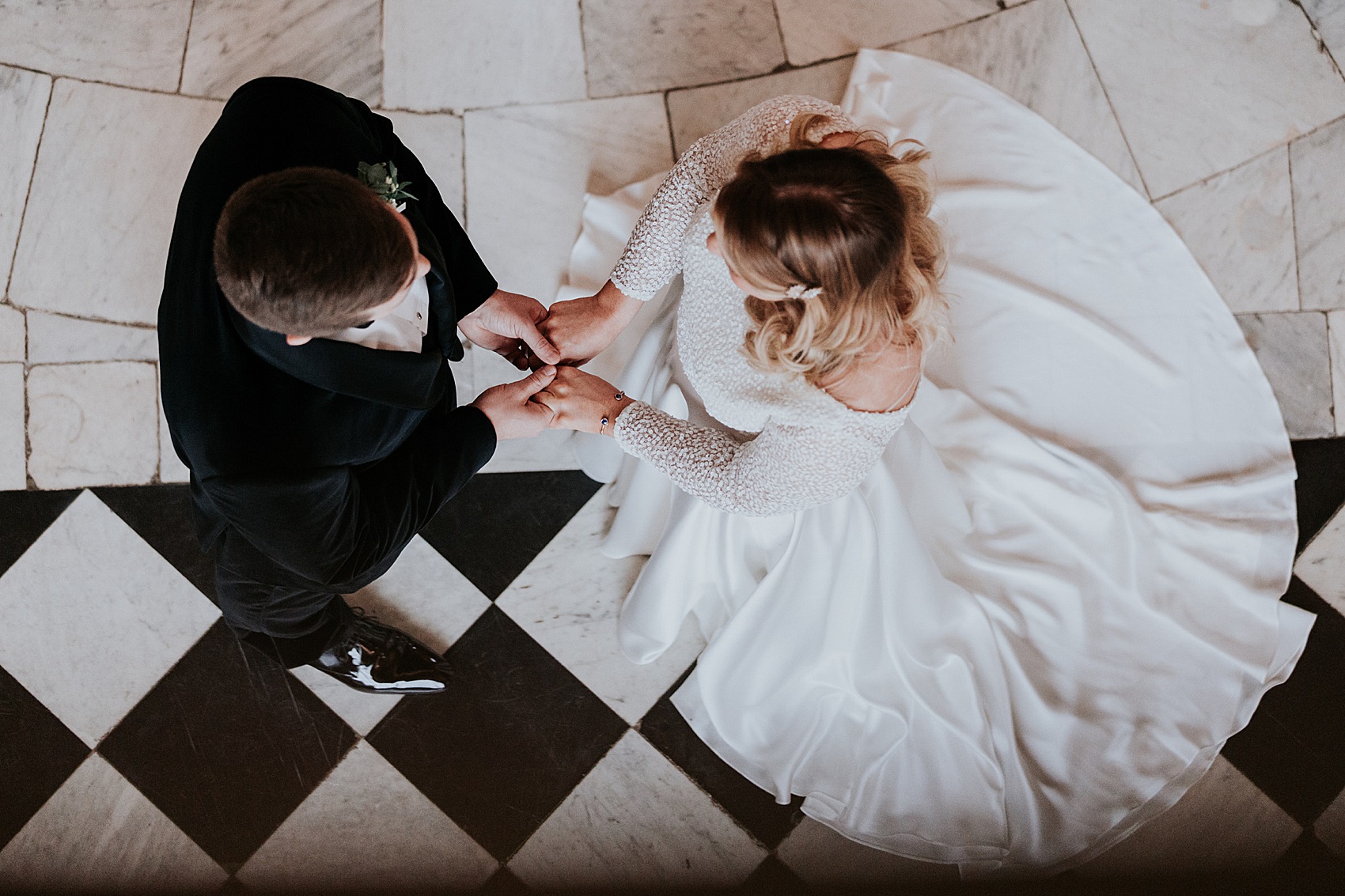 "The bridesmaids were all in black, which got a few raised eyebrows when I first told people but for me, I wanted them to have a dress they loved, felt comfortable in, and would wear again. Being winter and black tie, black seemed an elegant and fitting choice and I knew I wanted them in different dresses too, so they could each express their style and get something they could wear again, making their choices more sustainable."
"The result was one in a gorgeous black and gold polka dot one shoulder floor length gown, one in a charcoal black floor length v neck gown and one in a hi-low wrap skirt, mesh and velvet black gown. They all looked gorgeous. Their gowns were form Monsoon and French Connection."
"I had a bracelet made for each of them with their name which had been produced from my handwriting. I found a lovely supplier CaitlynMinimalist, who made these for me. I wanted to get them something personal but stylish and thankfully they all loved them!"
"Saying our vows was probably our favourite part actually. Saying them to each other in front of all of our friends and family had a really powerful impact on both of us and so many of our guests said afterwards how much love they could see between us whilst we were up there. Just having all our beloved friends and family around us all day also made it just such a special day too."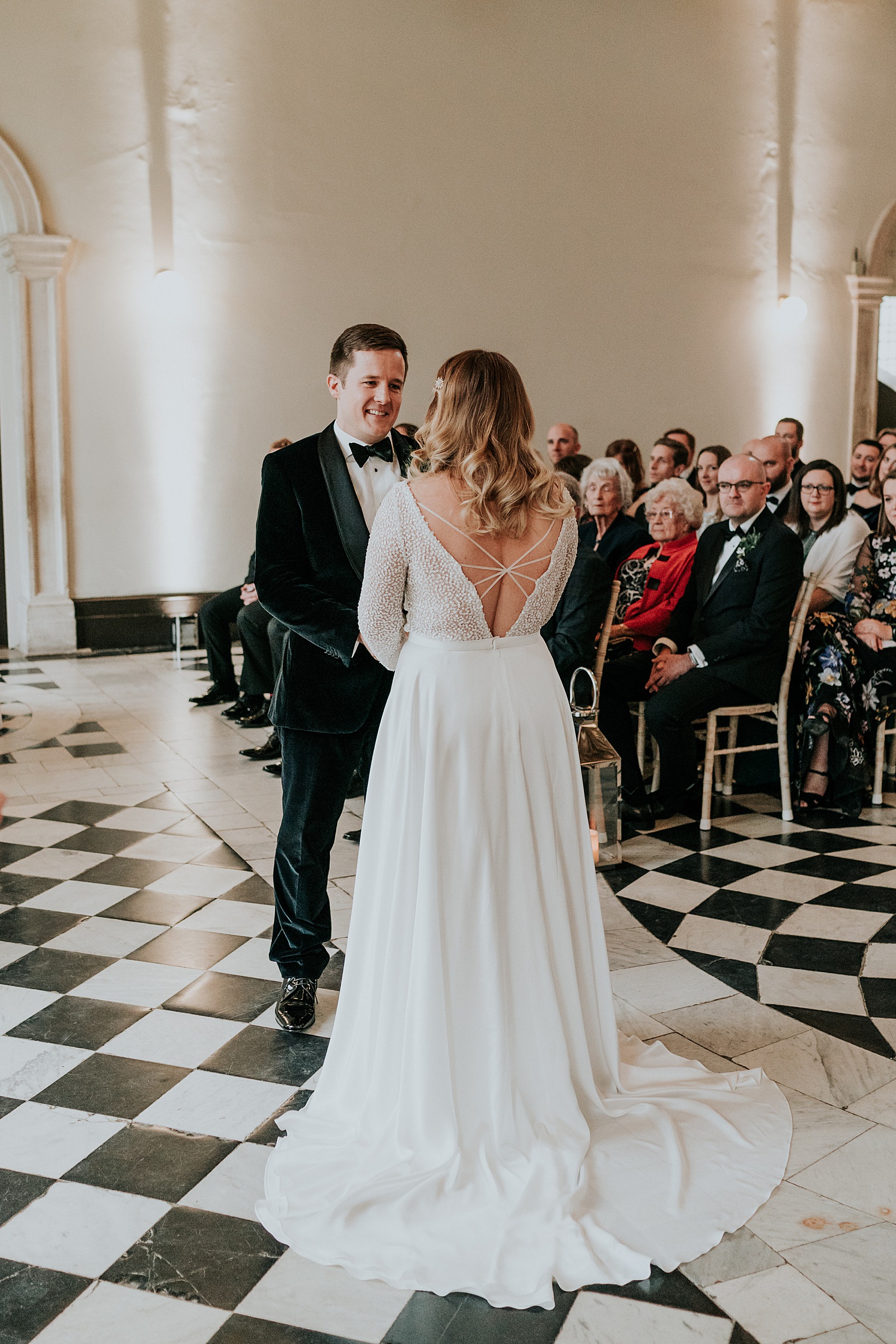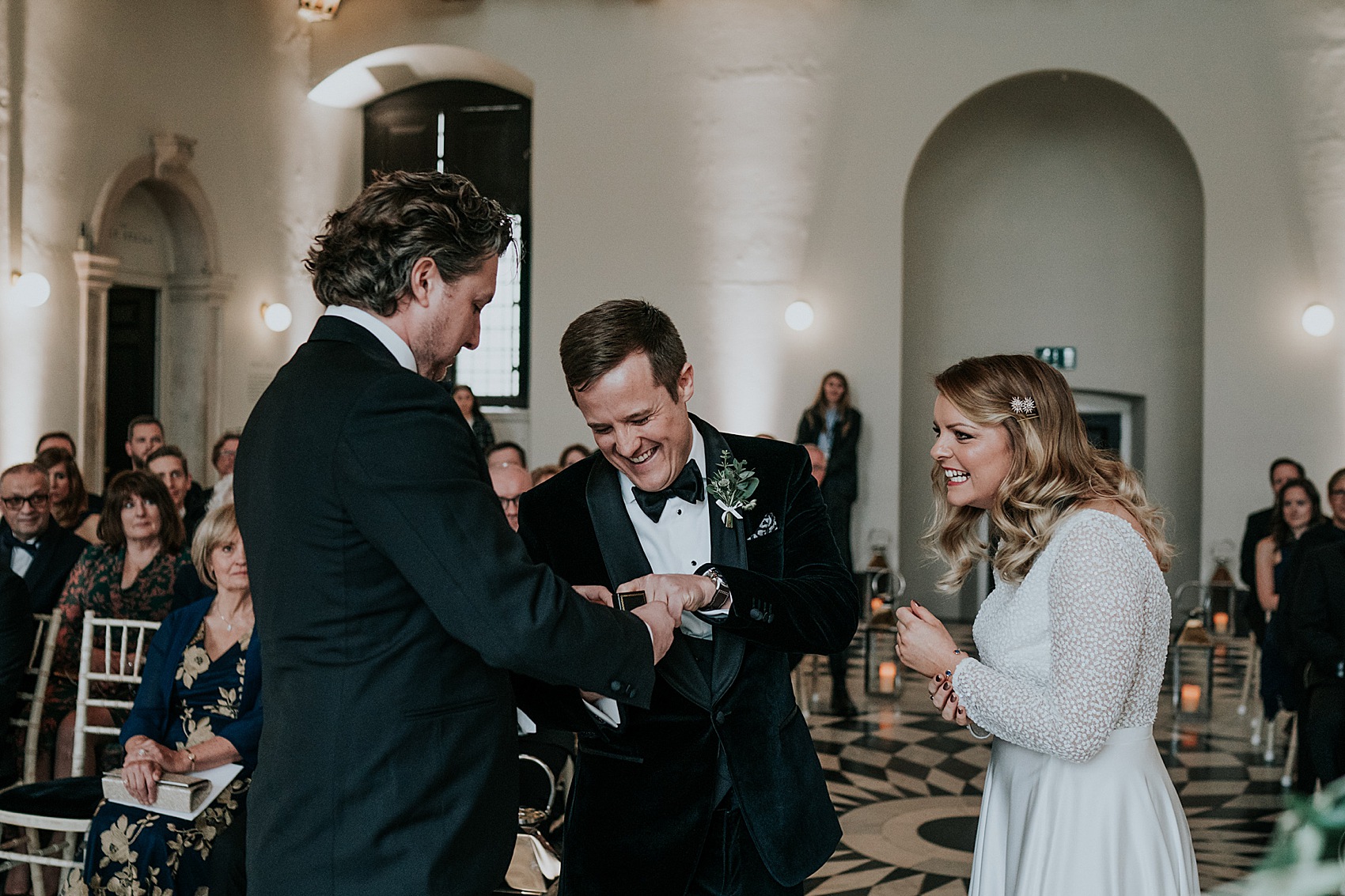 The couple hired the wonderful Joasis Photography to document their day through photography.
Join our closed Facebook group for brides – a safe, protected space with a wonderful community of supportive fellow brides
"We looked online at a number of locally based photographers and straight away Jo's portfolio really stuck out to us. We loved the style of her photos and once we had facetimed with her (for almost an hour!) we knew she was definitely the one for us. She has a fantastic sense of style and we felt an instant connection to her when we chatted."
"Our first instincts certainly paid off and meeting Jo in person before the wedding really got us excited about having her and Aggie photographing our big day. Jo was great at giving direction to get the best pictures but also accommodating our requests for keeping more formal picture taking time to a minimum."
"Whilst we did a fairly quick shoot with family and wedding party and even the couples shoot, the photos have blown us away. We have now seen the full collection including more documentary style pictures too and we honestly couldn't be more thrilled with what we have seen so far."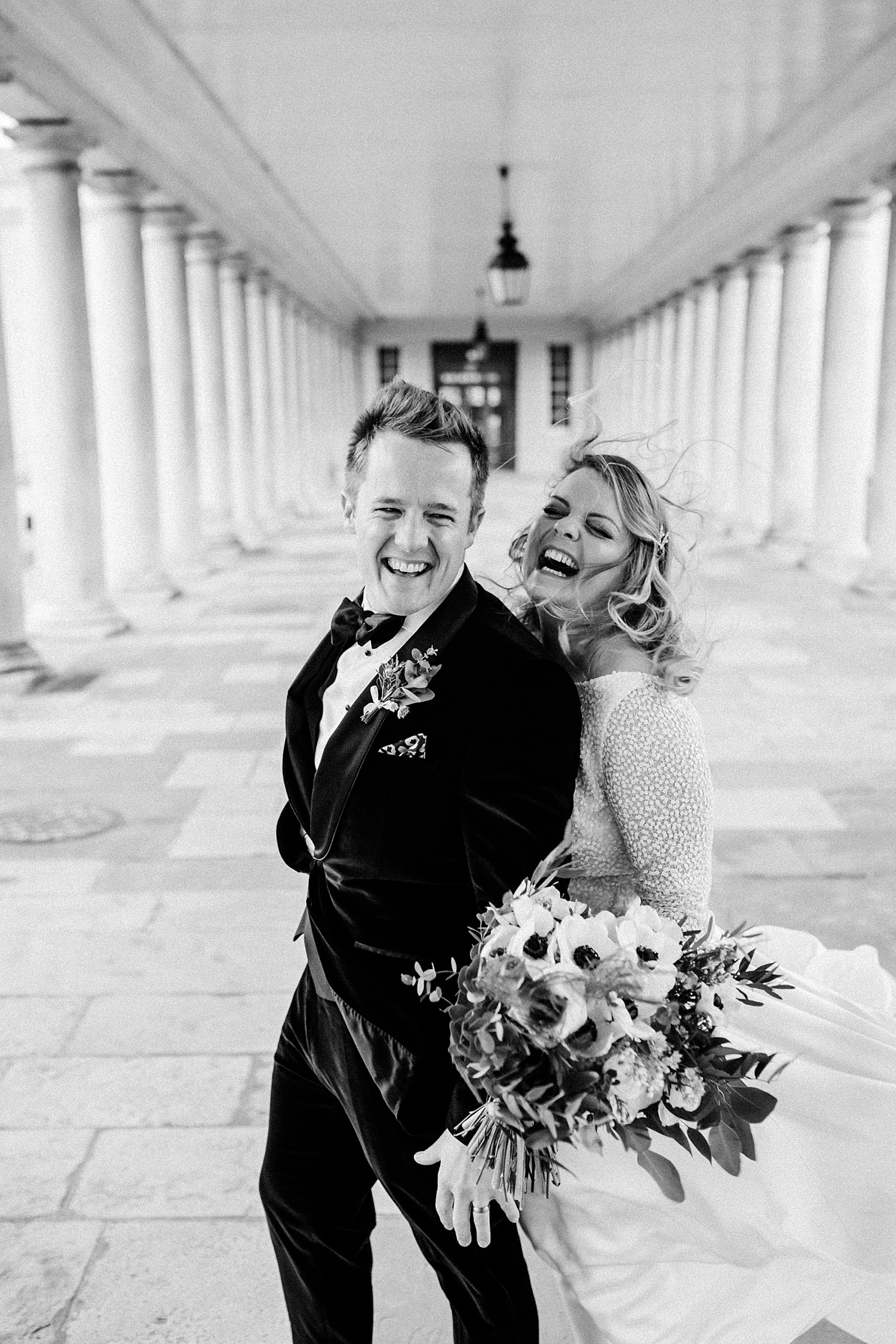 "Working with Jo beforehand and with both Jo and Aggie on the day was an absolute dream, and to be honest for a lot of the time we didn't even realise they were there – which just shows their talent."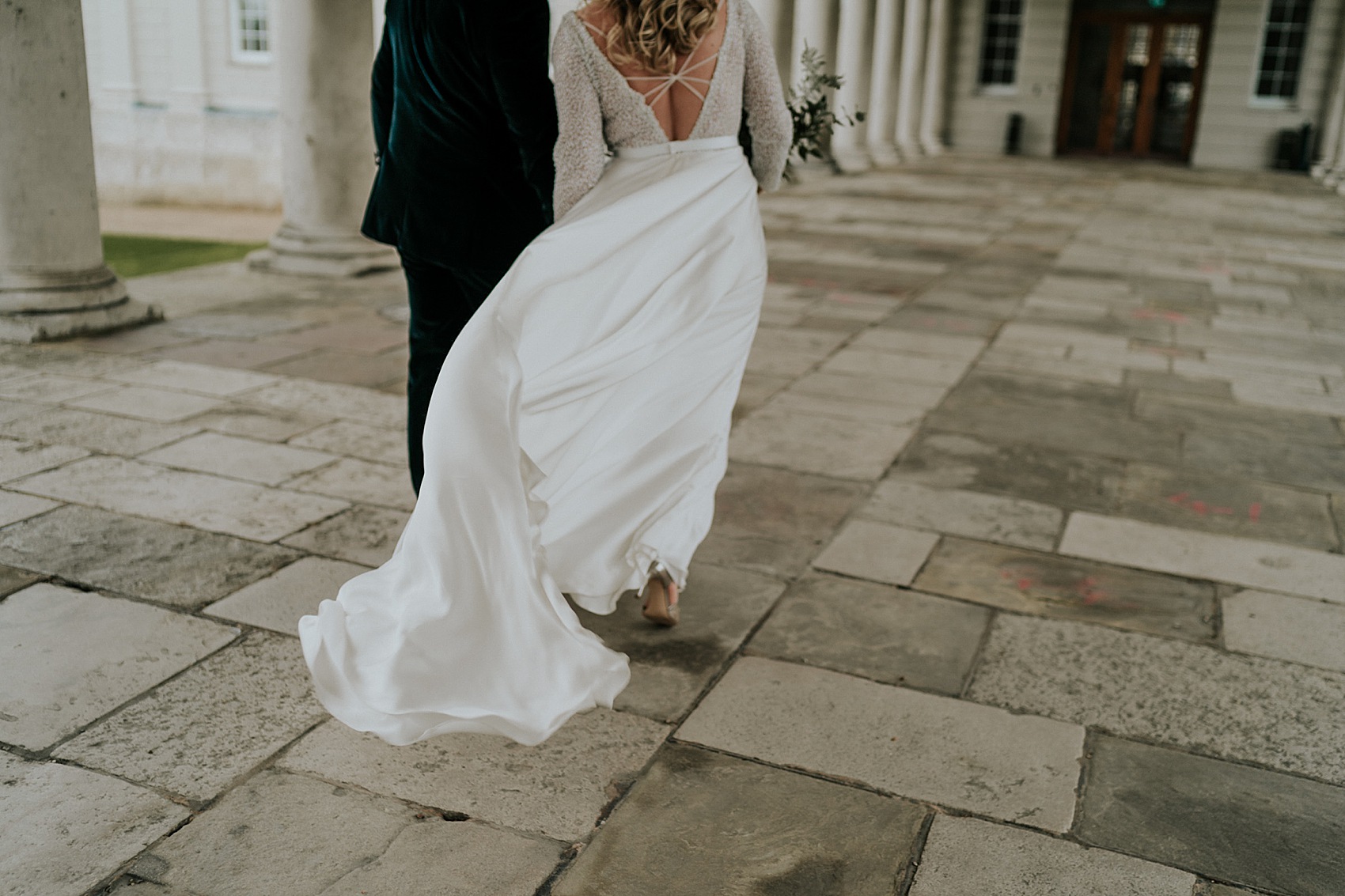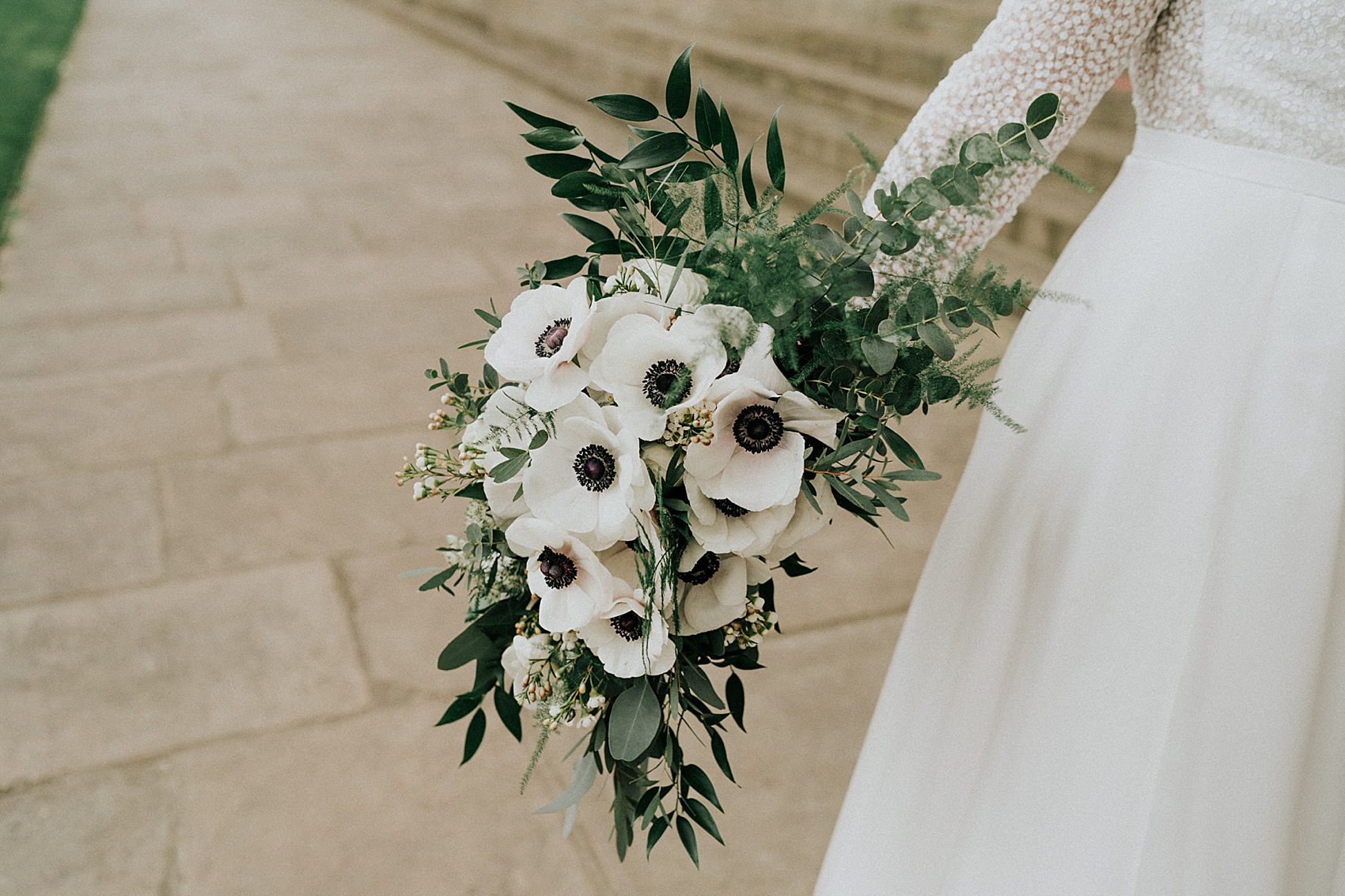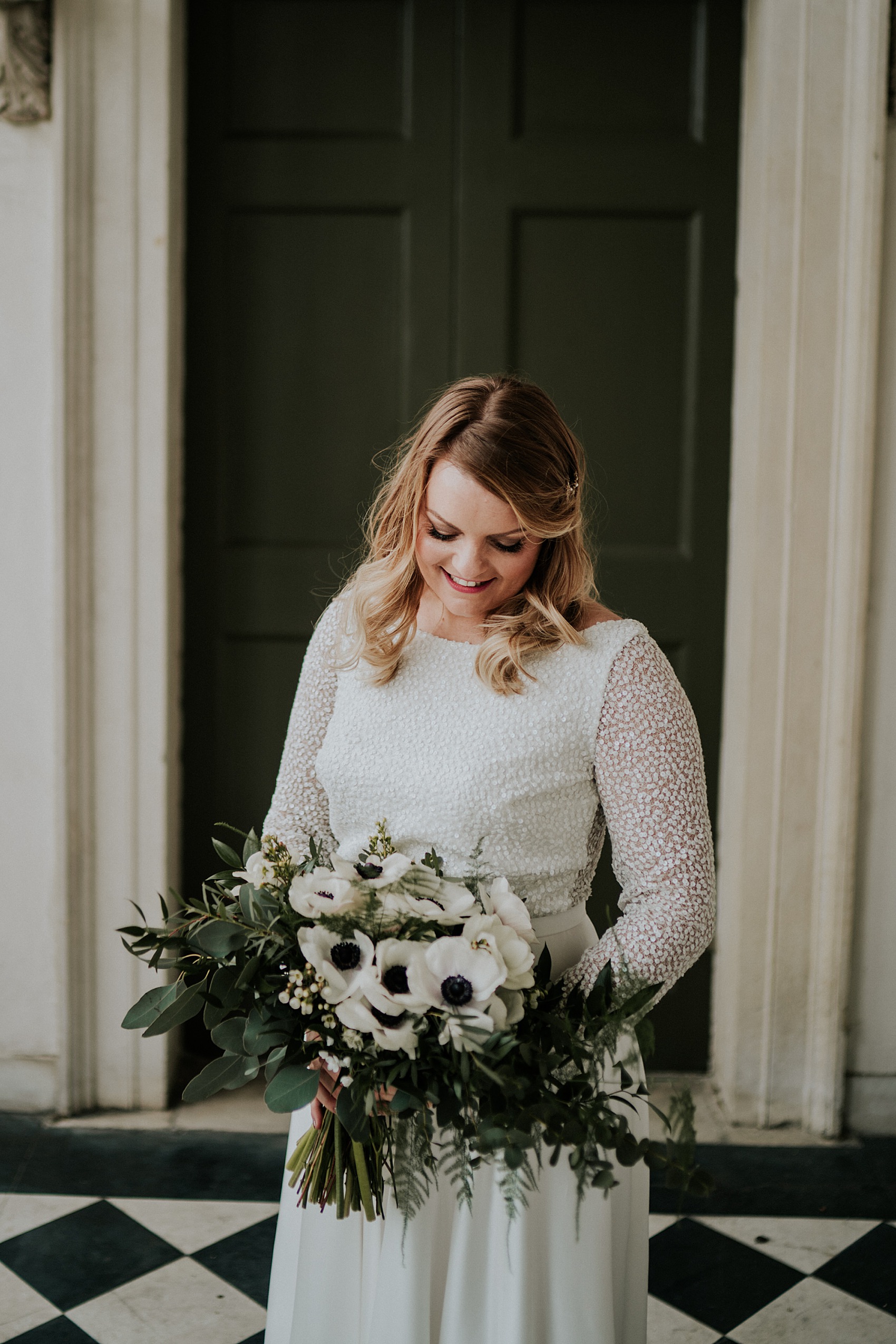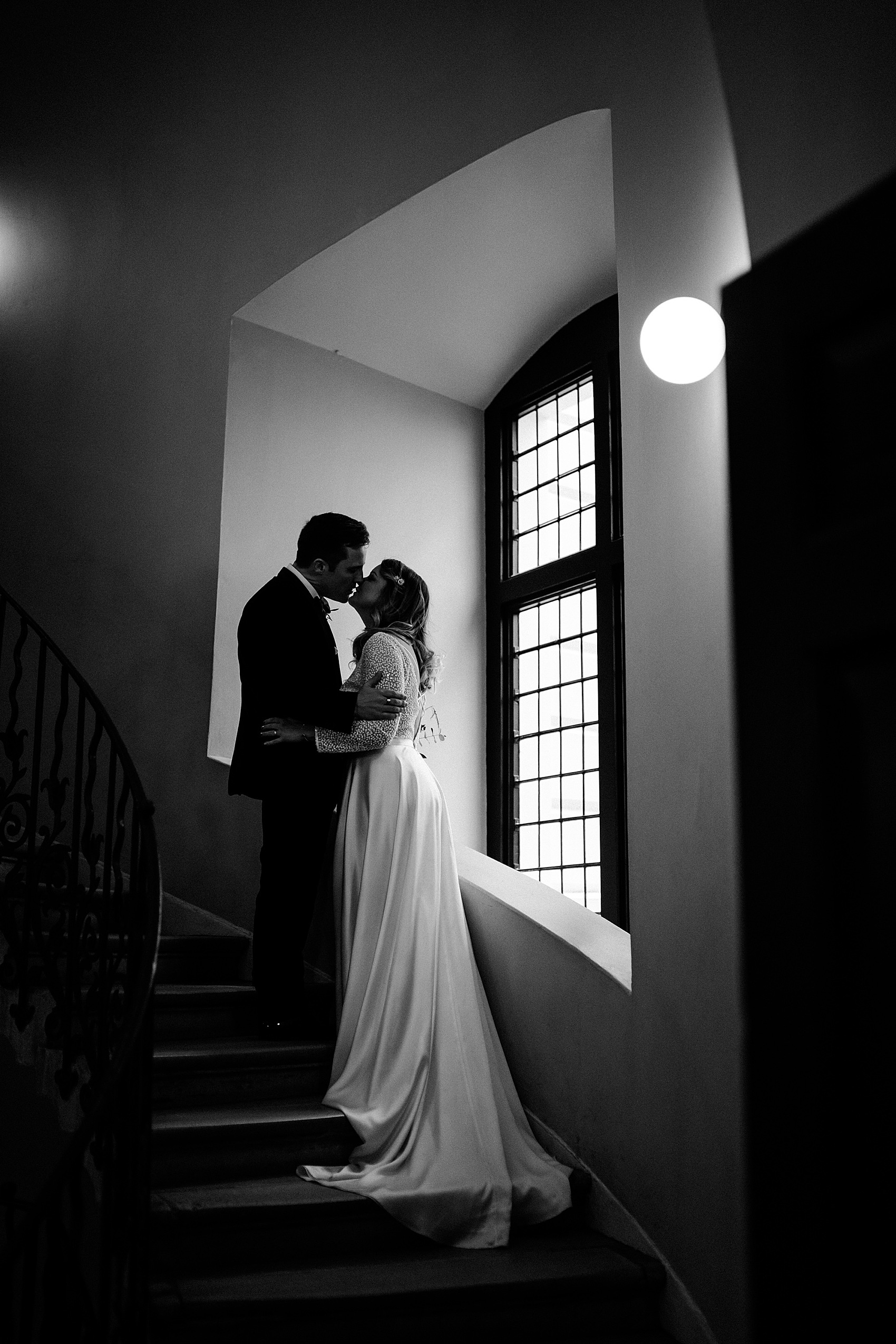 "Lighting was key on the day as well due to the disappearing sun fairly early on in the day and Ash Event Productions did us proud, not only with subtle general lighting around the venue, but with gorgeous lanterns down the aisle, outside the House and amazing festoon lighting across the Royal gate, illuminating the venue in a fun, modern style."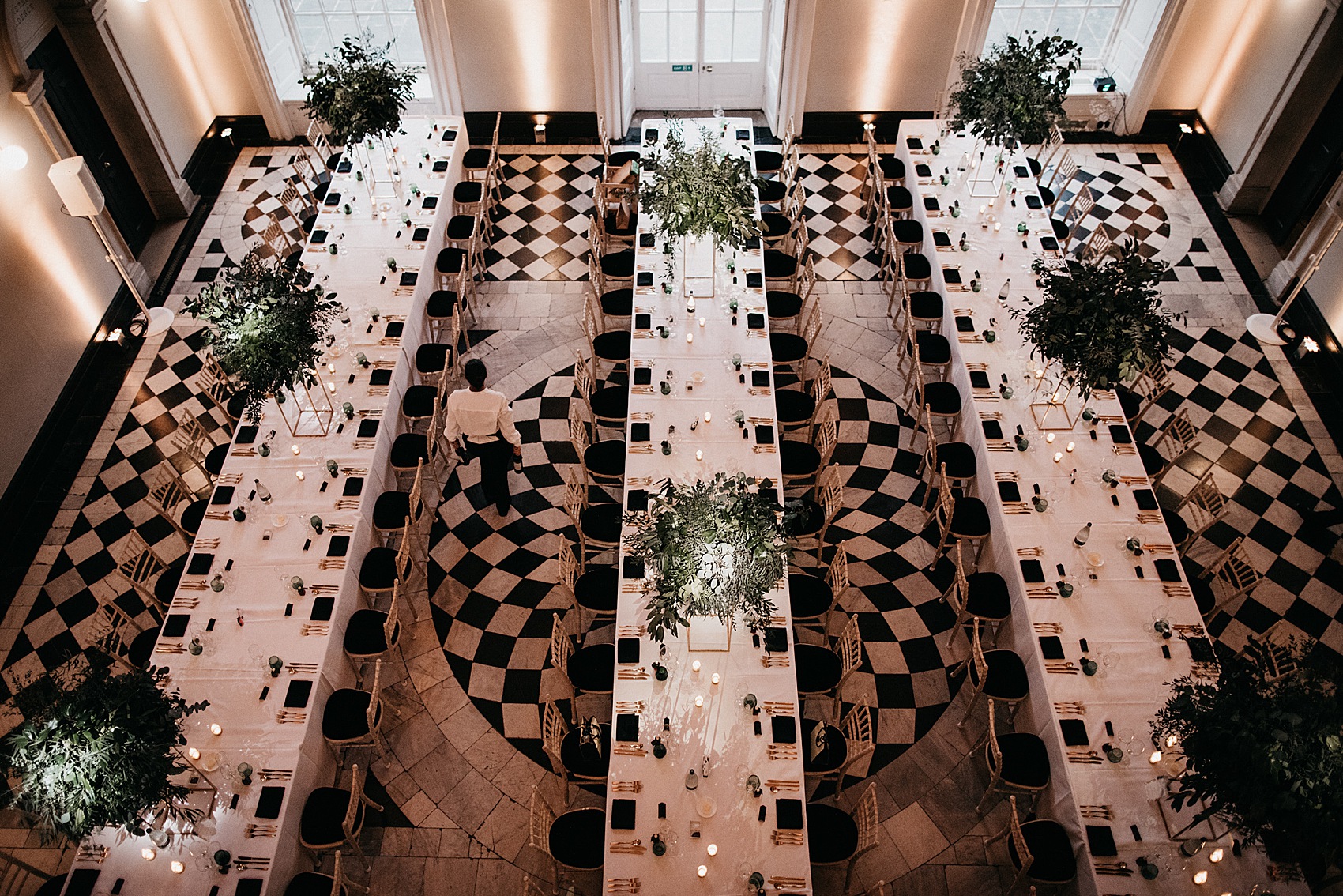 "We used minted.com to design our save the dates and invites, they have independent designers from all over the world you can pick from. And for all of our stationery on the day, table plan, place cards, labels on our wedding favours etc. we used a local supplier who is also an incredibly talented friend – HappyGirl." 
"The flower décor inside the Queens House really brought our vision to life as well, with a modern gold metal piping square arch at the top of the aisle, again dressed simply with trailing green foliage and twinkly fairy lights looked magical as the afternoon sun dipped away early."
"The 1.5m high table decorations of wild trailing foliage over gold metal stands looked super modern but not out of place at dinner too. We were super impressed with how H&R really worked with us to get all the details right.
"We supplied homemade damson gin favours, wrapped up in a handmade label from HappyGirl."
"Our cake designer and maker was an incredibly talented local independent baker, Claire Middleton of Middelton Cake Design, who totally brought our vision to life – a black and white marbled cake with gold flecks, the inspiration drawn from the beautiful 16th century marble floor in the Great Hall."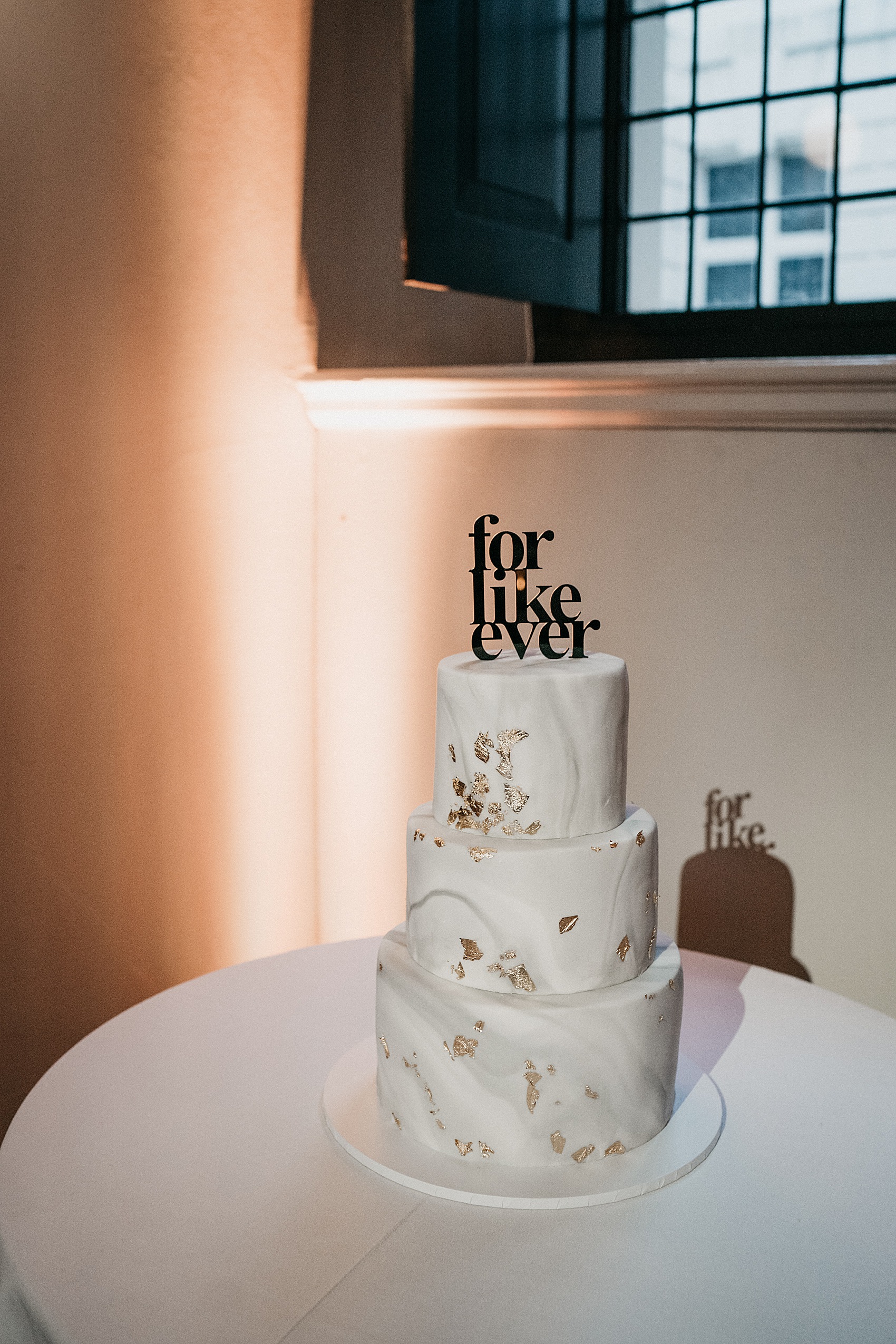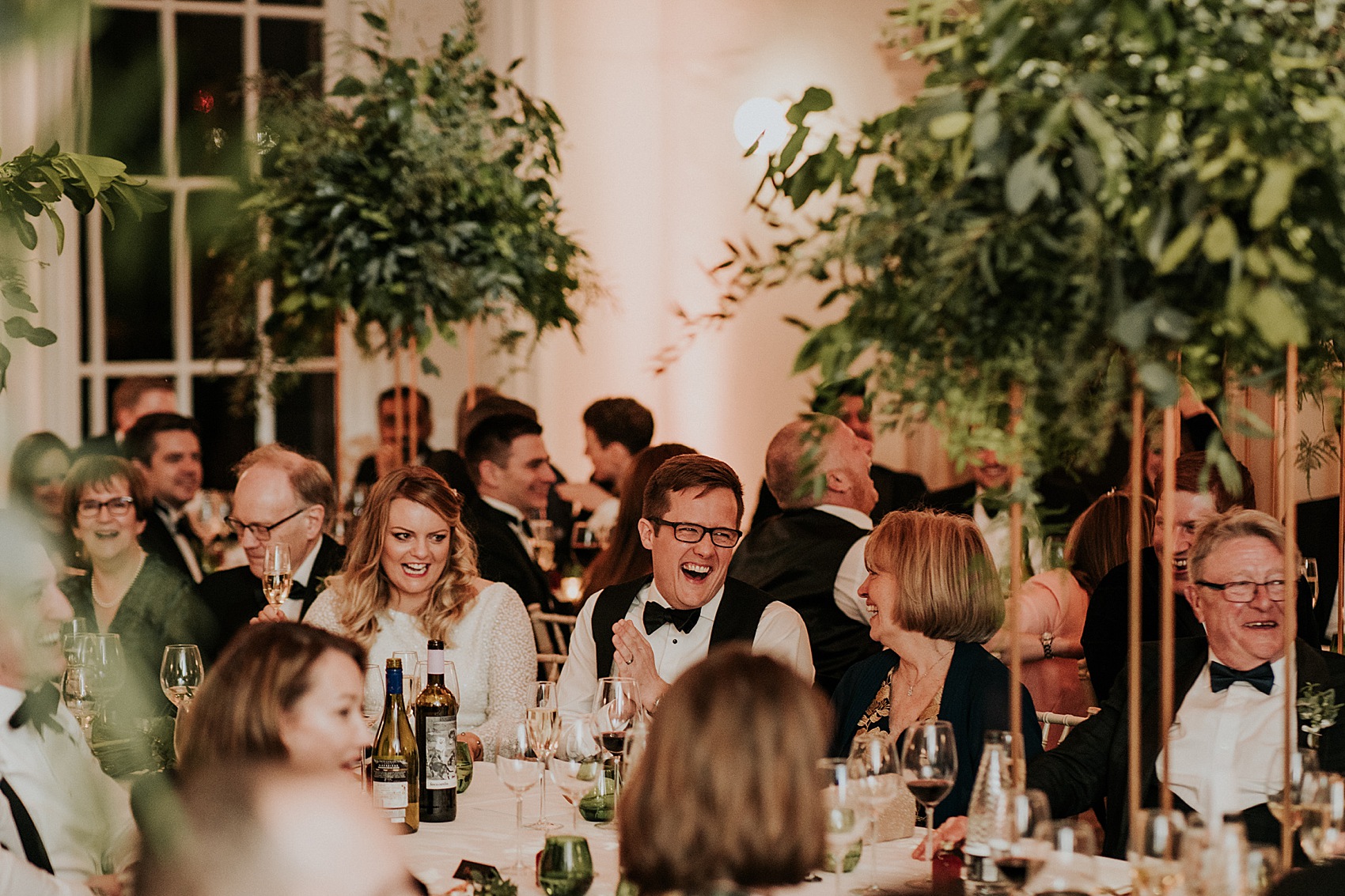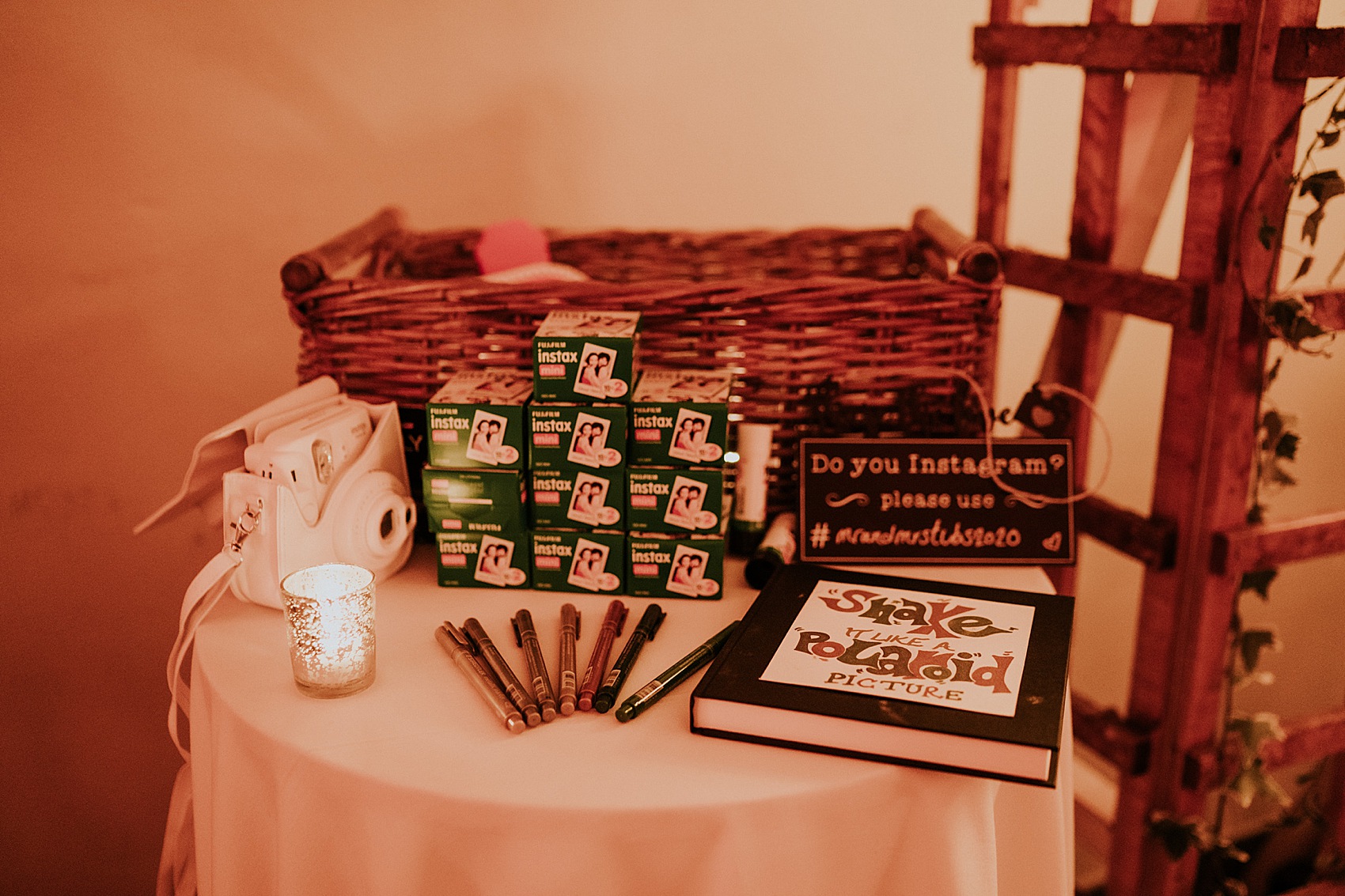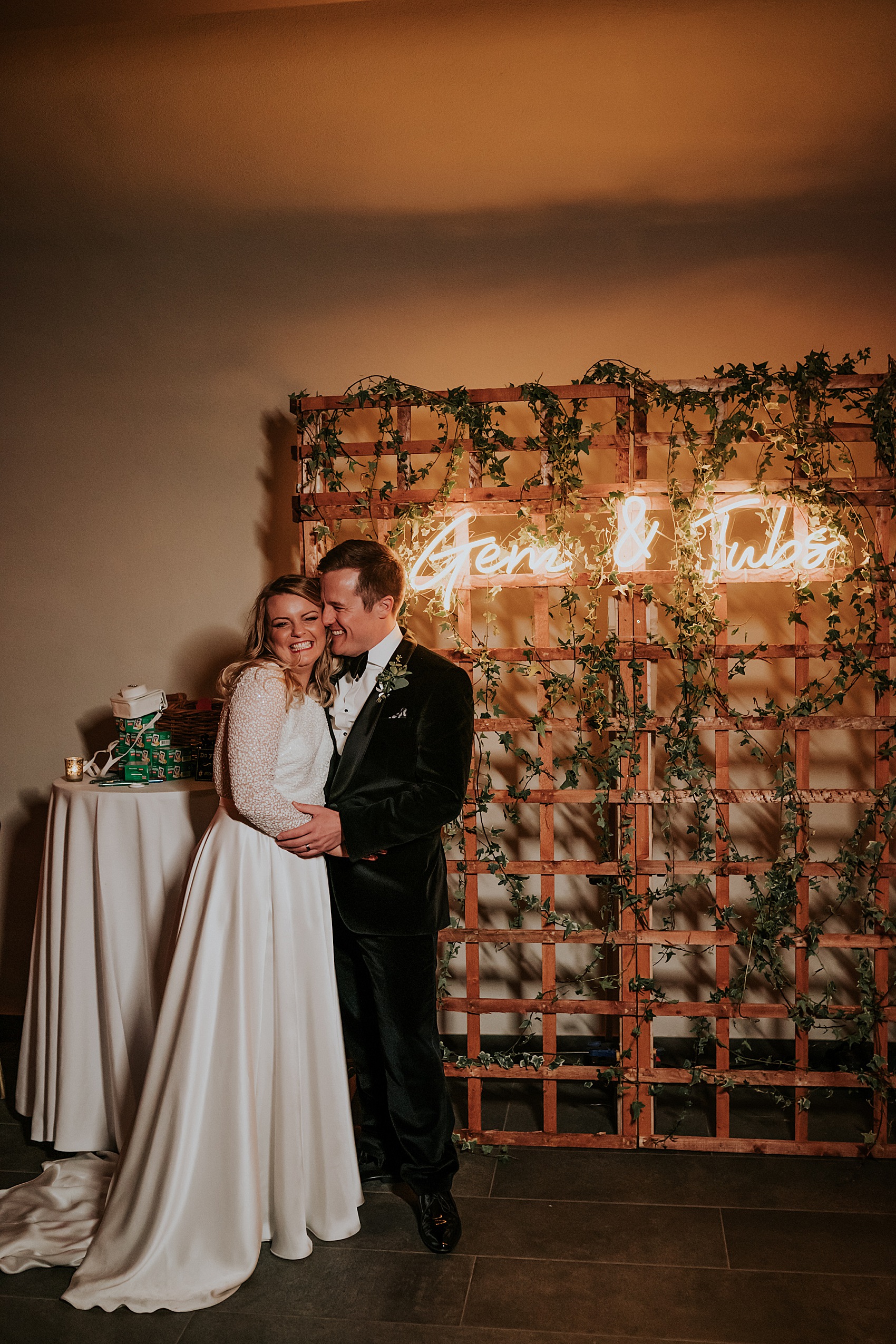 "Our first dance was Tenerife Sea by Ed Sheeran, but was sung live by our Band – The Sweet and Lowdown, who did an incredible job. Gemma is from Suffolk originally with her parents still living there."
"We headed back there last year and went to Ed Sheeran's homecoming gig to end his world tour and that song was one that stuck in our mind after we danced together in the park under the stars. The lyrics seemed a perfect sentiment to start our life together as well."
"We wanted live music during the ceremony and drinks reception and the strings were a perfect match with the venue and ambience of the day. A group of very talented ladies! We also knew straight away that we wanted a live band in the evening and following a recommendation from friends, we found"
"The Sweet & Lowdown' who were the prefect mix of vintage, modern, crowd pleasing, but not cheesy!!
Words of Wedded Wisdom
"Given we planned our wedding in a quite short space of time, I think we would say, don't be daunted by it. It you tackle it as a pair and really work together on the planning, you'll be amazed at what you can achieve in any amount of time you give yourselves."
"Working together as a team has always been at the core of our relationship and living 3.5k miles apart for over two years really proved how strong our team was. Contracting with high quality suppliers such as Moving Venue who looked after all of our catering, was really worth it. Having experienced suppliers who really pay attention to detail like MV did, meant on the day, we could just relax and enjoy ourselves knowing everything was in hand."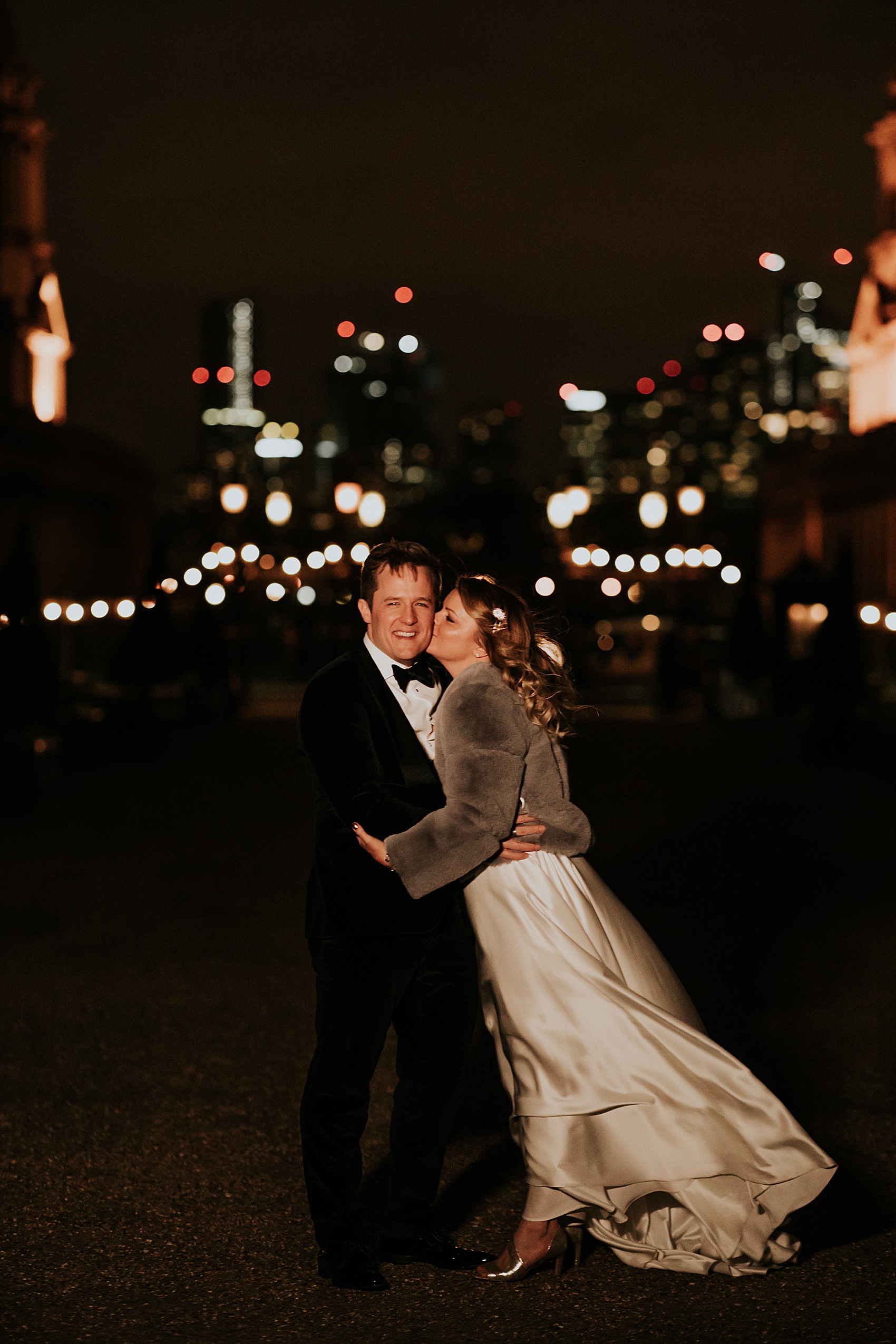 How absolutely beautiful. See more gorgeous black tie weddings here.
Annabel