This lovely wedding we're sharing today is pure joy from start to finish, with lots of whimsical theatricality, and a gorgeous bride wearing items with a subtle, skyward theme – from star embellishment on her top, to more stars and birds on her cape, wings on her shoes, and celestial jewellery and hair accessories.
Our couple Esther and Martin both work at a fintech company, where Martin is Head of Operational Change, and Esther is Head of Customer Experience, whilst also studying for an MA in Text and Performance at RADA and Birkbeck.
Joasis Photography

+ Follow
They were married on the 12 October 2019 in a ceremony at Asylum Chapel (AKA Caroline Gardens Chapel) in Peckham, South East London. This was followed by a reception at One Friendly Place in Deptford; a warehouse converted into a cool film and photography studio, as well as an events space.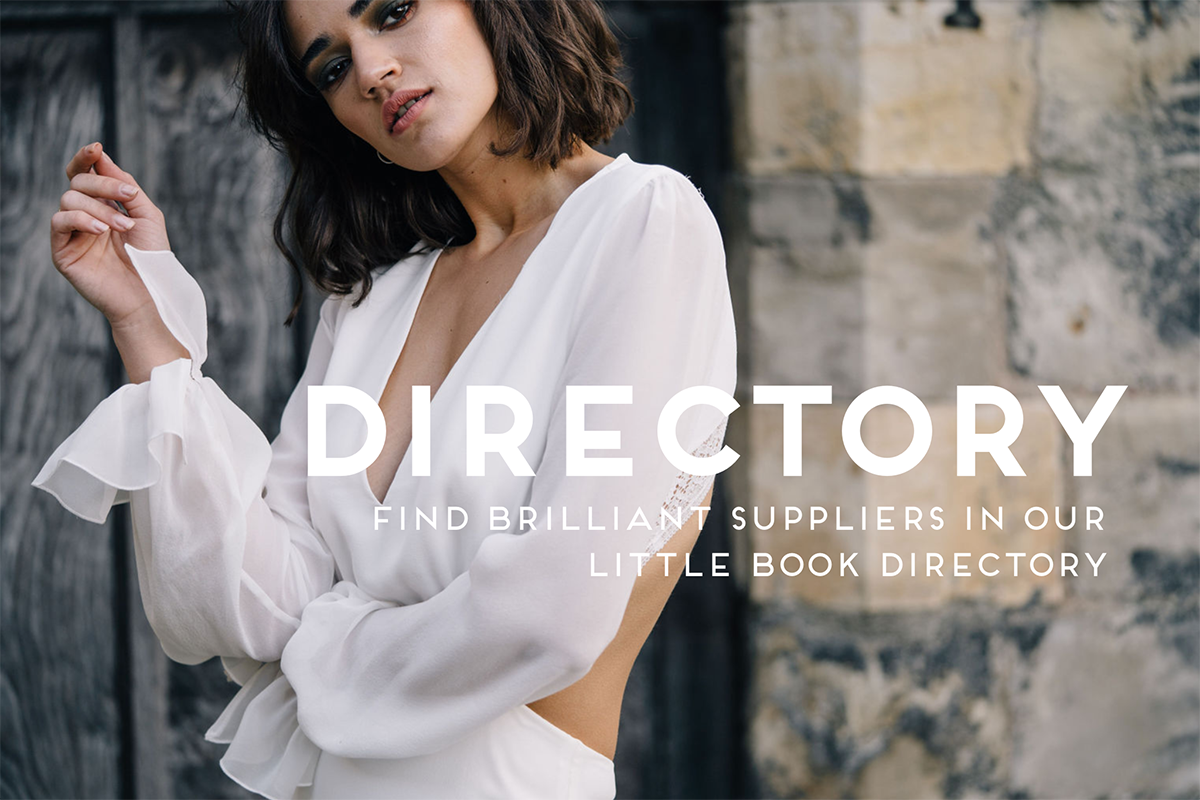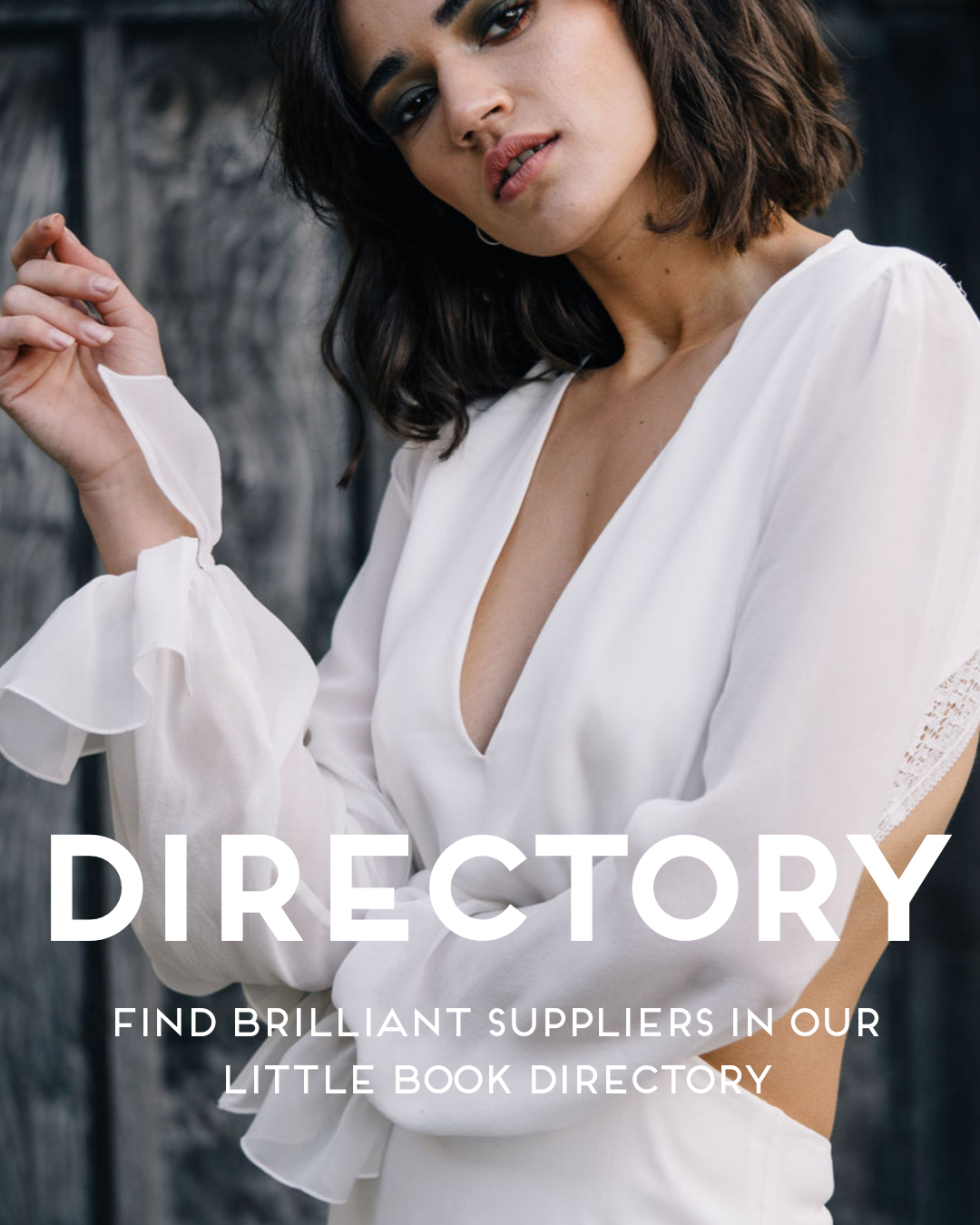 Esther's shoes by Oscar Tiye were gold sandals with brilliant pink inside, and wings on the heels, and for accessories she was gifted a pair of Tilly Thomas Lux earrings by her aunty. She also wore a moon necklace from Tilly Thomas Lux, which was also the attachment for her cape.
"Sally was great, and suggested a different chain to go with the style of the top and made it with two loops and no clasps so it could be attached and removed."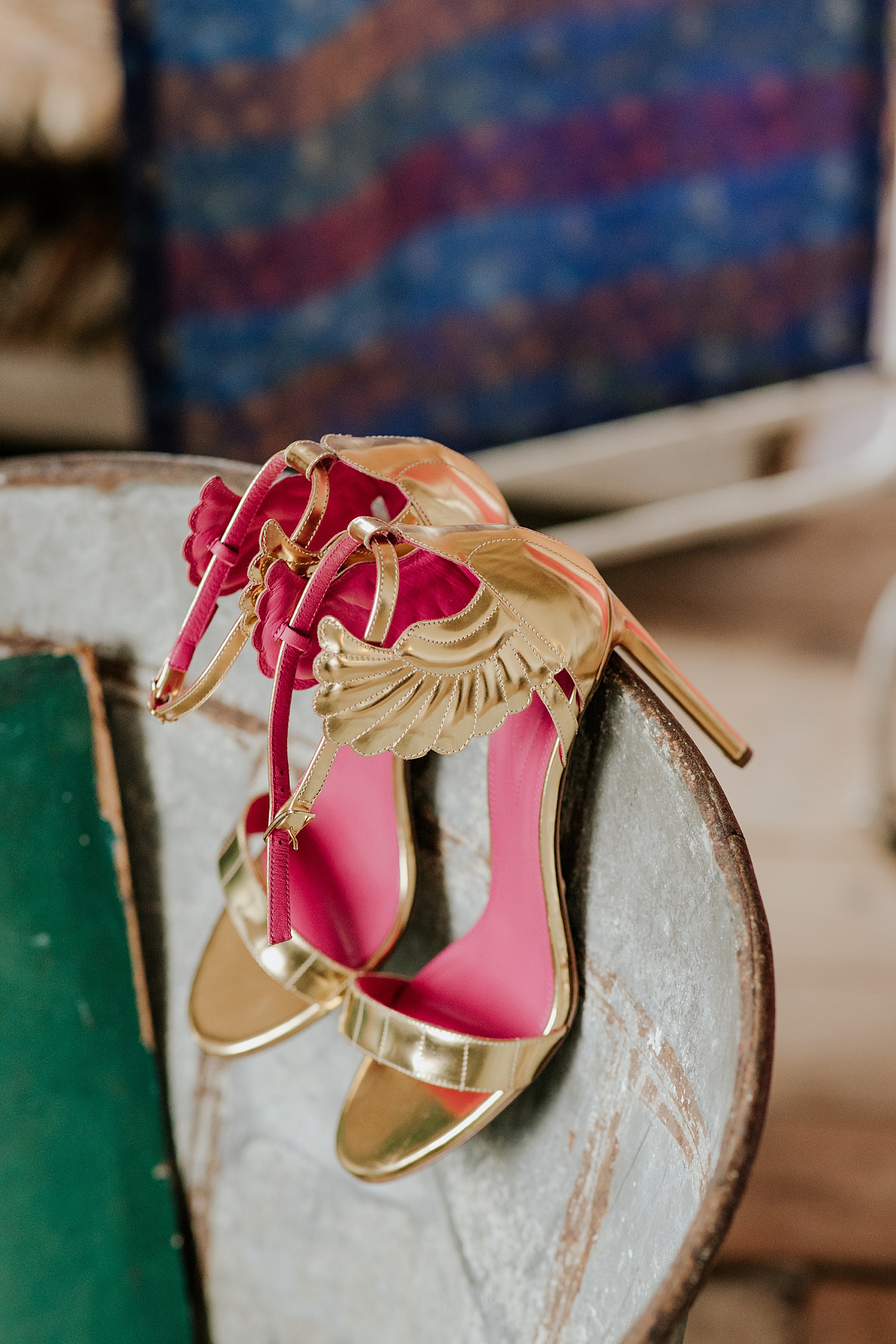 "Hair and make-up artist Zoe at Knot your Average Bride is wonderful! She really understood the look I was after. I was really worried about finding someone that wouldn't make me feel too done, like I was wearing someone else's head – but Zoe really understood the style I was after, and I honestly felt like the very best version of myself. She is such, such fun to be with, which is so important when you are nervous and stressed."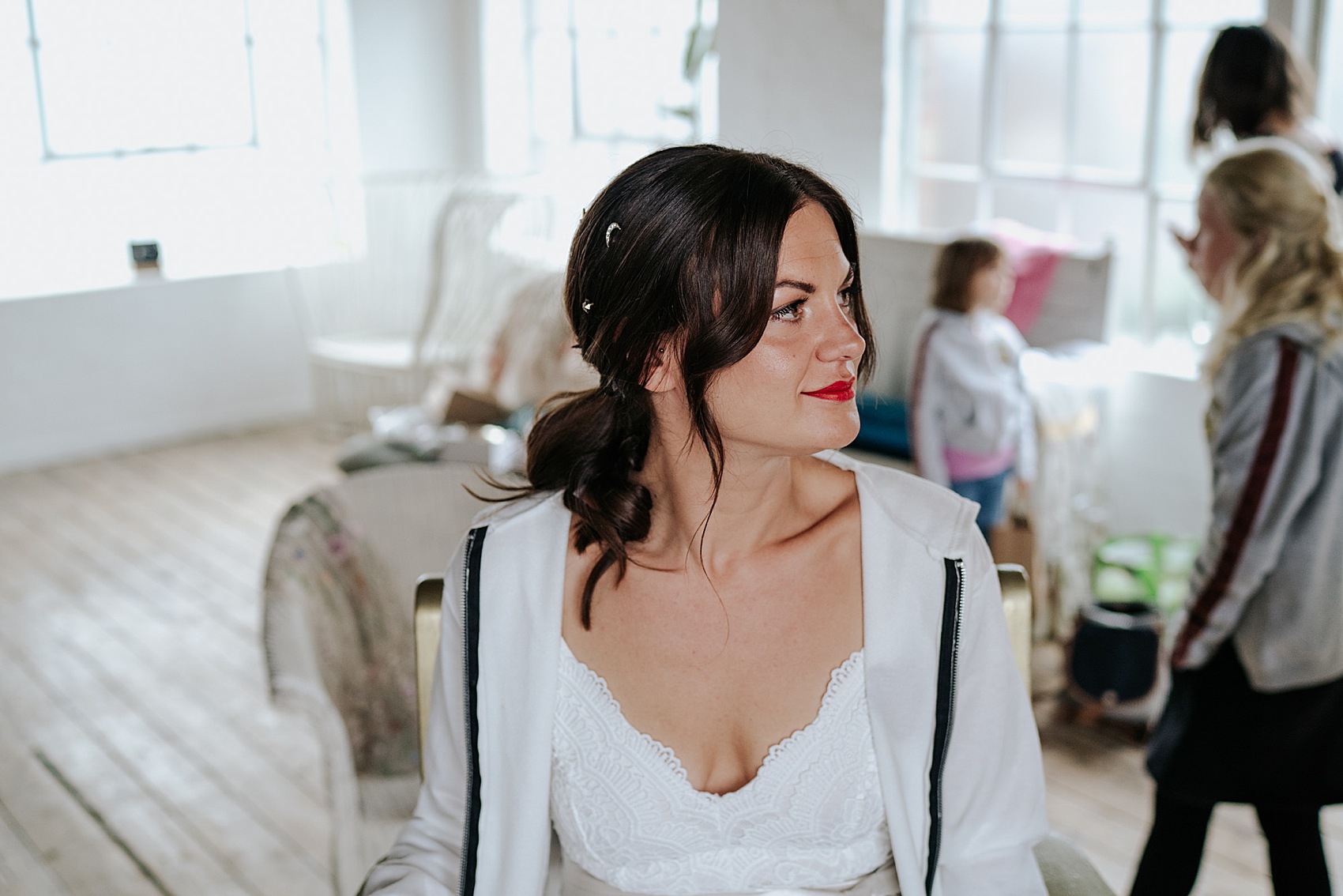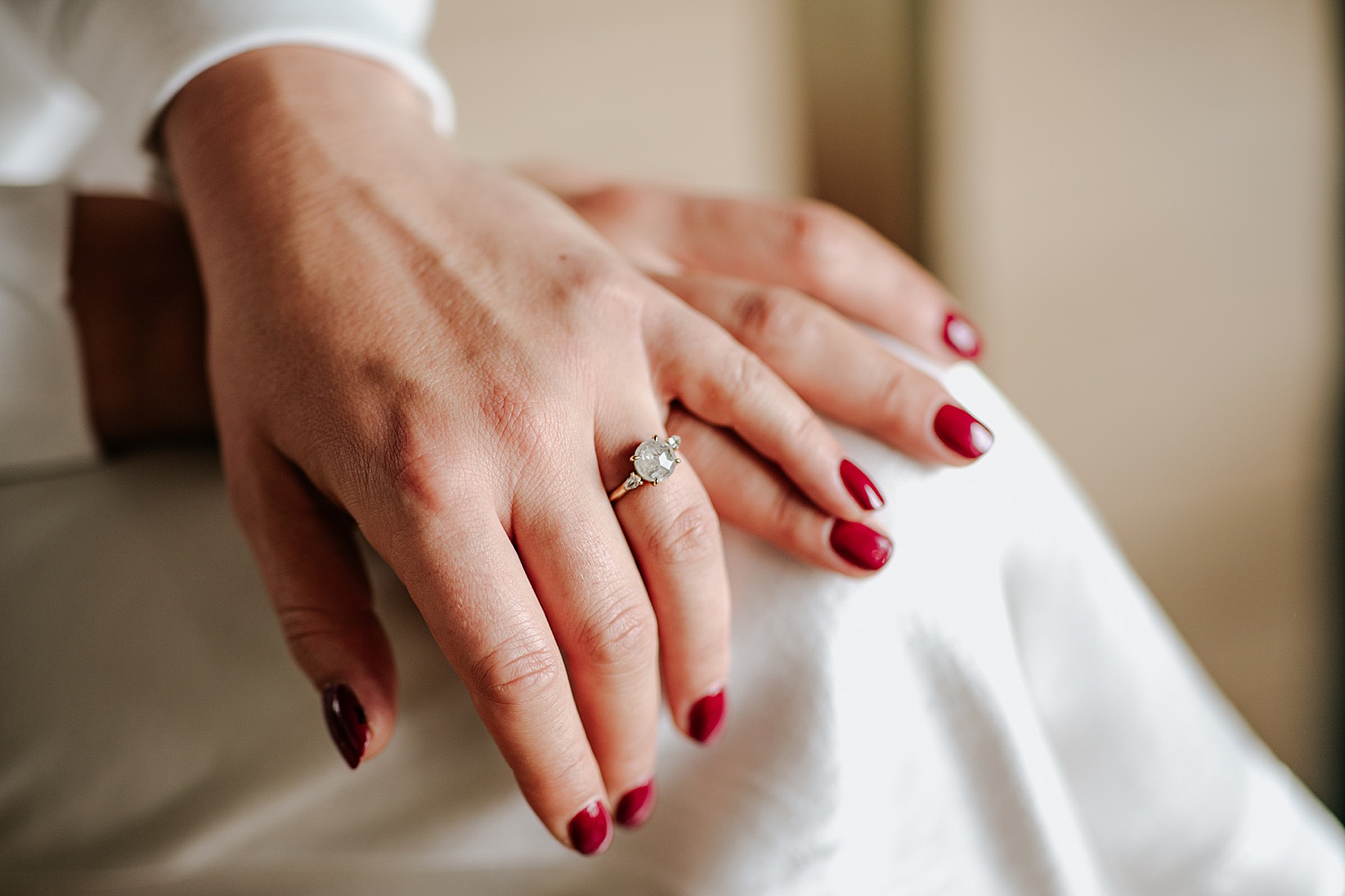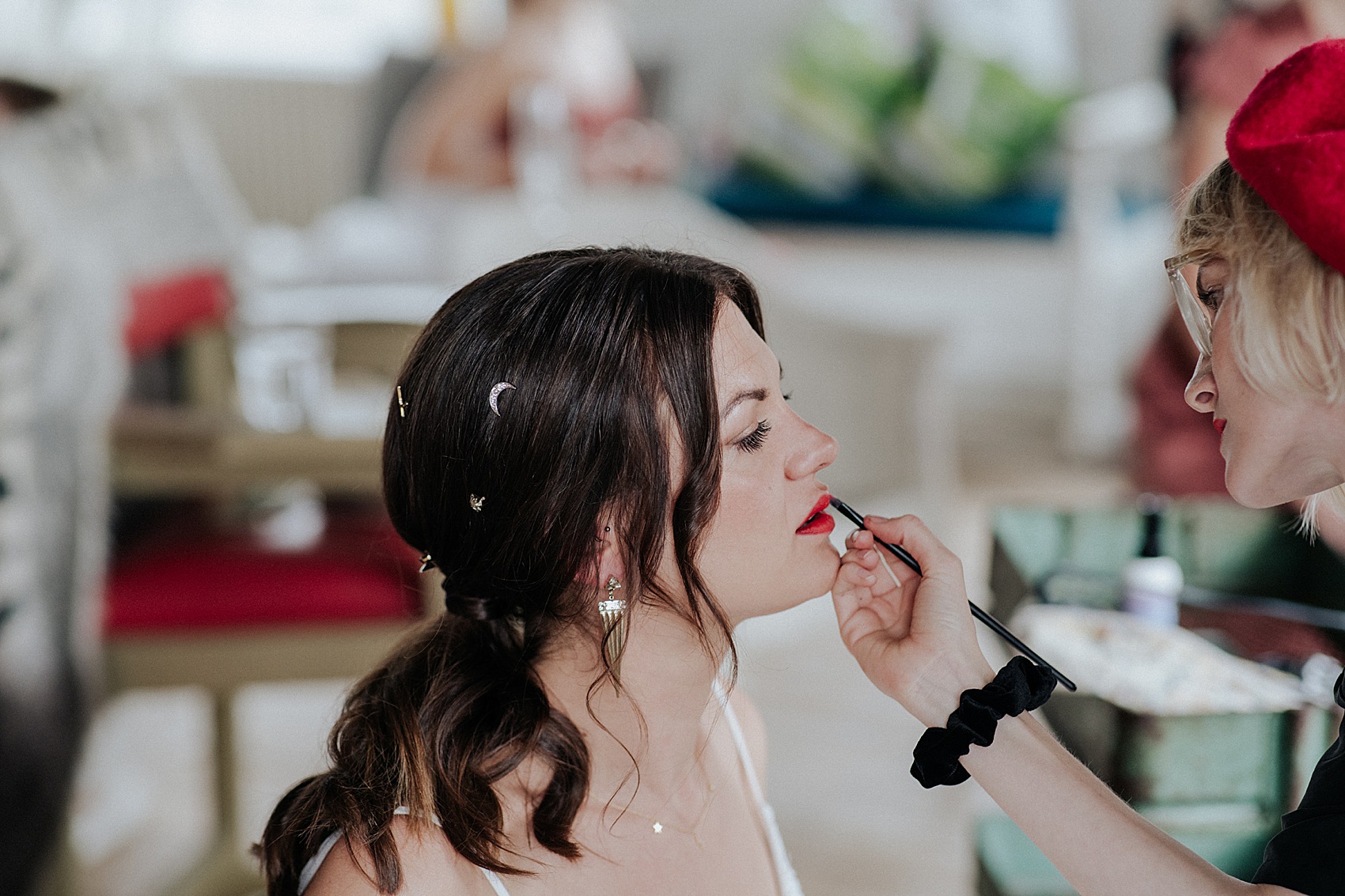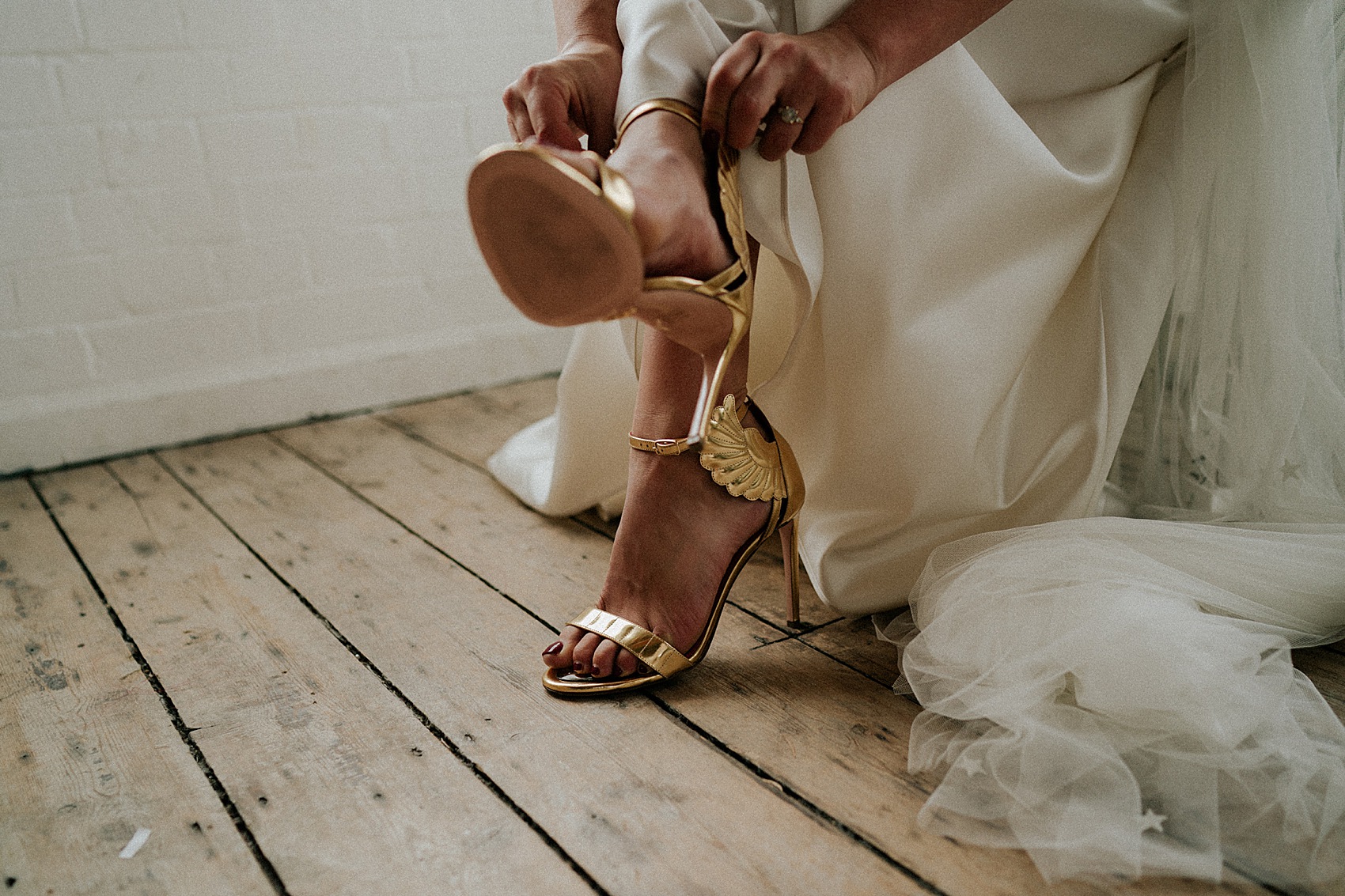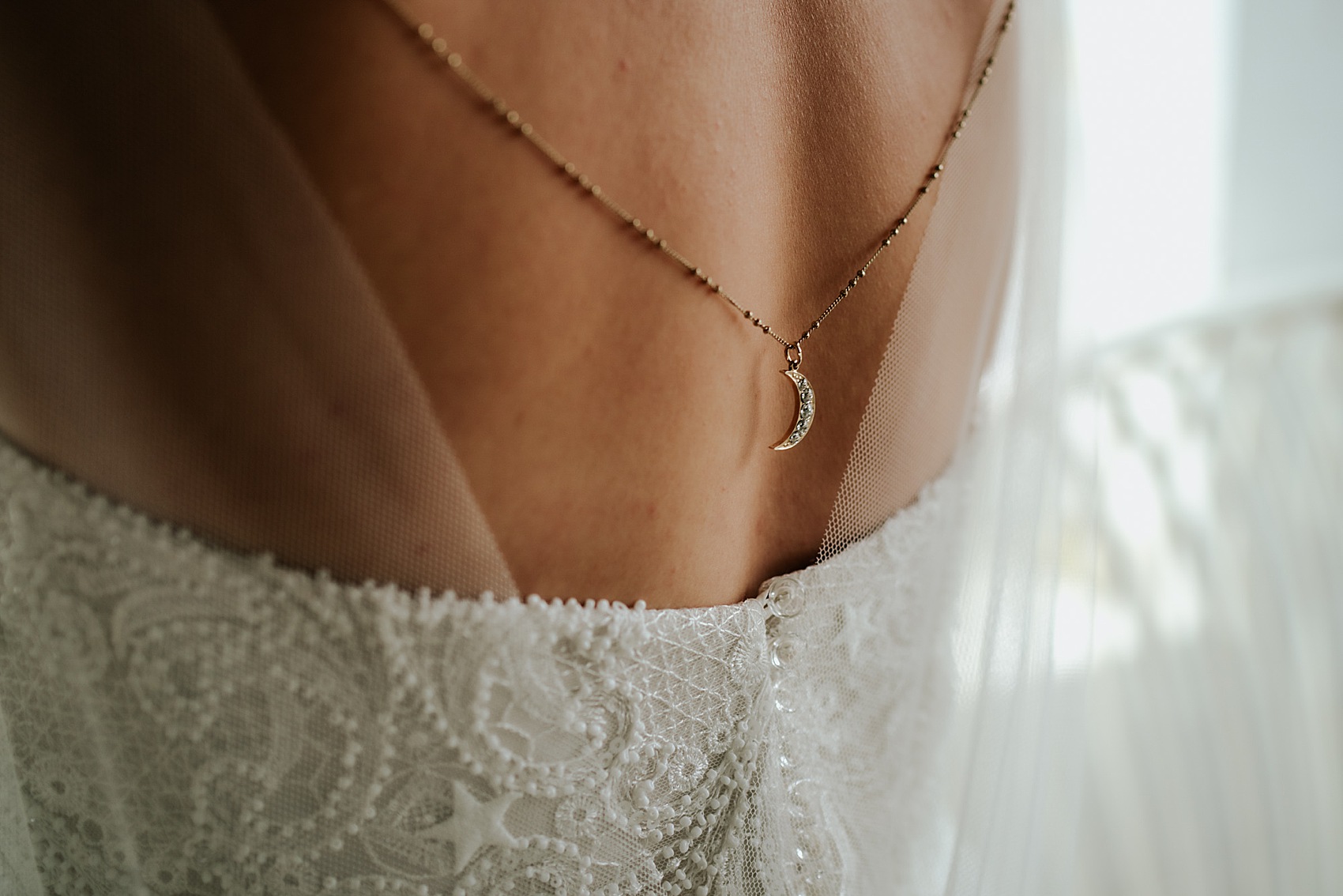 Esther's flowergirls looked absolutely lovely in the sweetest floral embroidered dresses, which were handmade by Esther and Martin's aunties. The bridesmaids were gifted gold triangle necklaces from Orelia London, and wore their own outfits and gold shoes.
"My bridesmaids are a bunch of fiercely independent women with their own styles, so I didn't want to tell them what to wear or make them all wear the same thing. Instead, I gave them a budget and my florist's colour palette, and they went off to find something. Two dresses were from & Other Stories, one was from Ted Baker, and another from Dorothy Perkins."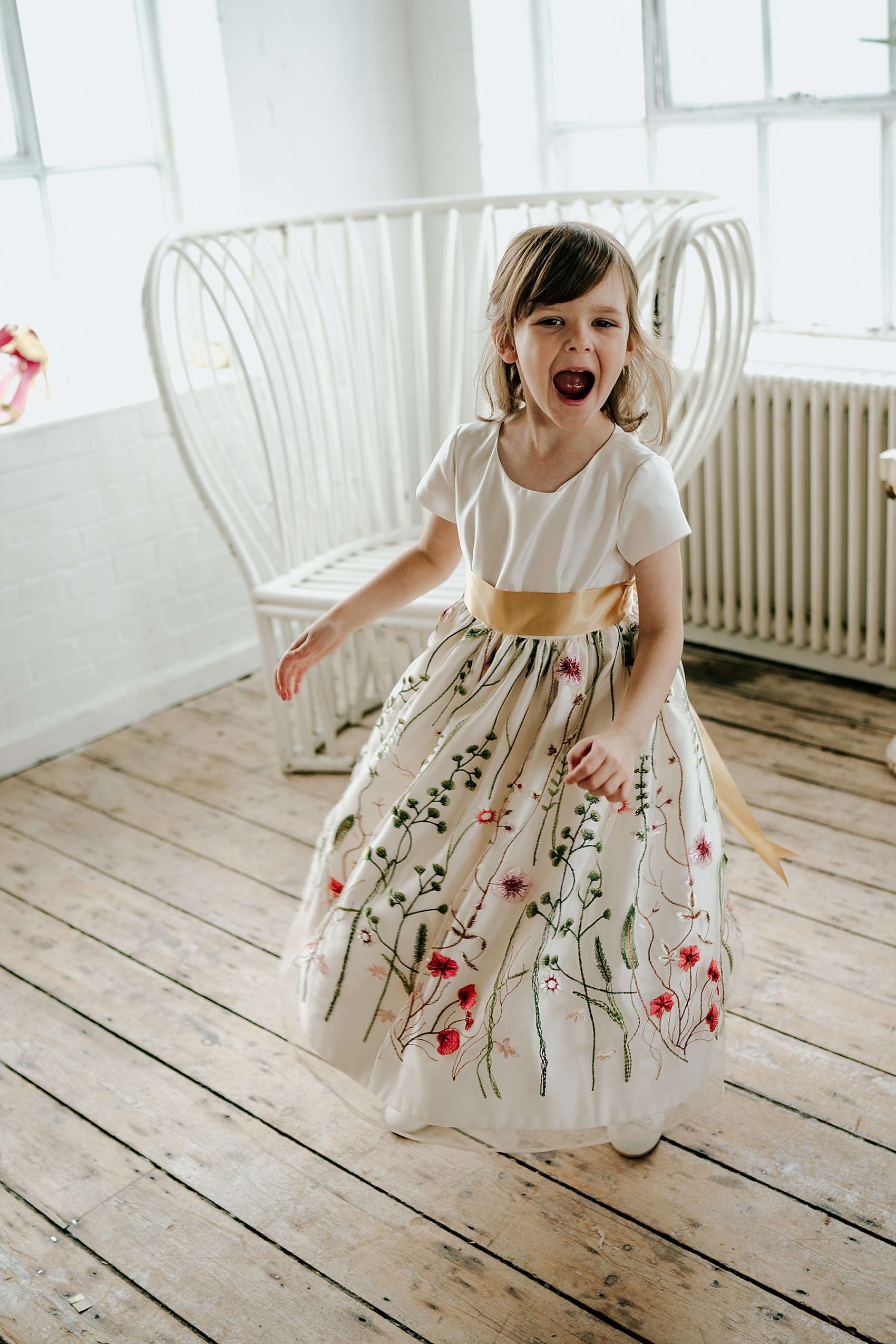 In her hair, Esther wore pins from Tilly Thomas Lux, and her wedding day perfume was Tonka 25 by Le Labo. She also carried a beautiful bouquet of autumnal, jewel toned dahlias, astrantia, and chocolate cosmos, with pastel hued garden roses, which was made for her by Izzy from Flower and Press.
"I was absolute blown away by her work. She took my quite vague brief and produced flowers that were extraordinarily beautiful. I was blown away when I saw them – I had a little cry when my bouquet arrived."
"She was also very amenable! I kept changing the brief – adding hairslides for bridesmaids, extra buttonholes, and asking her to do reception flowers, which I had originally intended to do myself etc., etc. Every time she was able to accommodate, and was very kind about my ever shifting goal posts."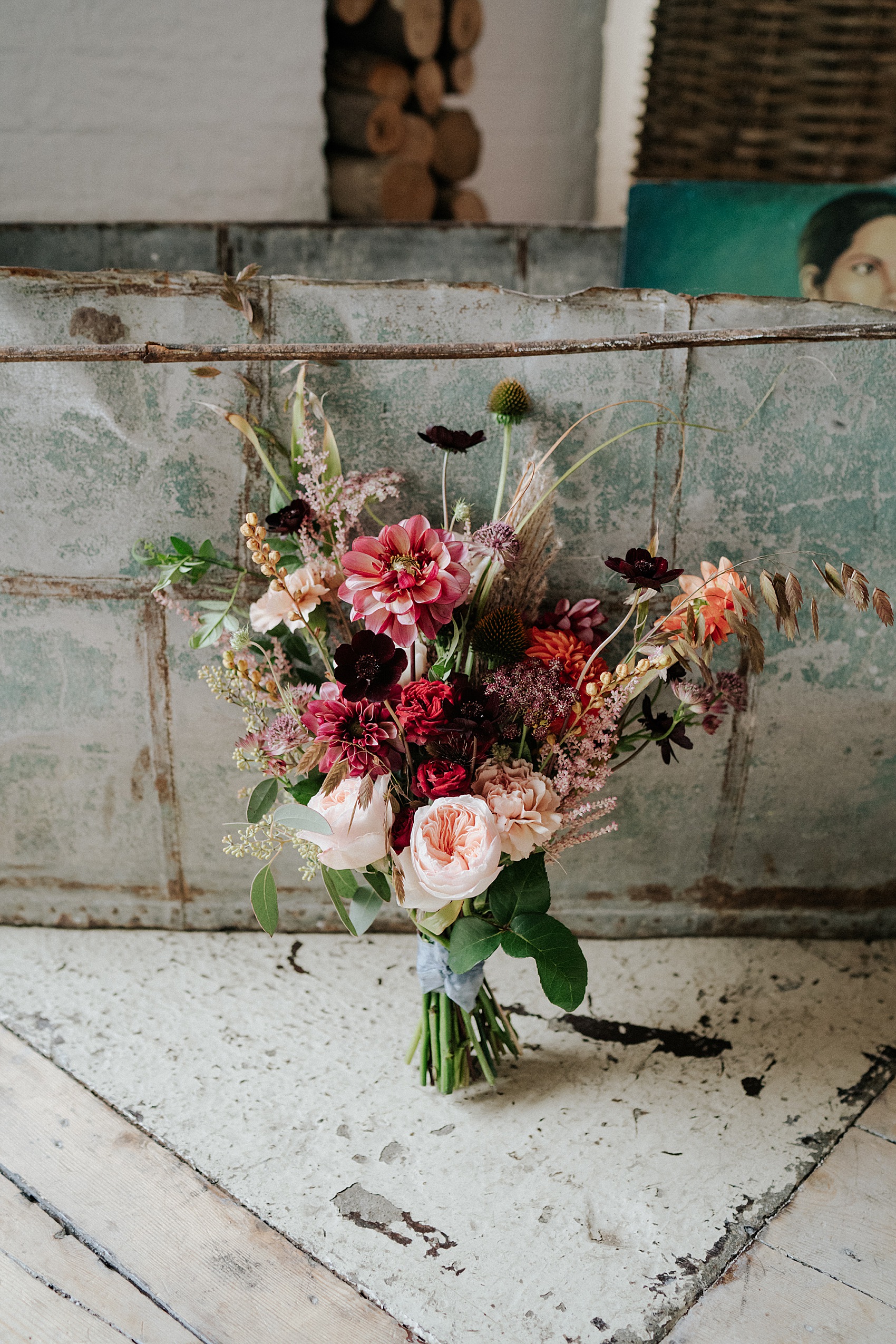 Esther had a wonderful experience in choosing and commissioning her spectacular wedding outfit, and I just love how the look came together with her shoes and accessories in the most charming, celestial inspired way. She headed to Halfpenny London's beautiful flagship boutique, where she settled on a structured, high-low silk skirt with pockets.
"The Halfpenny London boutique is like the most beautiful dressing up box, and the staff were great. The skirt was the last thing I tried on, and was an off-beat suggestion from the stylist as I had thought I wanted a slip dress style. When I tried it on it felt so gorgeous and so comfortable – I felt I could move happily and freely in it."
Esther paired her skirt with an incredible bespoke lace top, embroidered with swirls and stars, which was designed and made for her by Julita LDN Bride. Designer and owner Jo's focus is on creating pieces of handmade, individual 'wearable art' filled with personality, and Esther wore her top together with a custom made cape, embellished with appliqué stars and graceful swallows in full flight across the fabric.
Postponing your wedding? Bookmark our Covid19 pages which are full of useful, practical & emotional advice.
"Working with Jo through the bespoke process was wonderful, I absolutely loved it; talking through ideas, settling on designs (stars and more stars) and fabric was incredibly special. Jo had such great ideas for little touches to make it more beautiful than I could have imagined – we spent a lot of time settling on star placements! It might seem nerve-racking going bespoke, as you can't try anything on, which means your outfit only exists in imagination until quite close to the day', but I really truly adored the whole experience. It was perfect, I wish I could do it again!"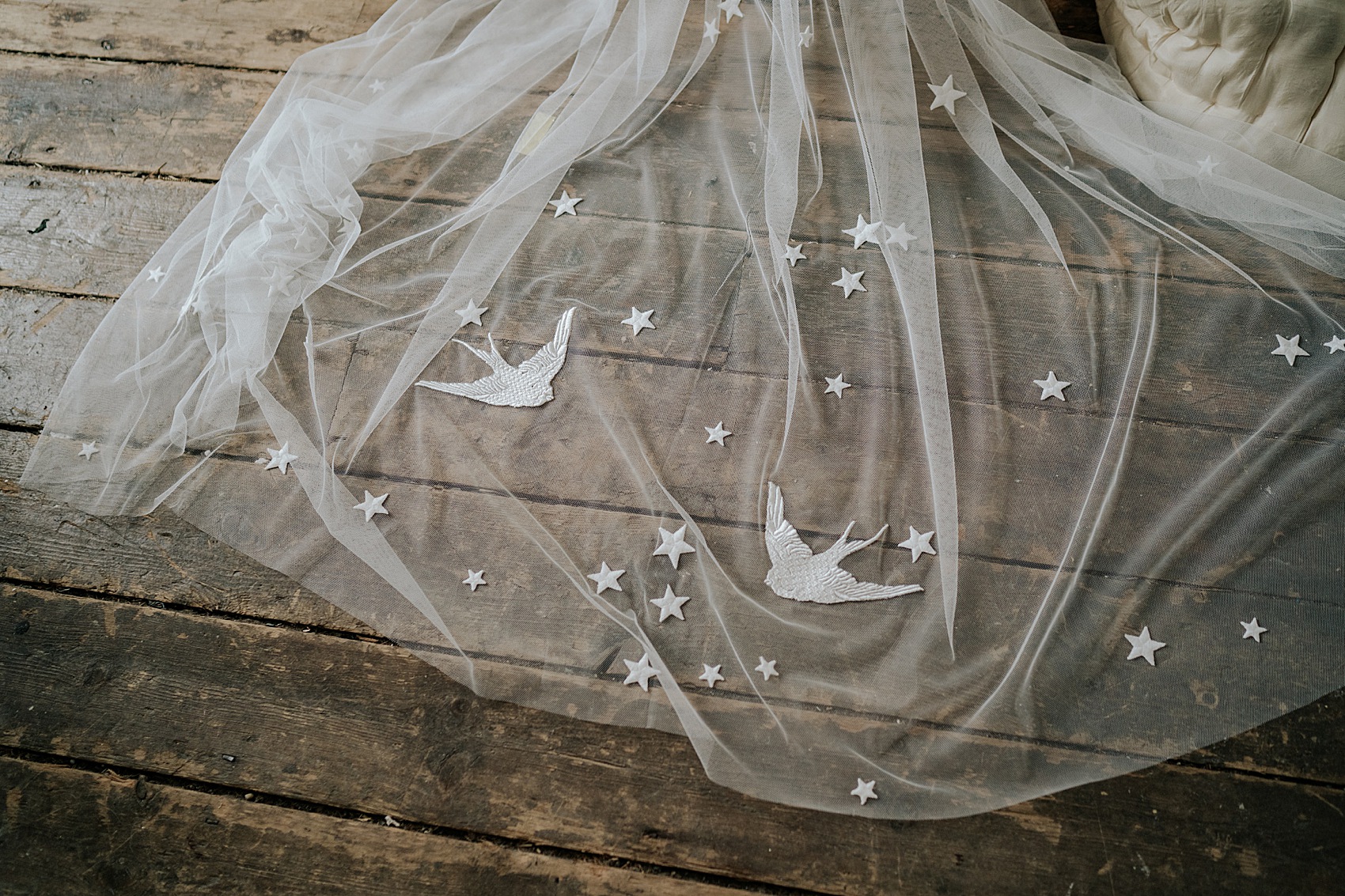 "I wanted something that was modern, but still bridal. I think the pleats and pockets (!) on my Halfpenny skirt paired with the exquisite detail on the star embellished top and cape from Julita achieved that. I was comfortable all day, whilst also feeling like the best version of myself."
"I loved the drama of veil but it didn't quite go with the look I had in my head. Jo at Julita suggested that we go for a cape instead. I leapt at the suggestion. I loved the seemingly random scatter of stars across it, and the birds which were a late, but very welcome addition. Jo also designed the cape to be attached to the top on little necklace fastenings so I could remove it as the day went on."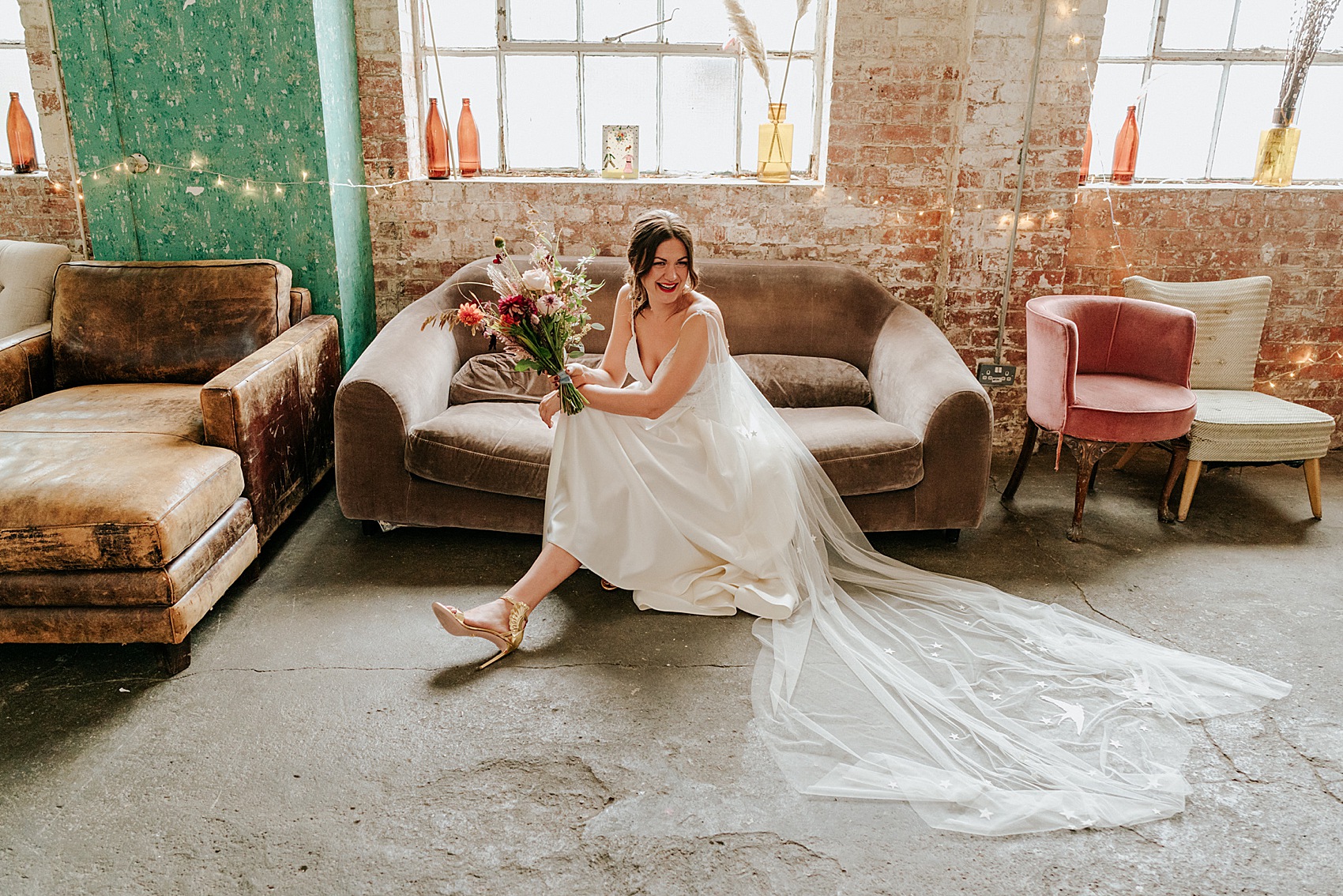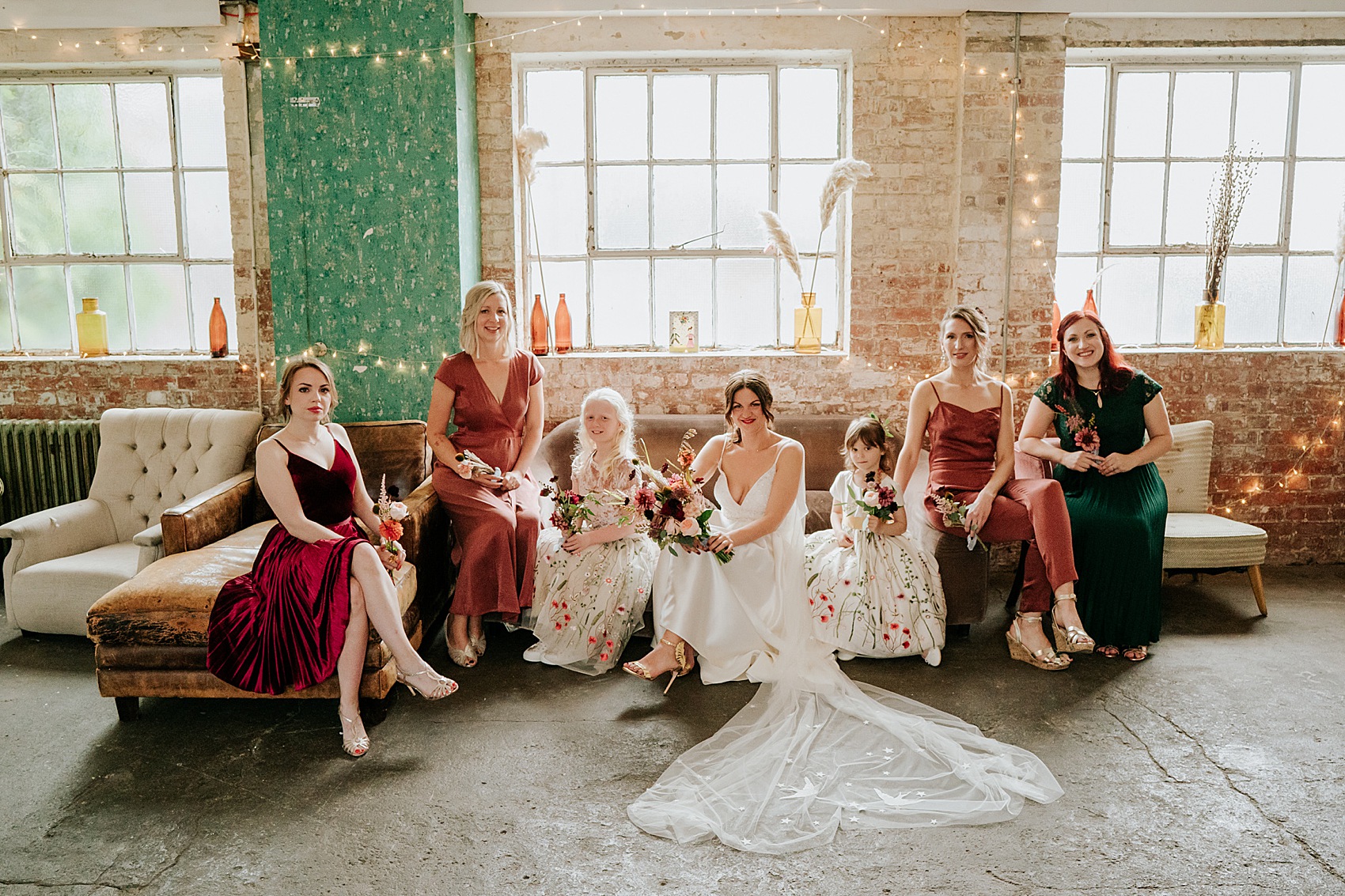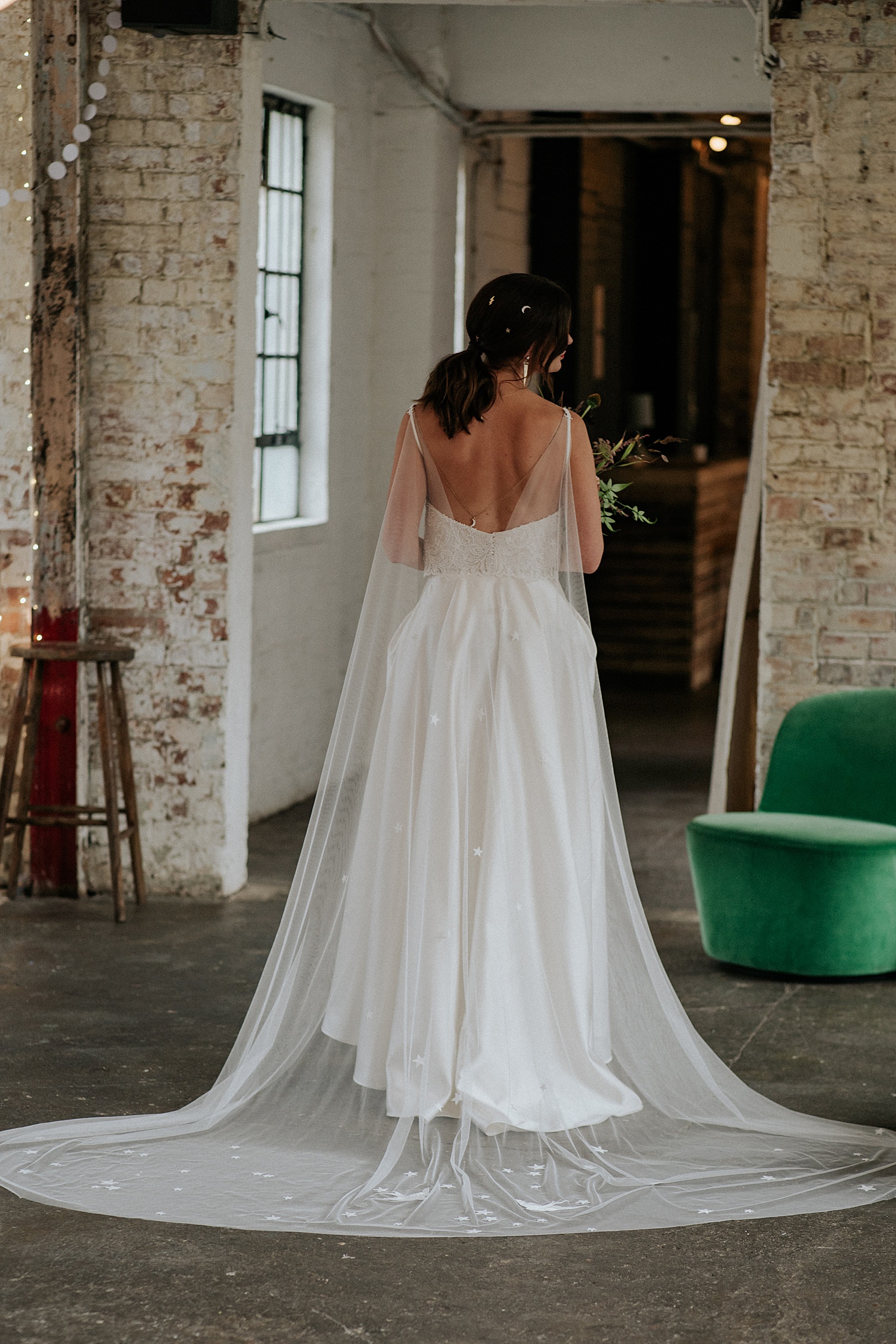 "We used London Retro Bus Hire to transport out of town guests and the groom and groomsmen from the hotel to the chapel, and then between the two venues. They were great fun and a good talking point."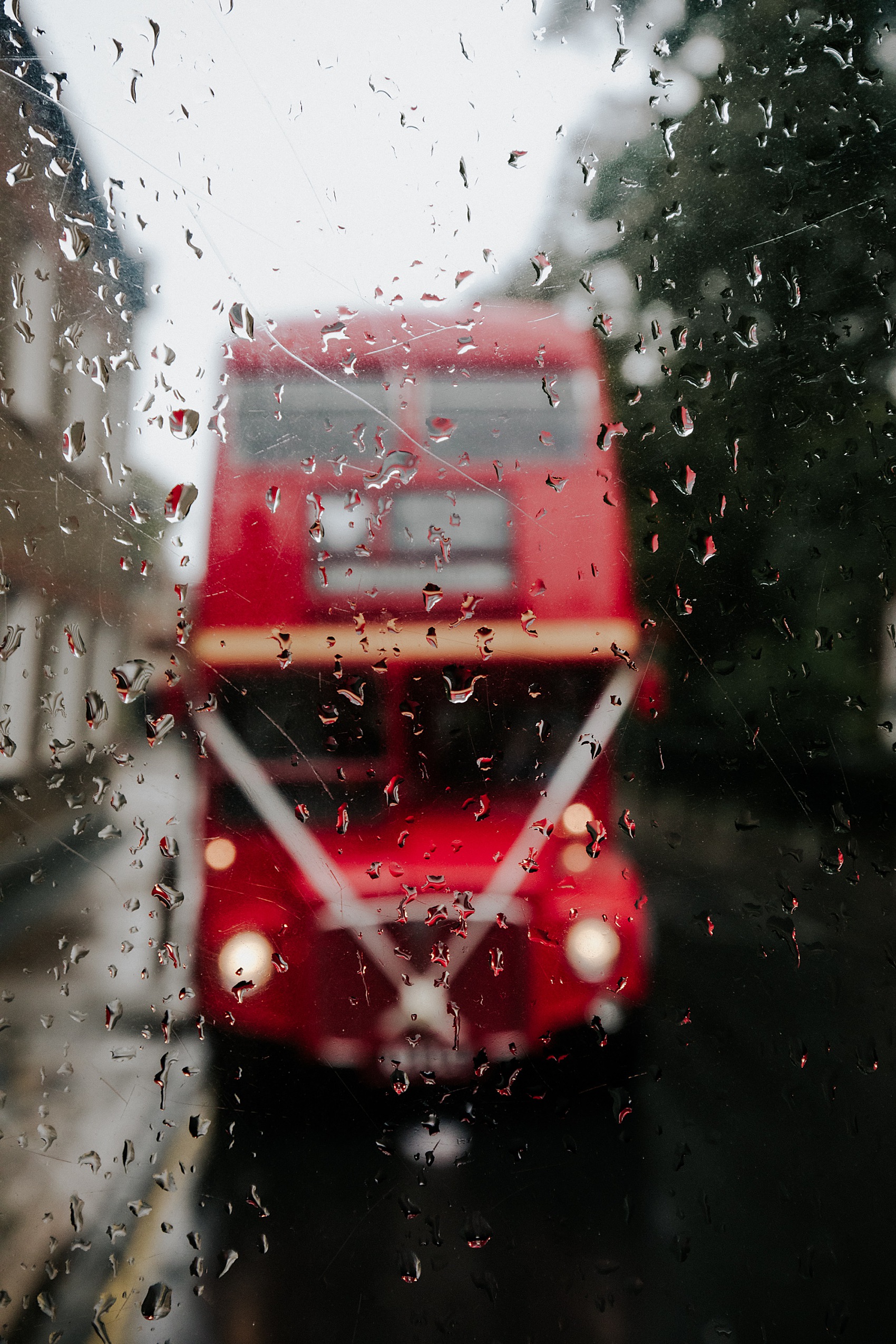 It's always a delight to write about weddings at Asylum Chapel in Peckham. It's a venue filled with history, rooted in the local community, and is uniquely and dramatically beautiful.
"We live in and love South East London, and wanted to be married here, so were thrilled to find such architecturally interesting spaces in the area. I found Asylum Chapel very quickly after we were engaged, and it was actually whilst browsing Love My Dress on the plane back from Vietnam (and our engagement) that I discovered and became fixated by its beauty. Once home I saw there was only one Saturday slot left in 2019, so we booked it there and then – before we had actually seen it in the flesh / brick. Thankfully, when we did make it through the doors we knew we had made the right choice – it is an extraordinarily beautiful space."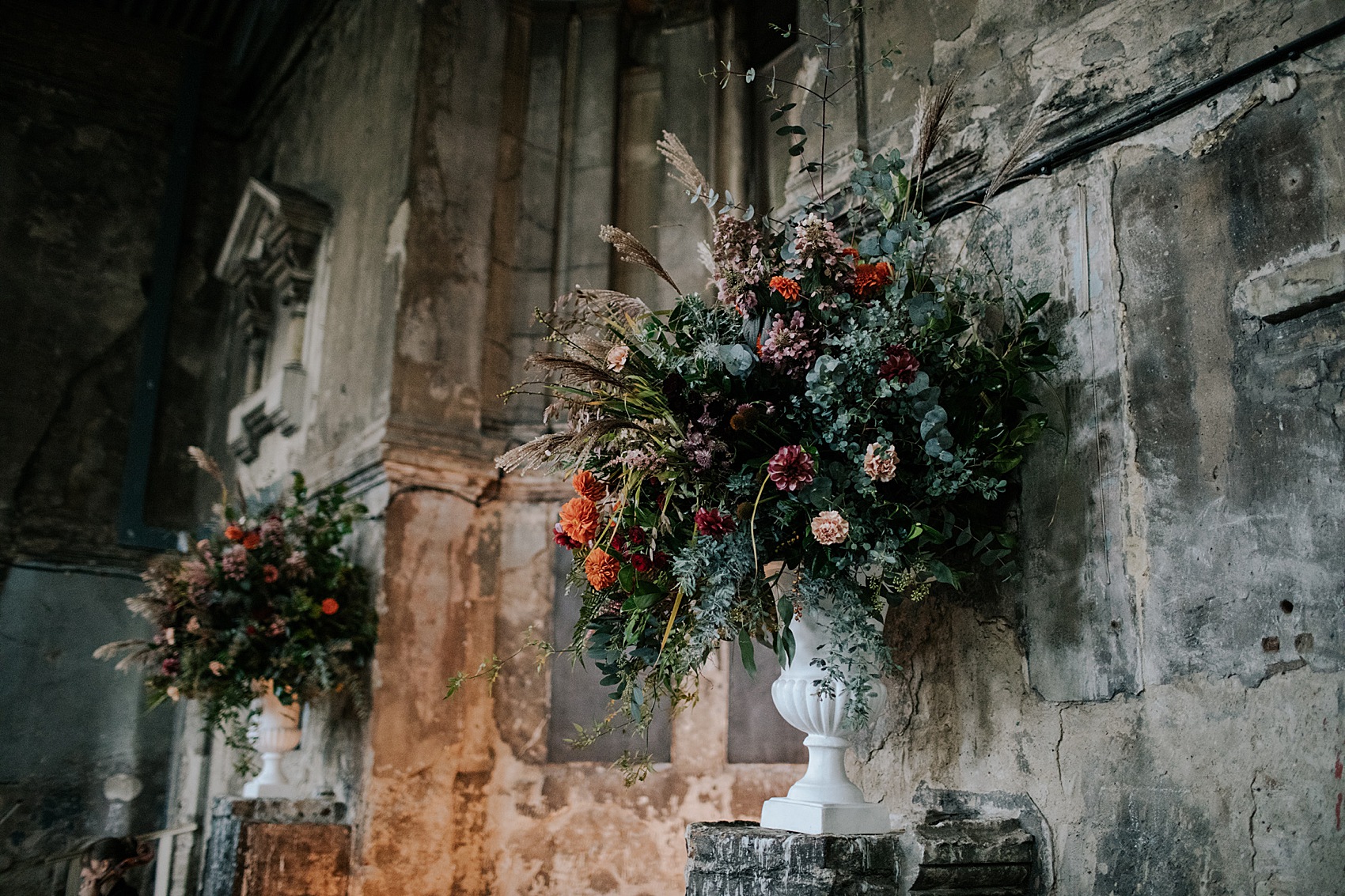 "Martin ordered his suit from The Drop. They are an ethical company who reduce their profit margin and dispense with retailers in order to pay fair wages. They were excellent, and luckily flagged up that I may have mis-measured Martin's arms – which I had by 20 cms! I will never know how, but I am grateful they checked!"
Sign up to our mailing list today – we are utilising it to keep our community updated and connected during this period of global disruption
Martin also wore a funky bird print tie, and Barker Shoes' 'Nairn' Derby shoes in a lovely cherry grain, too. The groomsmen wore their own suits, because as with the bridesmaids, Esther and Martin preferred they choose their own, non-matching outfits to suit their personalities.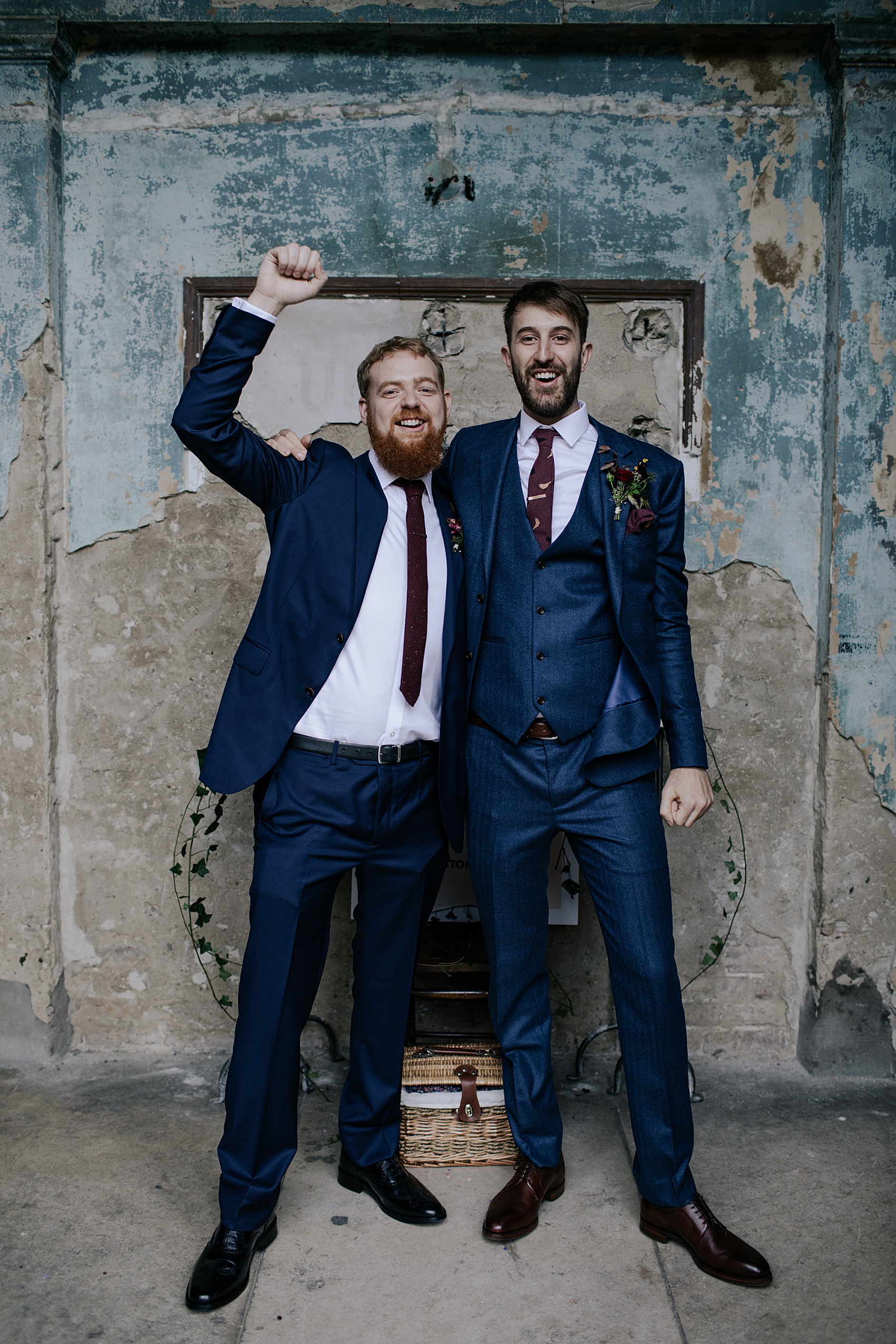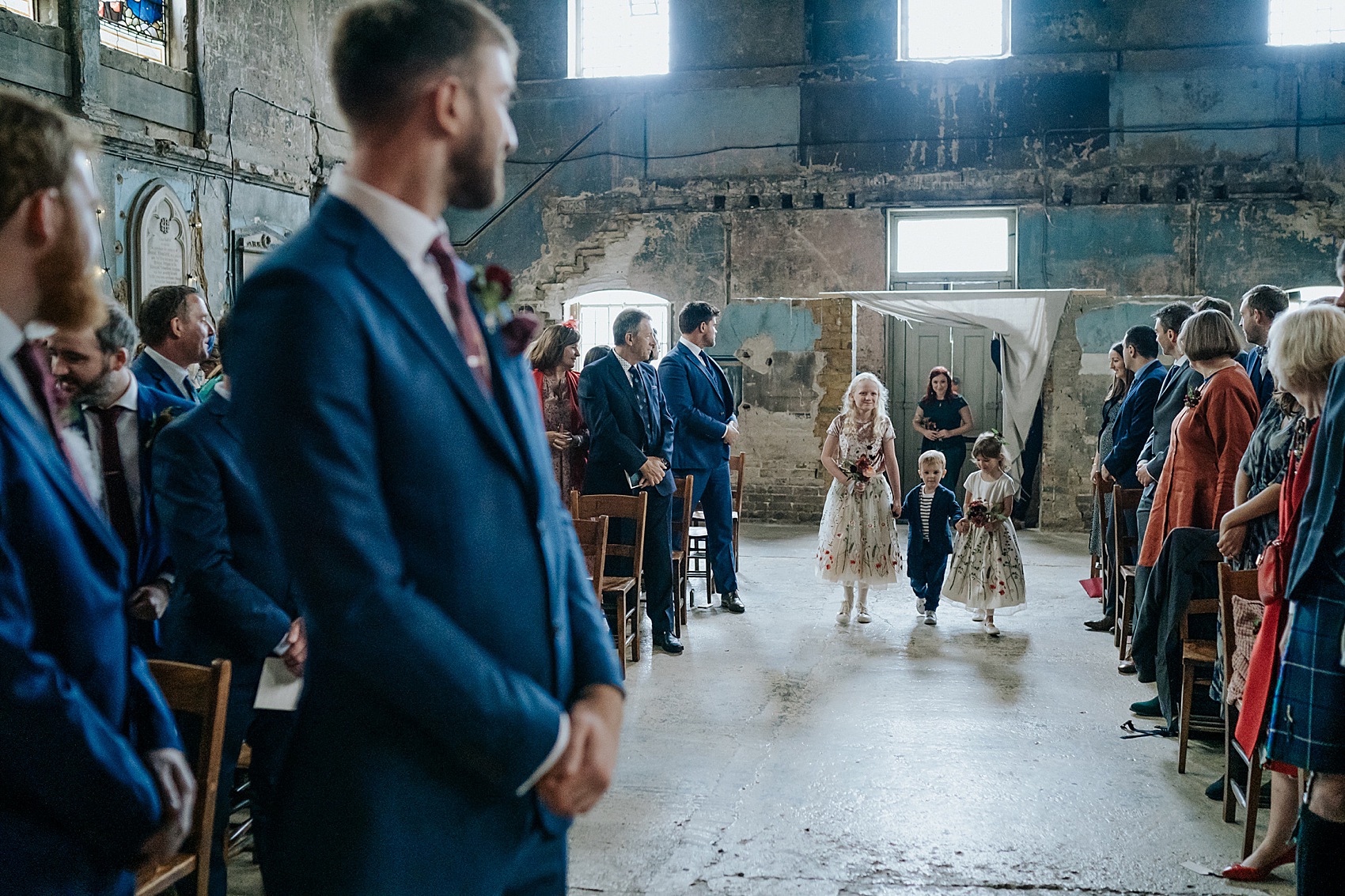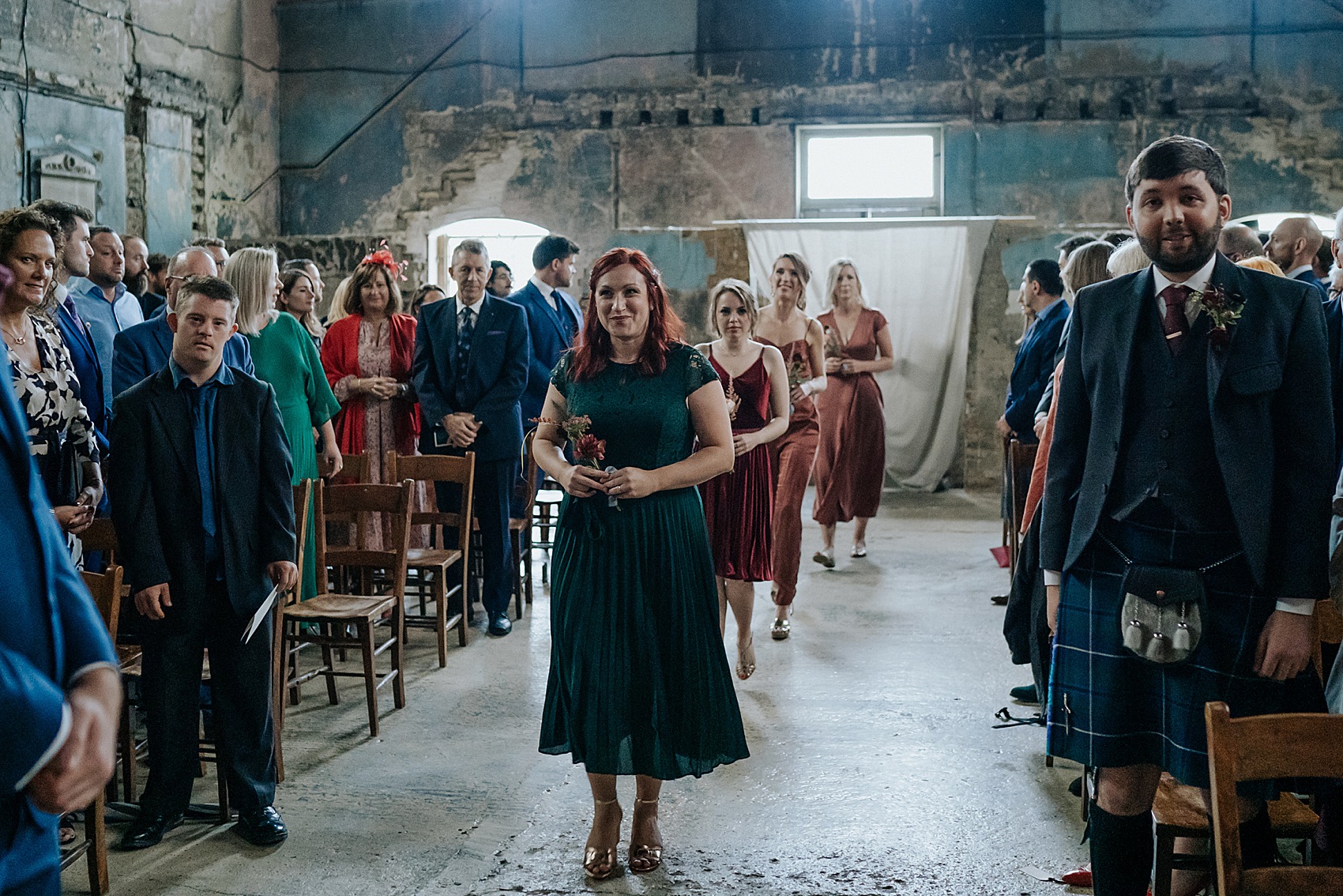 Blue Topaz Strings played a wonderful mix of classical and contemporary music, and Esther's entrance music was Handel's Arrival of the Queen of Sheba.
"My mum walked me down the aisle. I was going to do it on my own as I didn't like the idea of being given away – I'm a 36 year old woman – but actually it felt too nerve-racking, and actually having her with me was not only reassuring but special."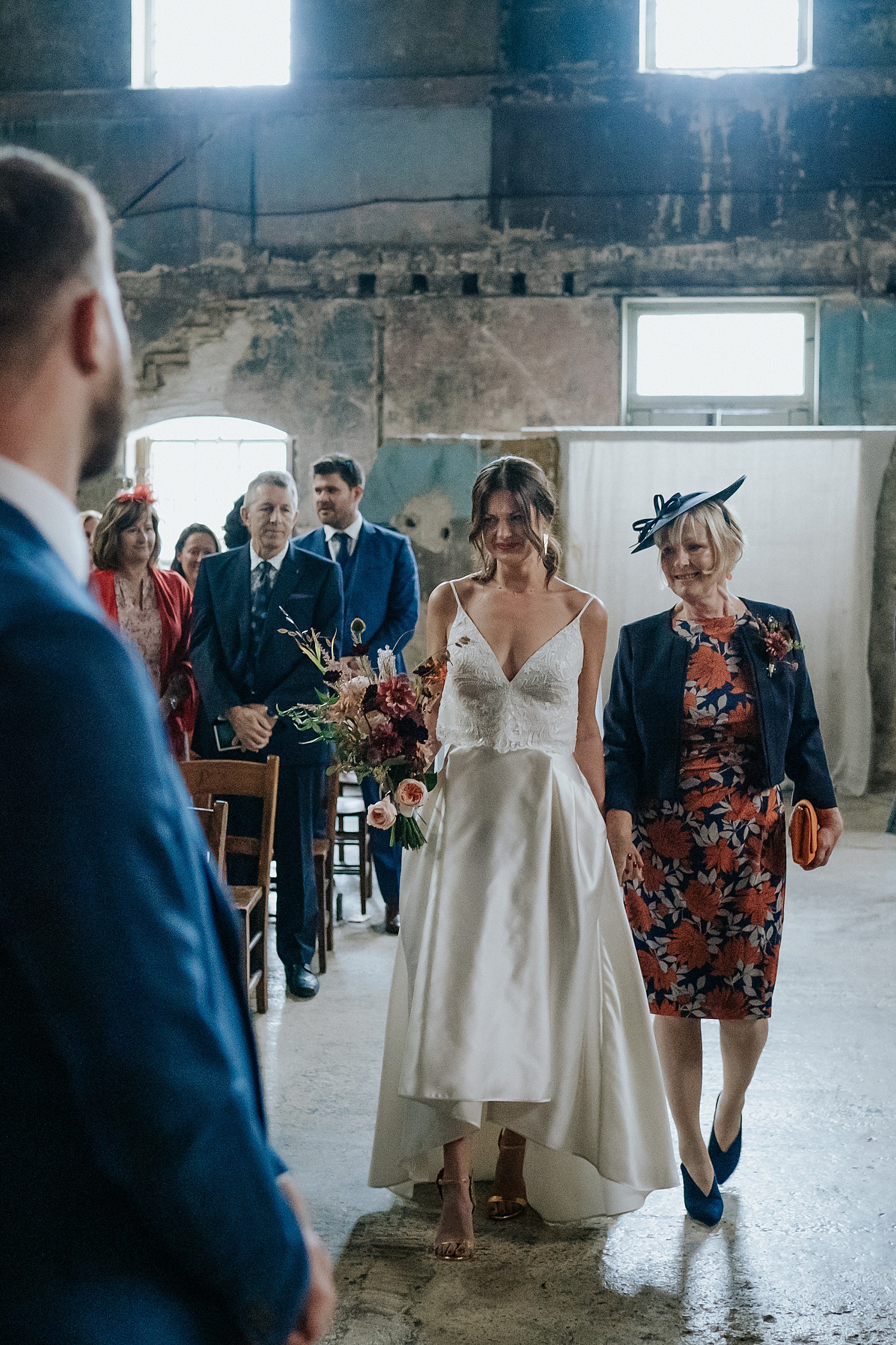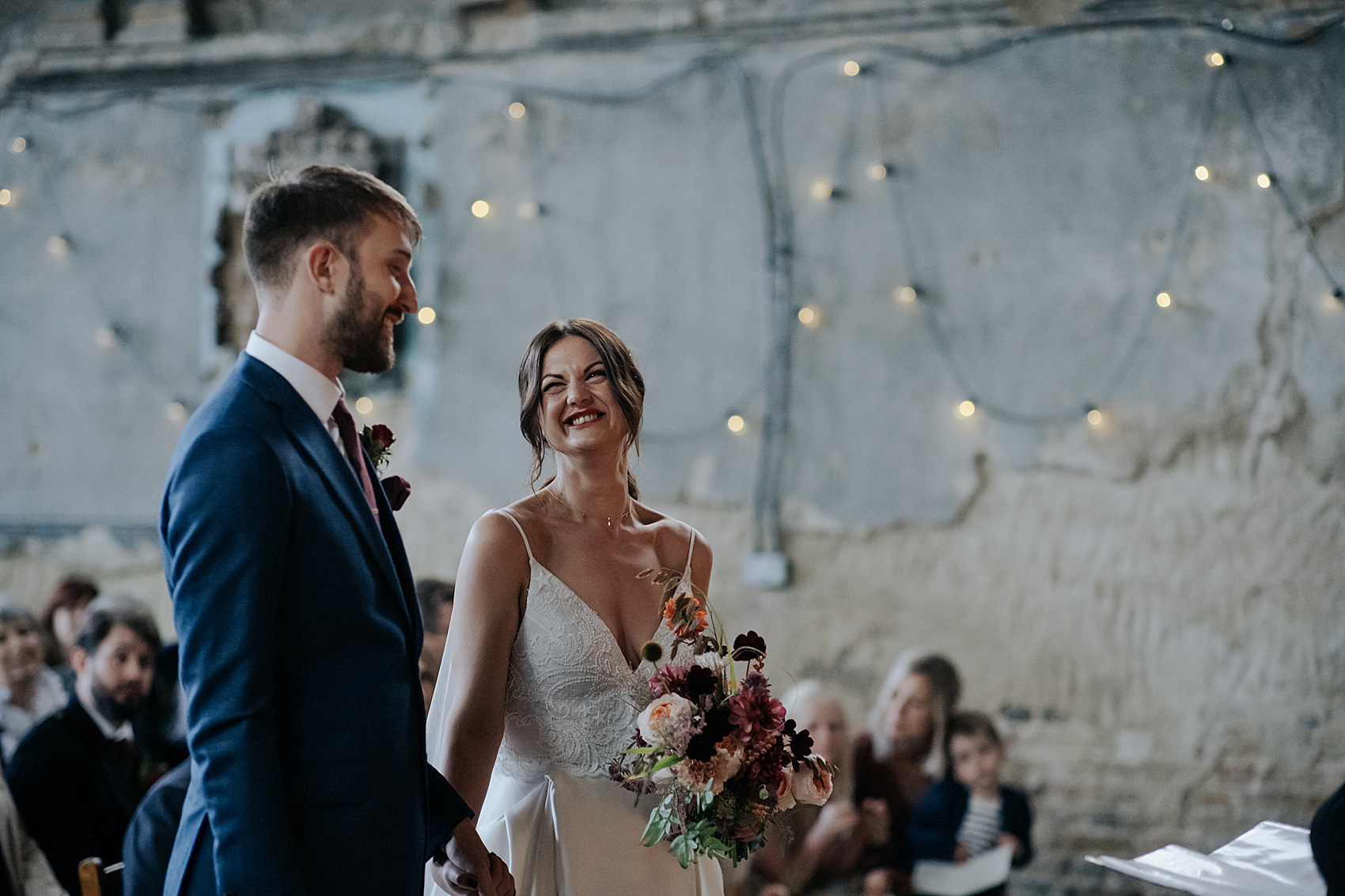 "We met at work. I actually interviewed Martin for a job! We became a couple some months later when he moved to a different office. We got engaged on holiday in Vietnam in June 2018, so we had 16 months to plan and to save."
The couple's ceremony was conducted by the Southwark Registrar team, and they chose to exchange traditional vows, to save more personal reflections for later on during the speeches. Rings were exchanged too, and both Esther and Martin had them made by Rachel Boston, who also designed and made Esther's engagement ring.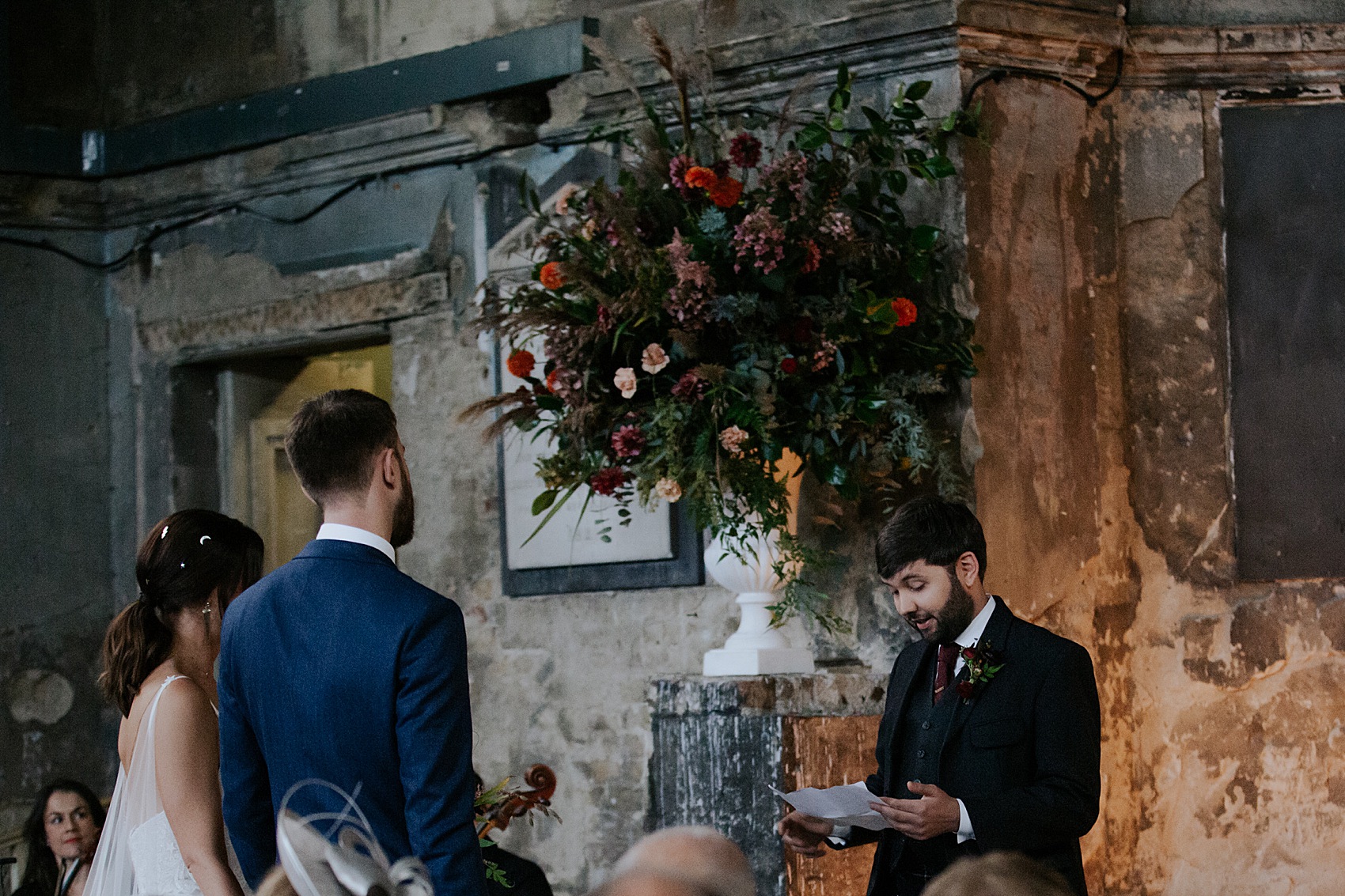 "We absolutely love her designs, and I was able to have her make an adjustment to one of her wedding band designs so it fitted my engagement ring perfectly. She is a total joy to work with, too. I was also able to have Martin's ring secretly engraved, and our friend Nick made us a beautiful ring box for us to use on the day."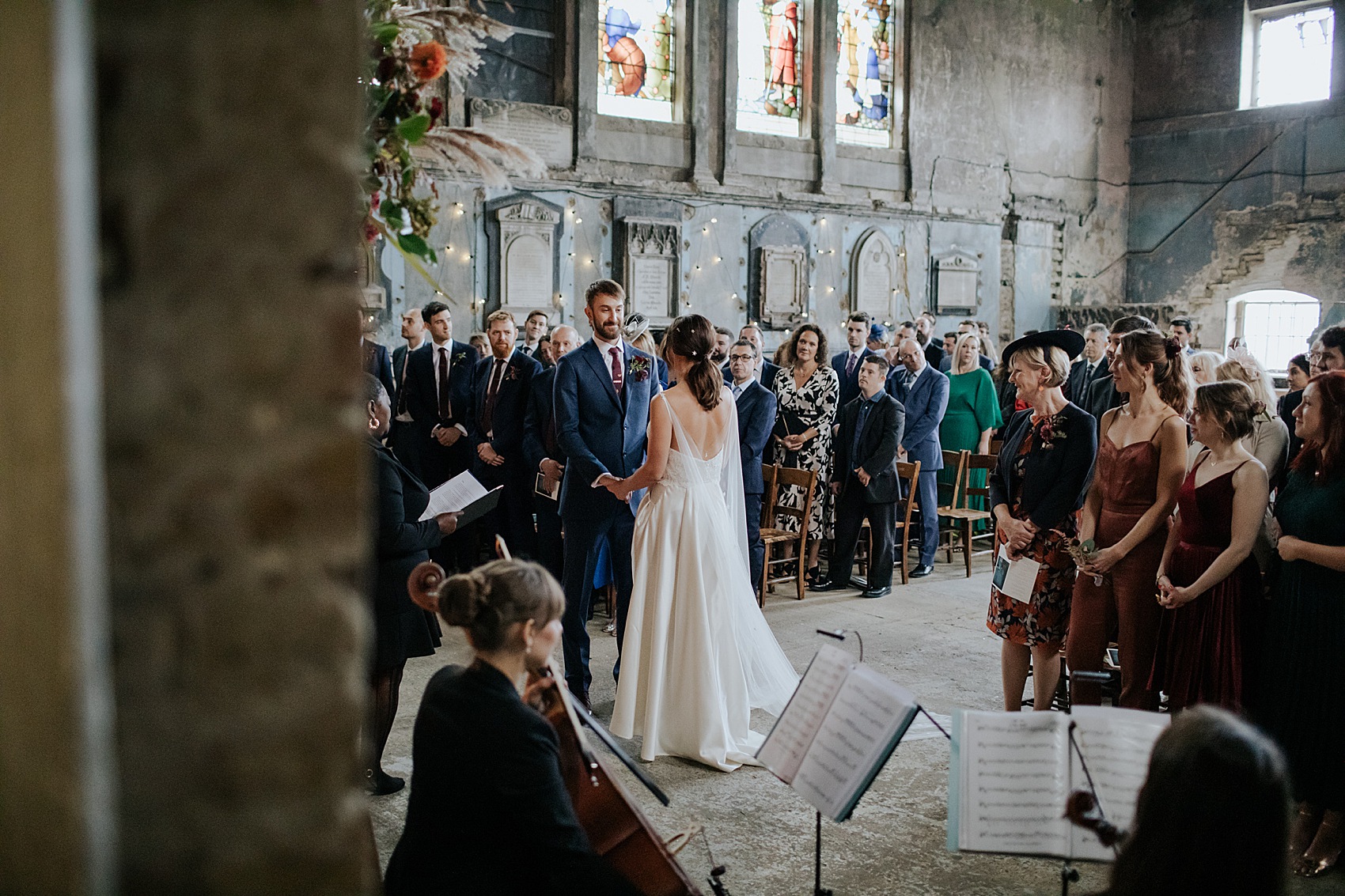 "We had three readings. My brother Sam brilliantly, and with great humour, read an excerpt from Alice in Wonderland. It is a story I remember my dad reading, and it felt like a lovely way to make him present in the ceremony without being maudlin."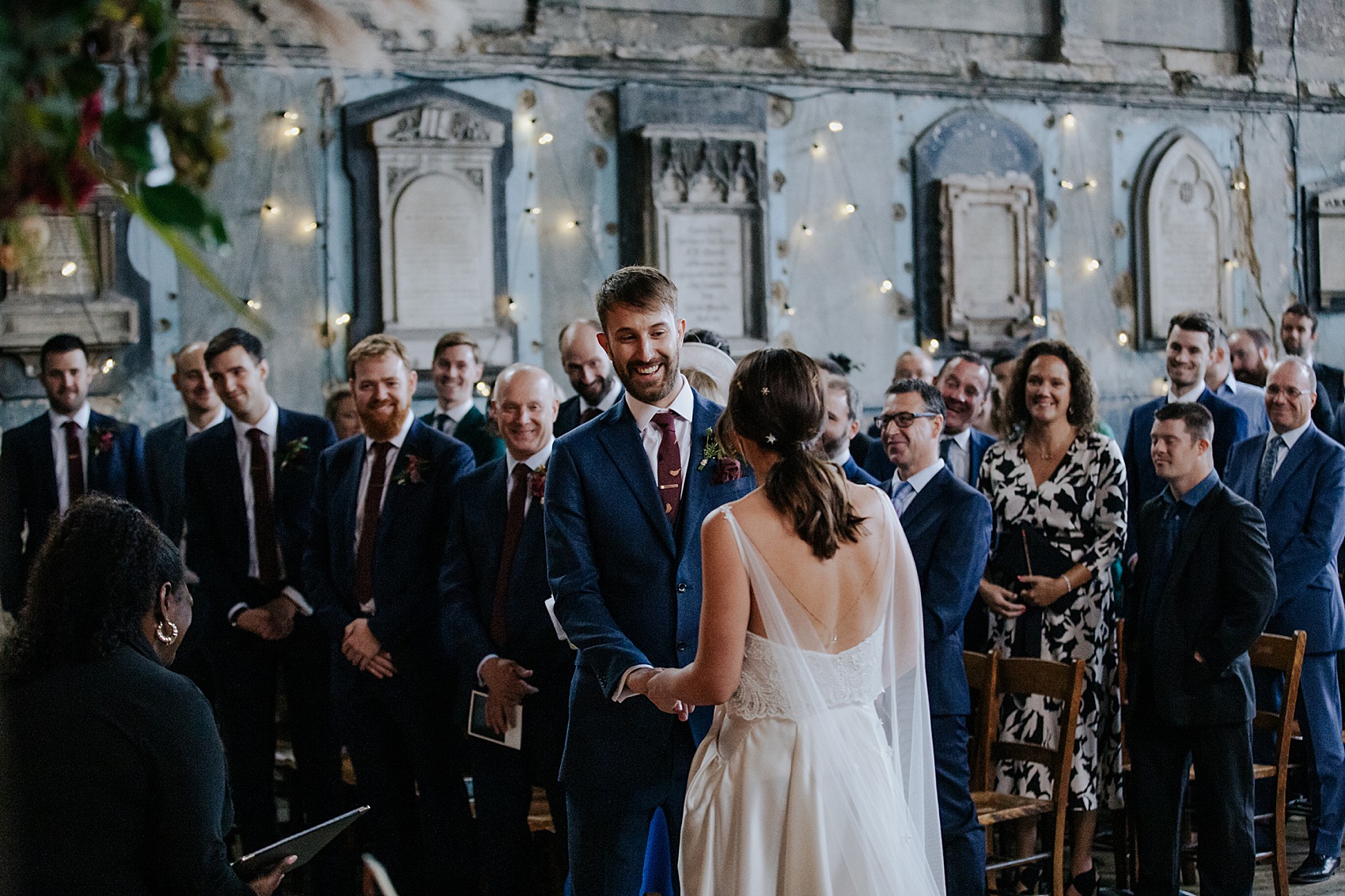 "The reason wasn't mentioned or anything, but we knew. Martin's mum did a gorgeous and emotional reading of Love Listen by Ann Gray, and our friends Jess and Ria read Vow: The Simplest, Hardest and the Truest Thing by Liz Lochhead."
"The ceremony was the most perfect and loved filled moment. We will never forget that feeling – it is very powerful!"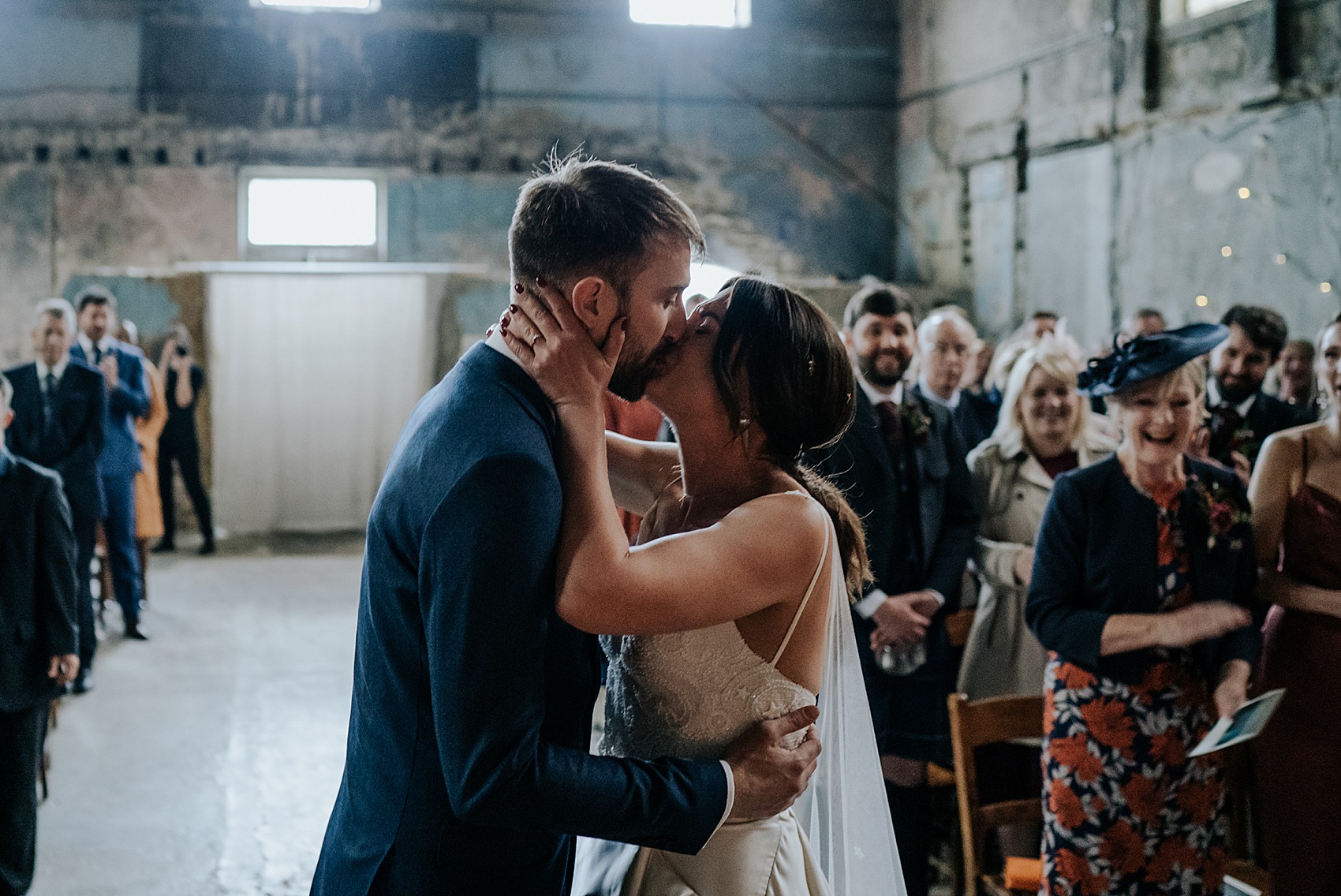 All of the powerful emotions – tears, laughter, joy and surprise, were captured with such grace and beauty by Jo of Joasis Photography, who I'm happy to say our couple discovered through our very pages here.
"We contacted Jo because we loved the photography she had done at other Asylum Chapel weddings, and were really taken not only by the romantic shots but by the candid pictures she captures over the course of the day, which really capture a liveliness and spirit."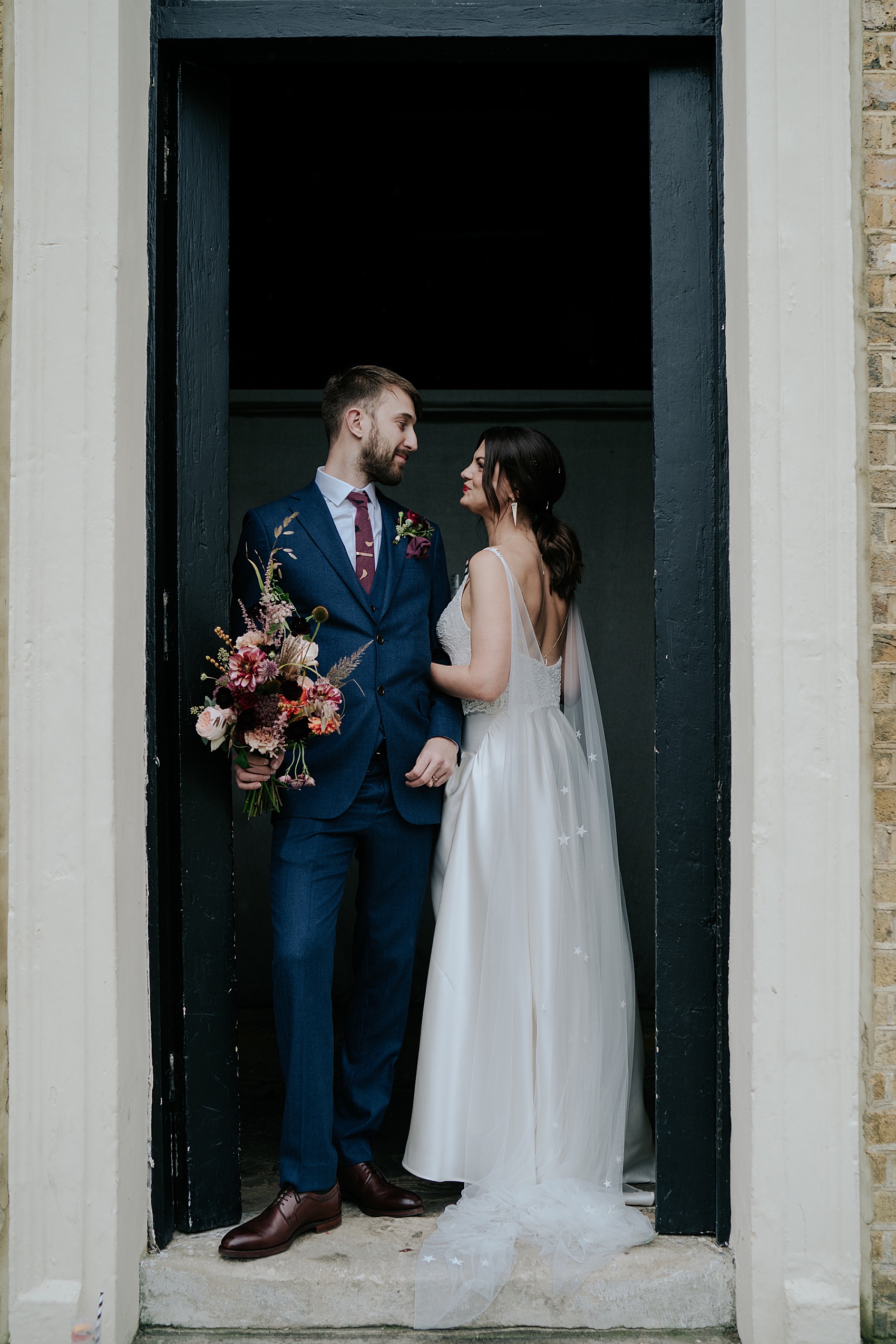 "She has a superb eye, and is a really great person to have with you; fun, supportive and focused. She also made a very stylish addition to the wedding! Her second shooter Aggie was also wonderful. I can't recommend her highly enough."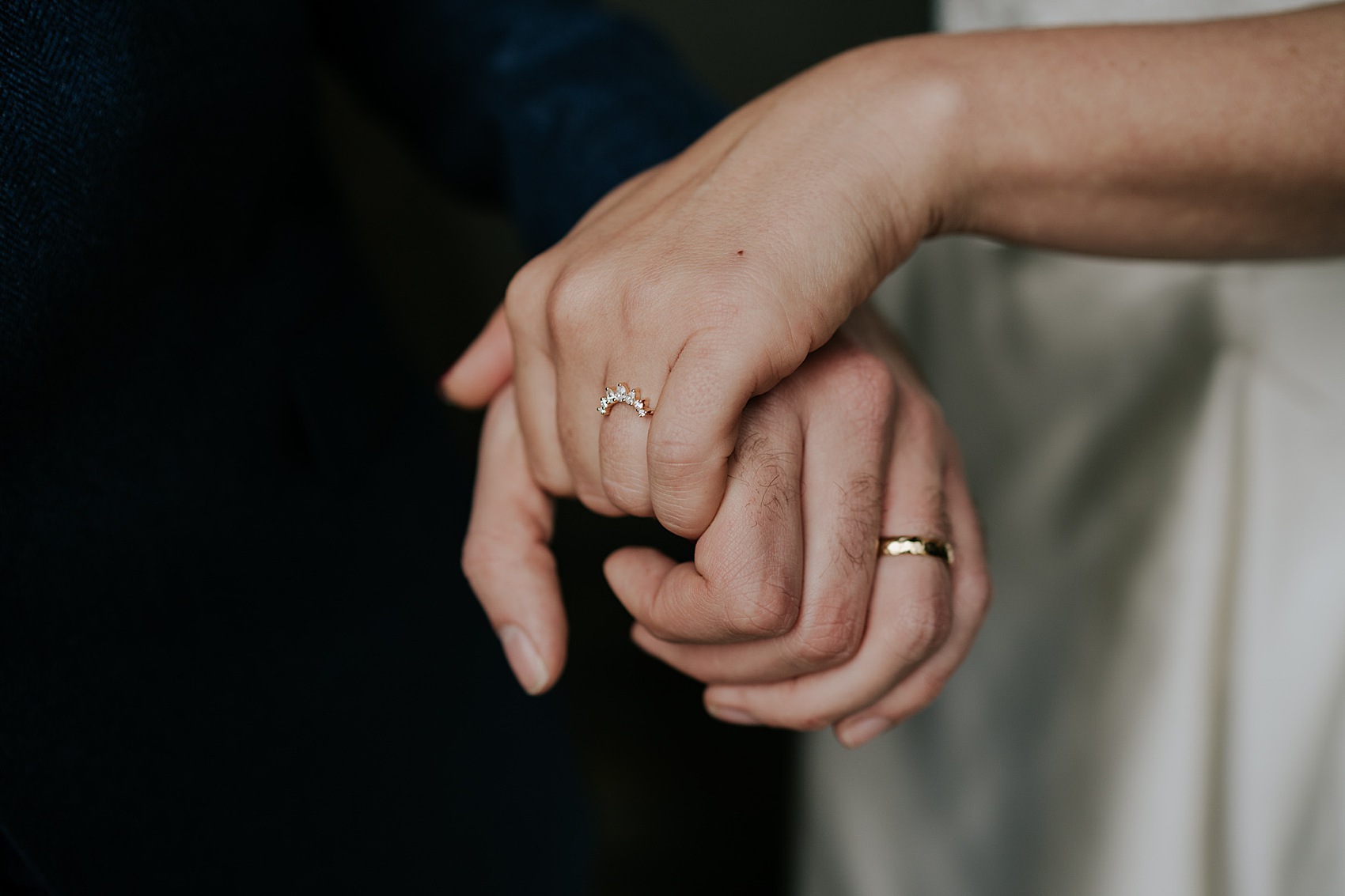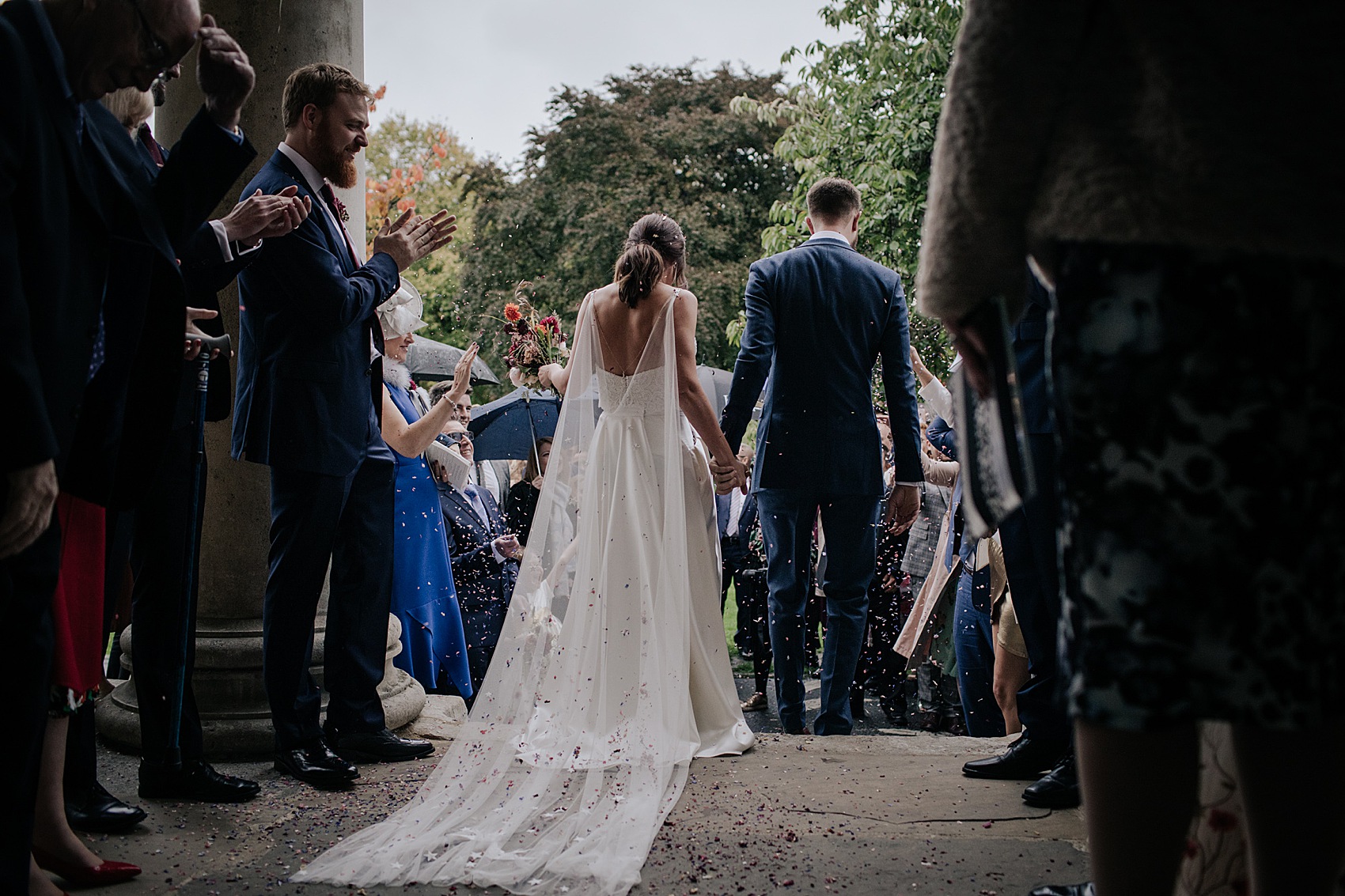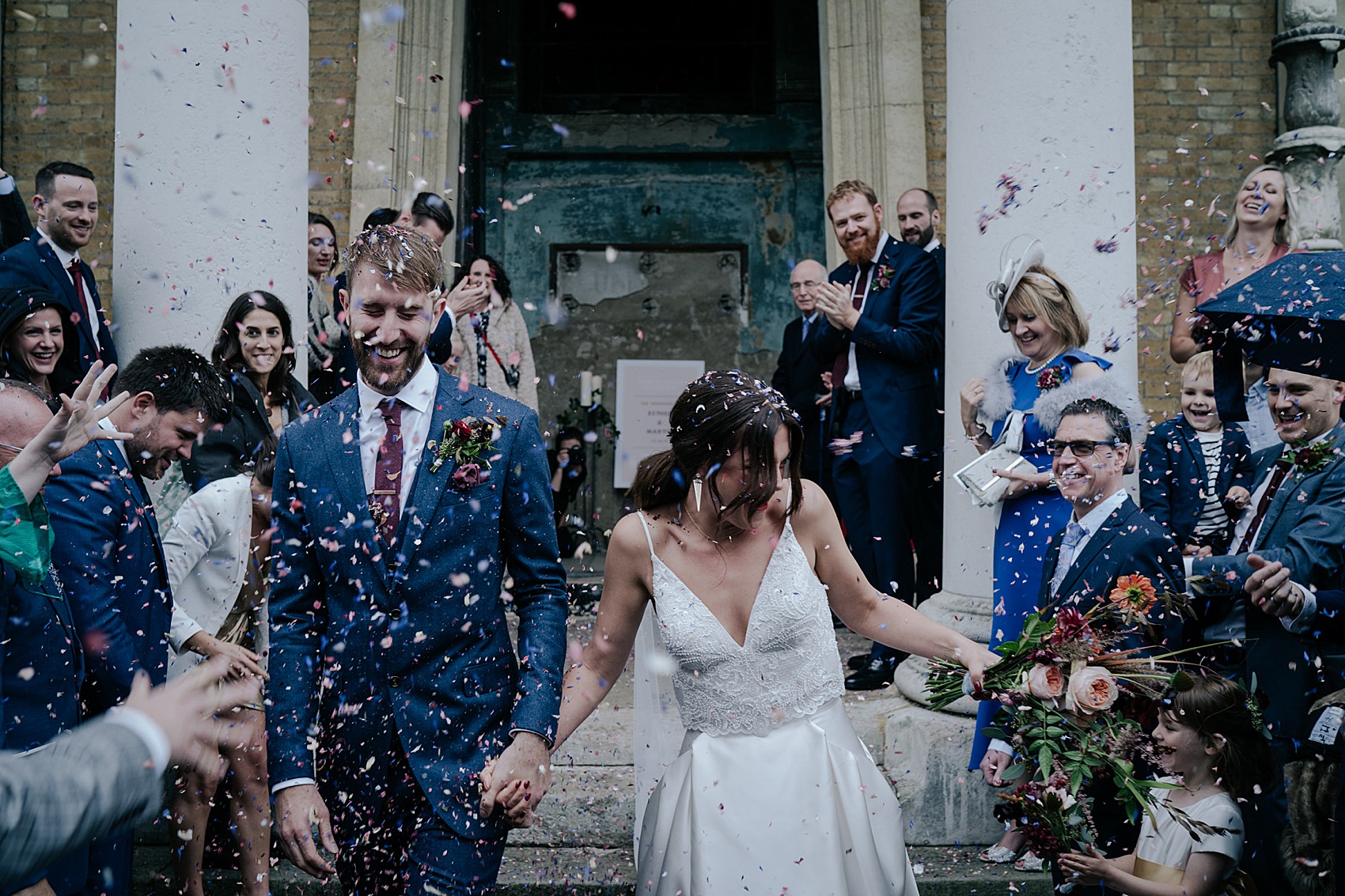 Immediately after the ceremony, guests tucked into the most incredible looking cheese and snacking table from Bord Food, and delicious gin cocktails from The Travelling Gin Co. 
Brilliant, seamless on-the-day coordination came courtesy of Laura at Devine Bride, who offers bespoke, flexible event planning and management services to suit all needs.
Find a wedding planner, Stylist or on-the-day Coordinator in our Little Book Wedding Directory
"Laura is amazing. She offers pick and mix approach, which meant when I was worried about timelines and running orders, I could book her to come to One Friendly Place for a recce, after which she provided several clever options to help us manage the tight time frames."
"She also met us two weeks ahead of the wedding to discuss the plan and most importantly on the day she was amazing, keeping everything moving along perfectly and with great levity – without being officious."
"I am so glad we had her with us. Also in the morning when my cab was late, she helped to keep me calm, and had a plan to work around if it didn't arrive."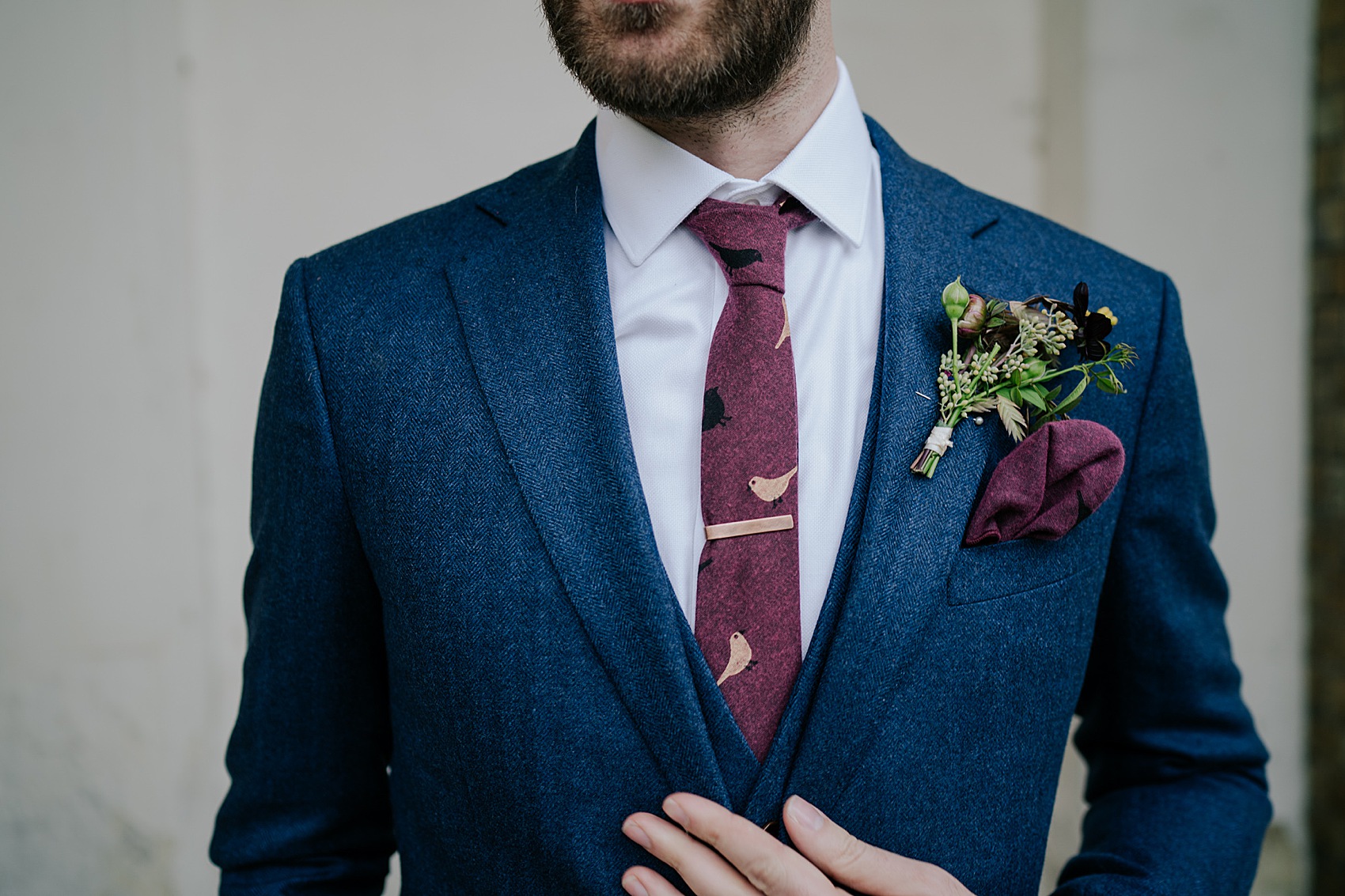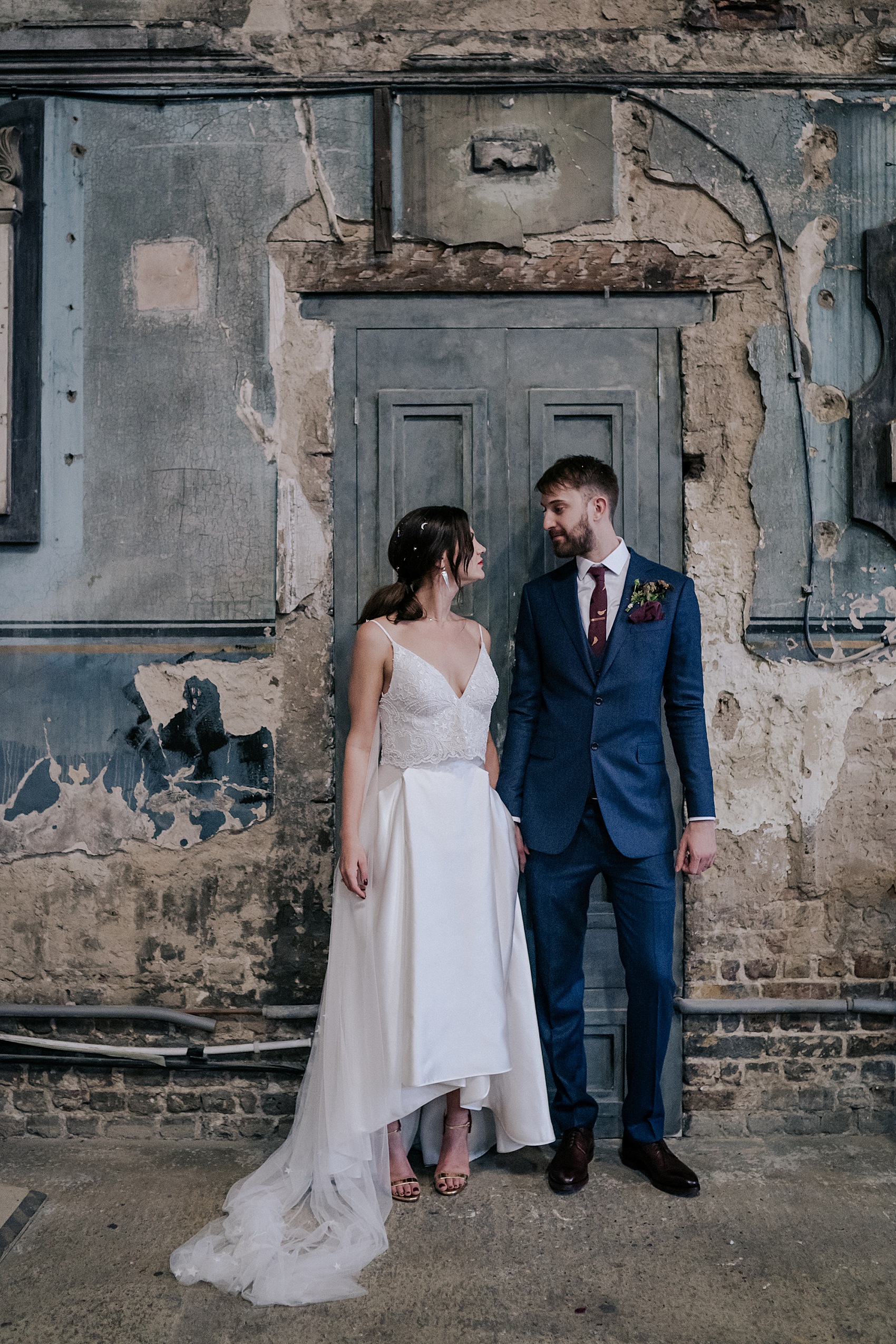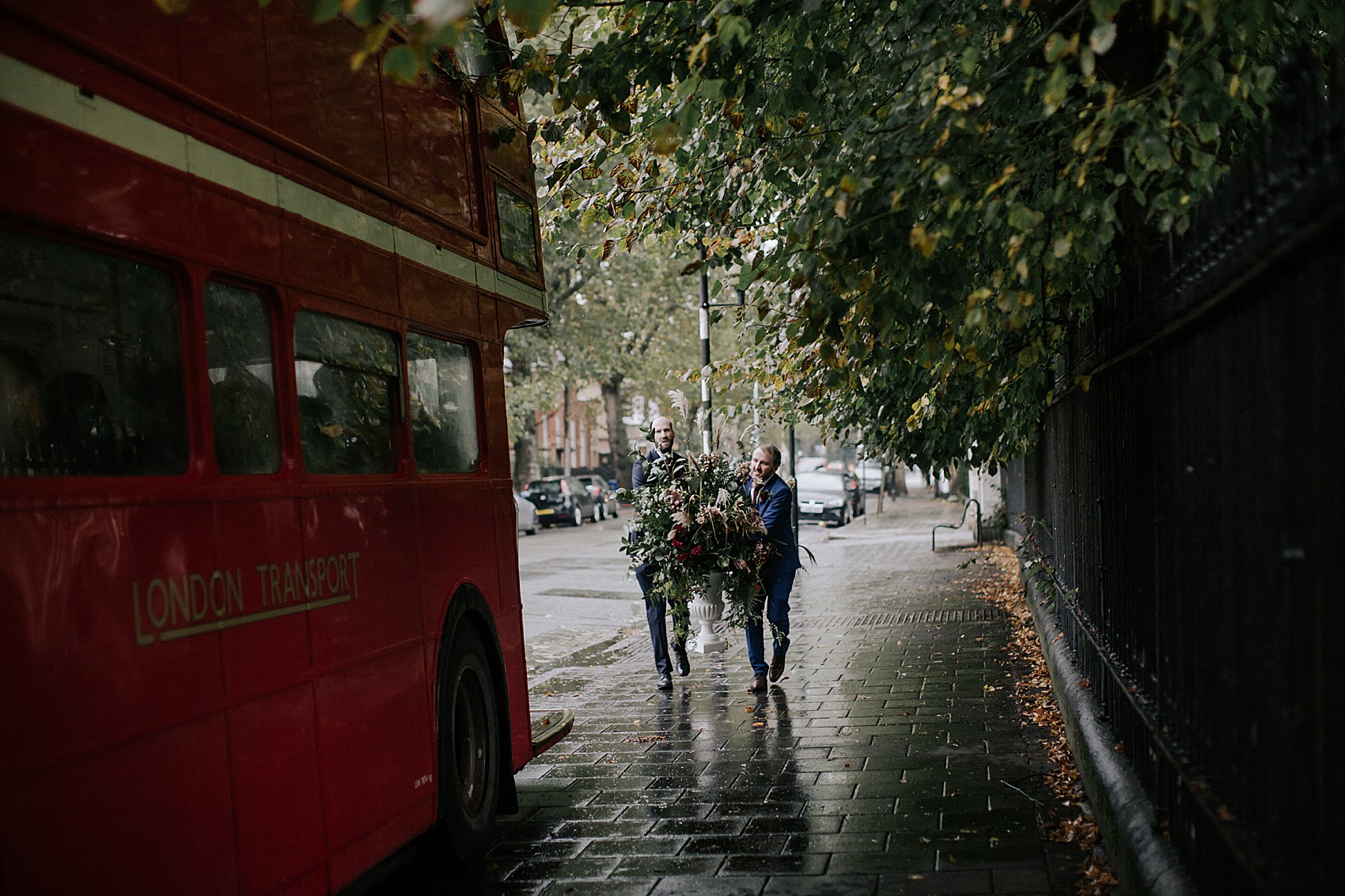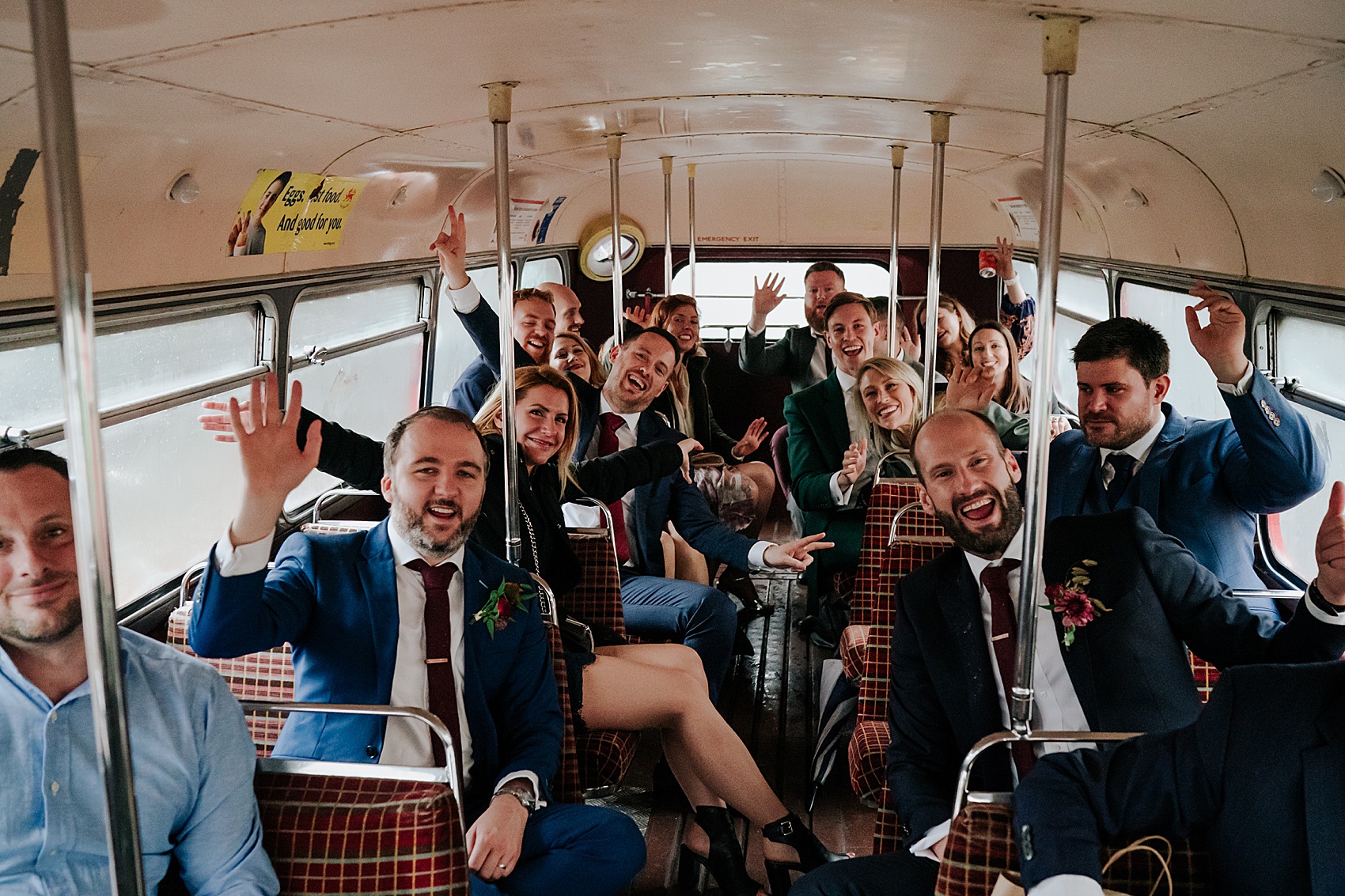 "One Friendly Place is a warehouse that is comprised of various unique interconnected spaces over 3 floors, and a roof terrace. It's a photography and film studio in the week, and is filled with all sorts of interesting furniture, wallpapered nooks and crannies and other oddities."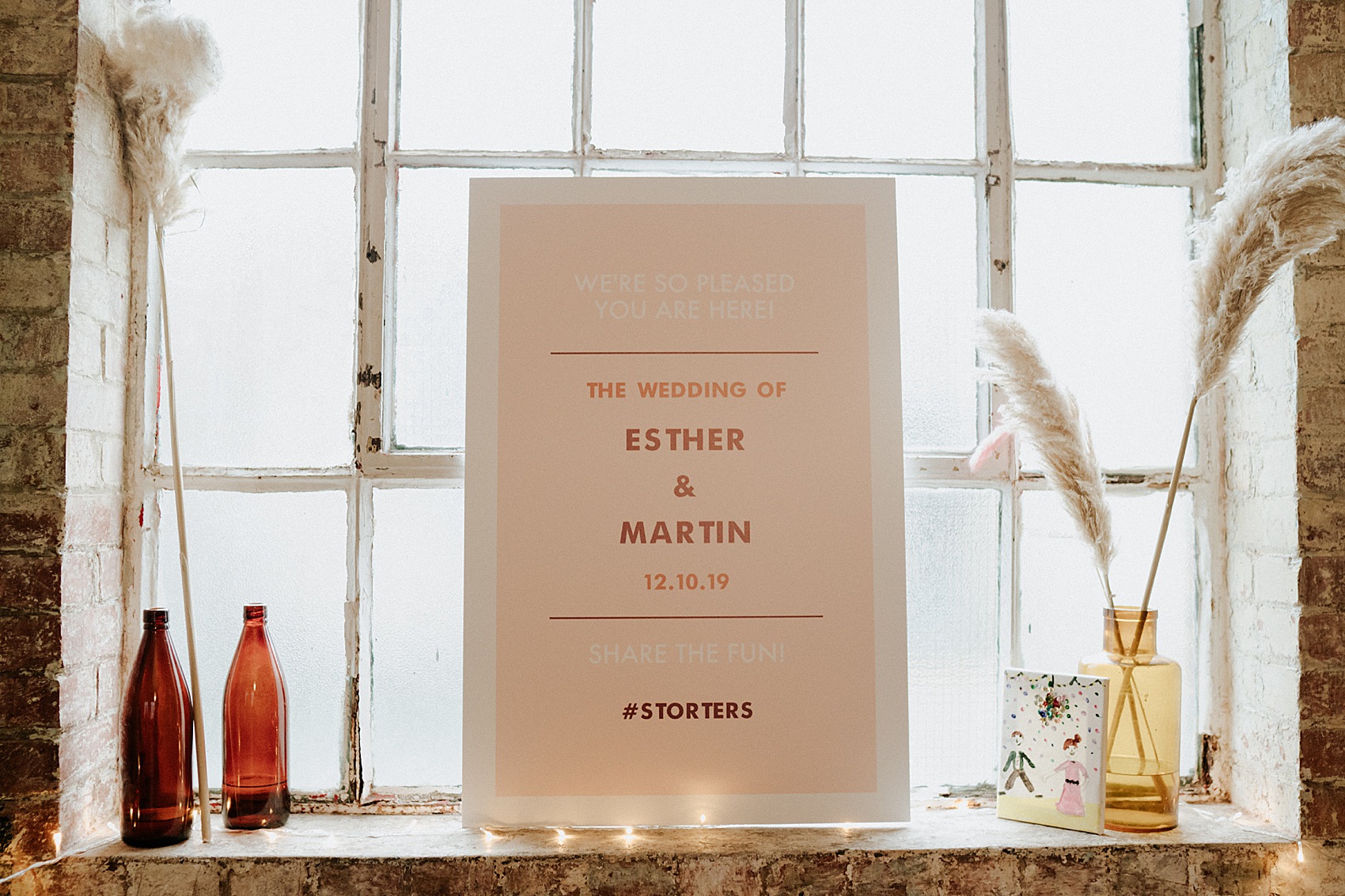 "We loved that we could use each area to host different elements of the day. For example, I used the top floor to get ready with my bridesmaids in the morning, and then it was used a cloakroom in the afternoon and evening."
After a bus ride over to One Friendly Place, the newly married couple were greeted by live music from Esther's classical musician brother Joe, who together with brother Sam and step-mum Angie, arranged to play as part of a trombone quartet for the drinks reception.
"It was very moving and very special. Listening to them rehearse whilst I was getting my make-up done in the morning was amazing – although it made Zoe's job hard, keeping my mascara in place!"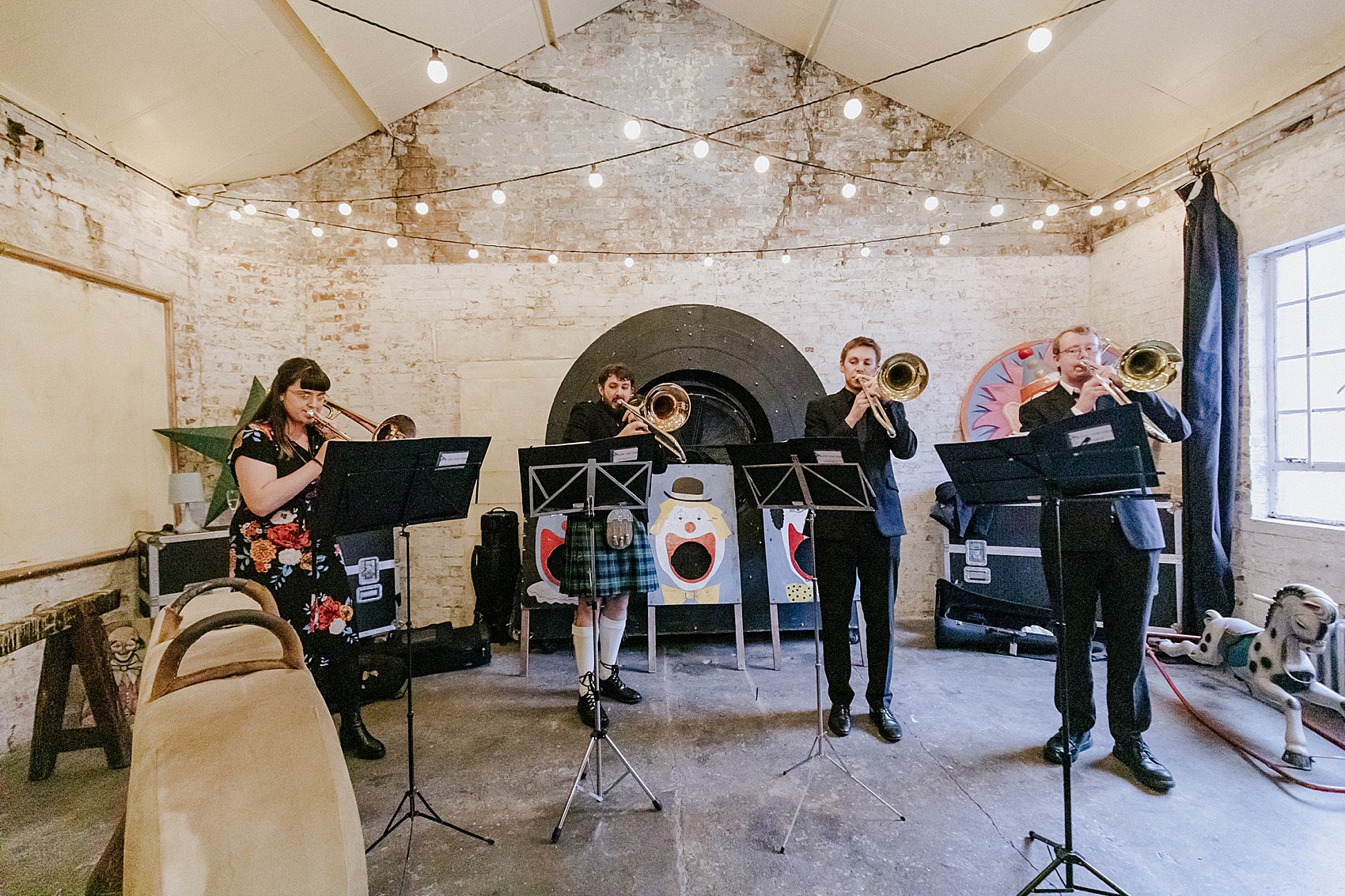 "I wanted the day to be relaxed, fun, and a bit theatrical, and the venues did most of the work in that regard, along with plentiful booze and a good gang of guests. We tried not to overdo it on décor, really just sticking to flowers and lighting to let the buildings do their thing."
"One Friendly Place is full of interesting and unusual furniture and odds and ends.  I loved that we could use some of it, and then hide other bits away to suit our taste. Also it comes with an enormous neon rose, which is rather fun!"
Some guests enjoyed games like giant Jenga, whilst others relaxed with drinks in the various cosy areas of the wonderfully quirky warehouse space, and there were speeches too, ahead of the wedding feast.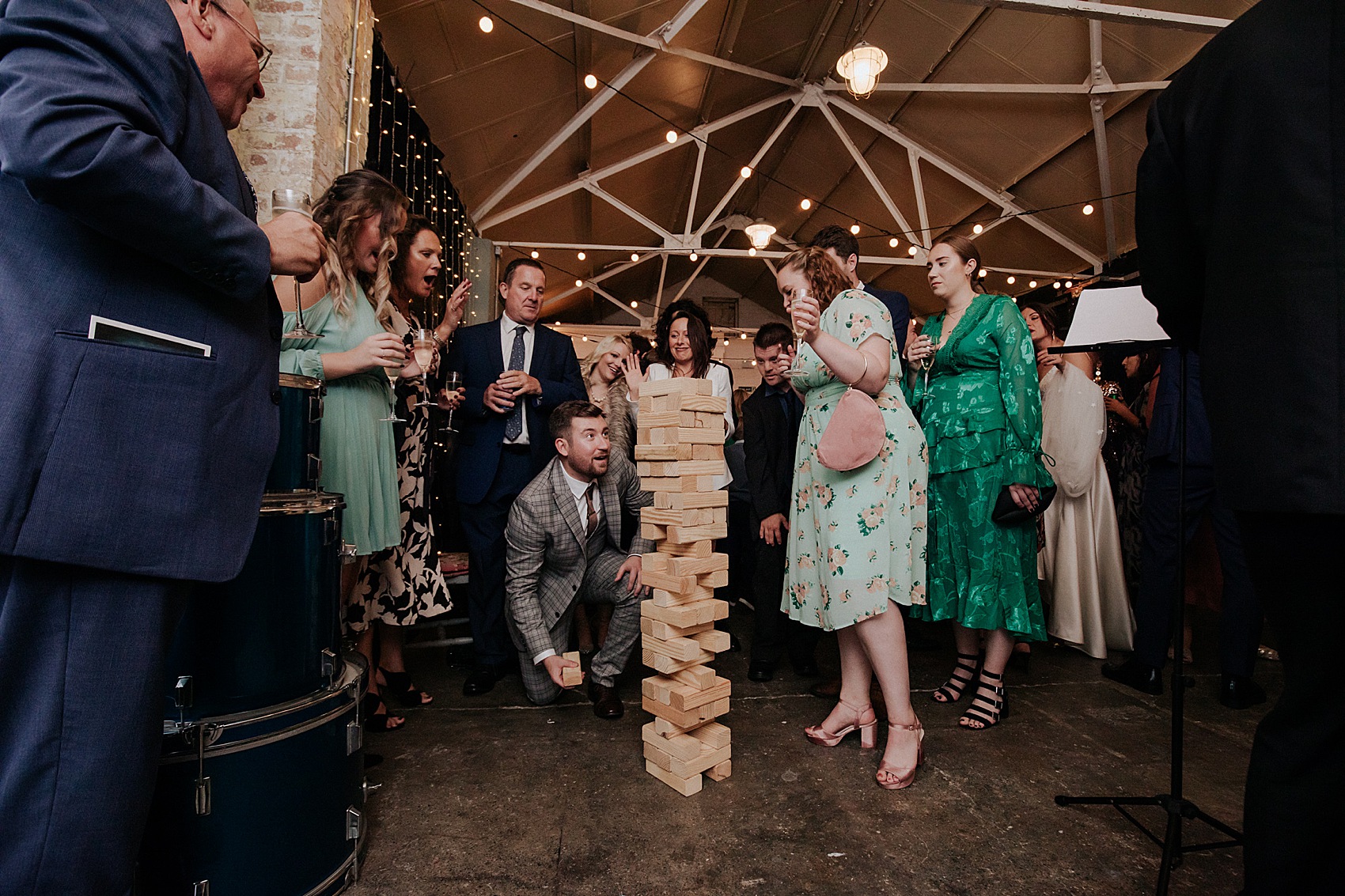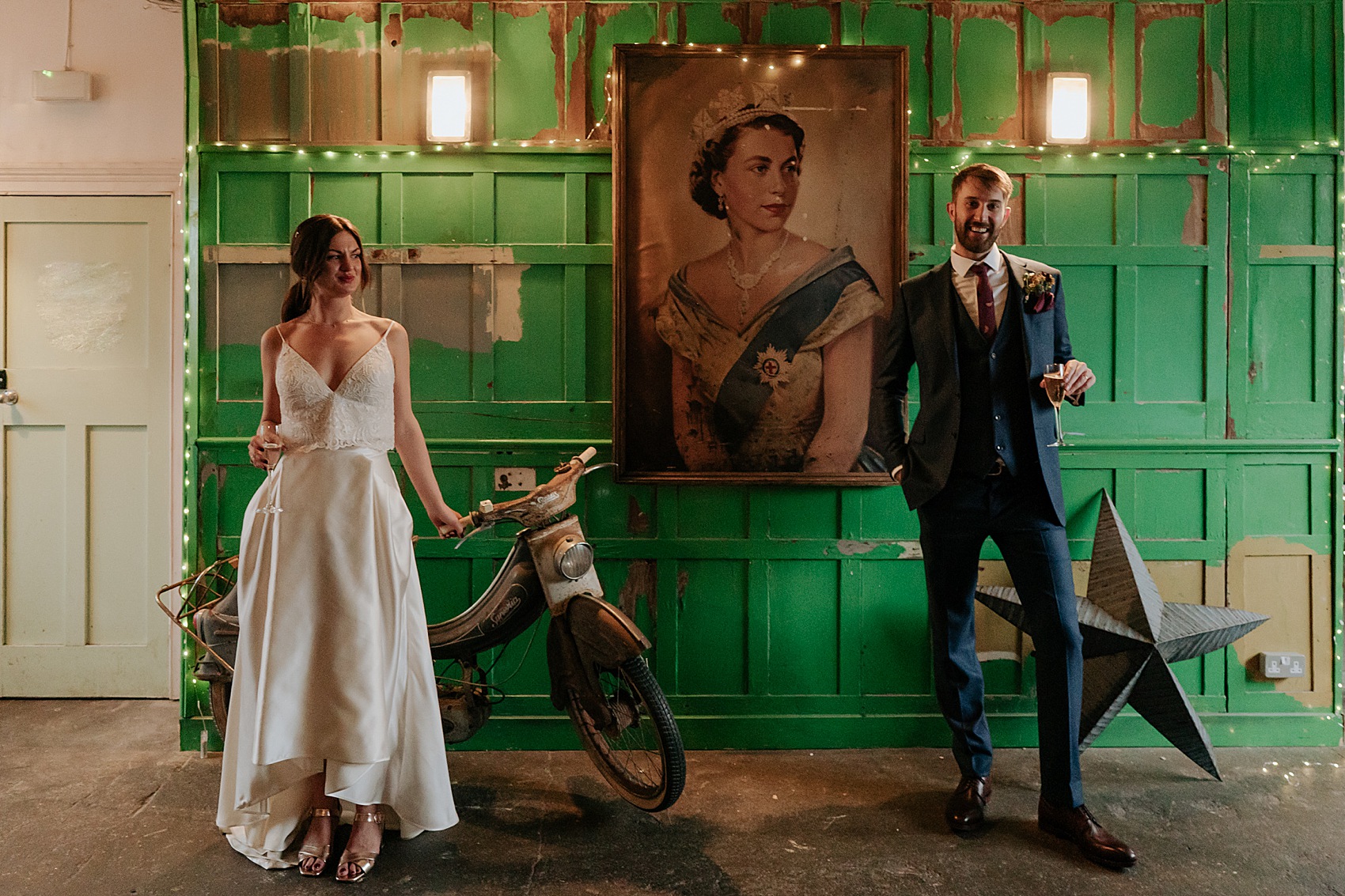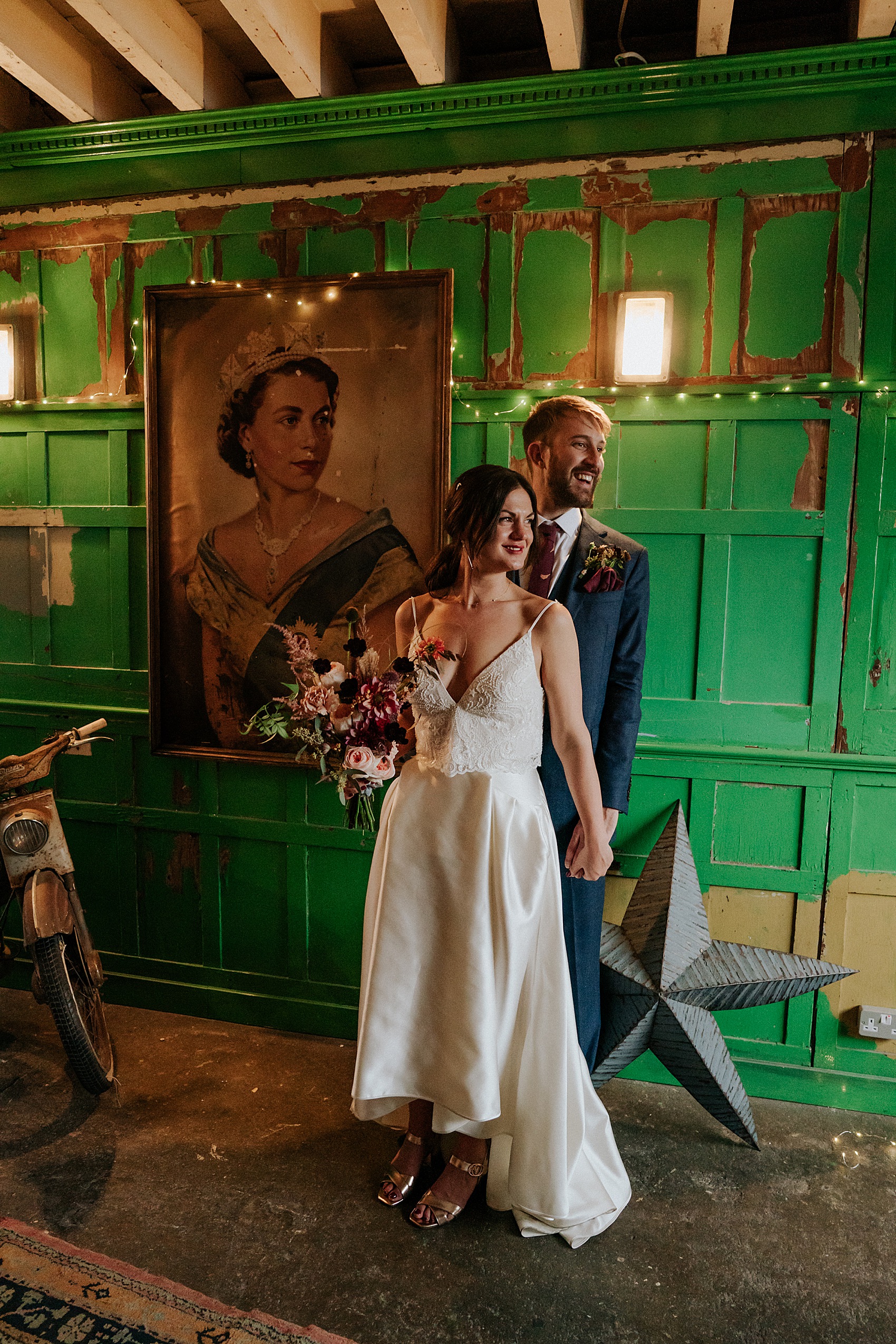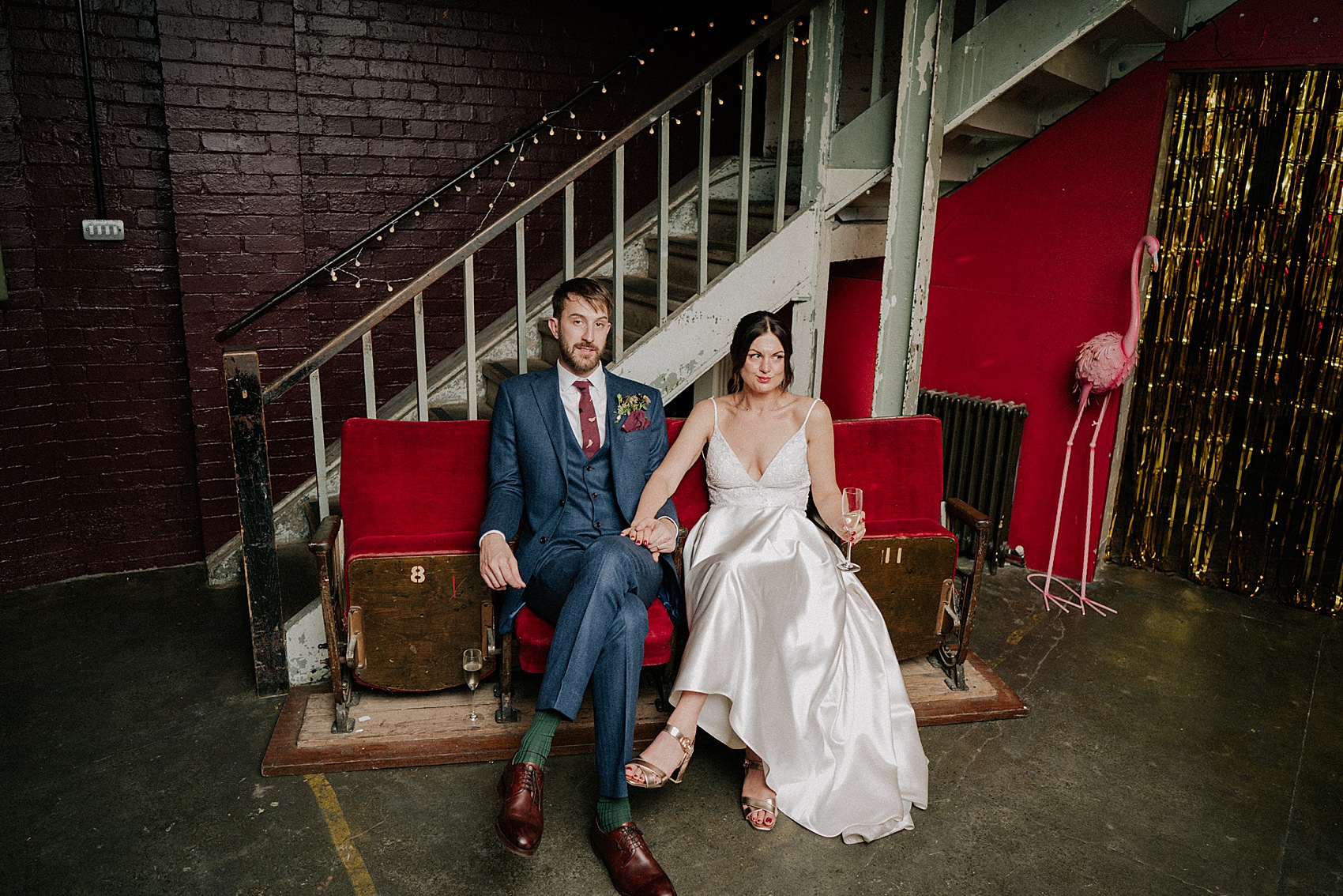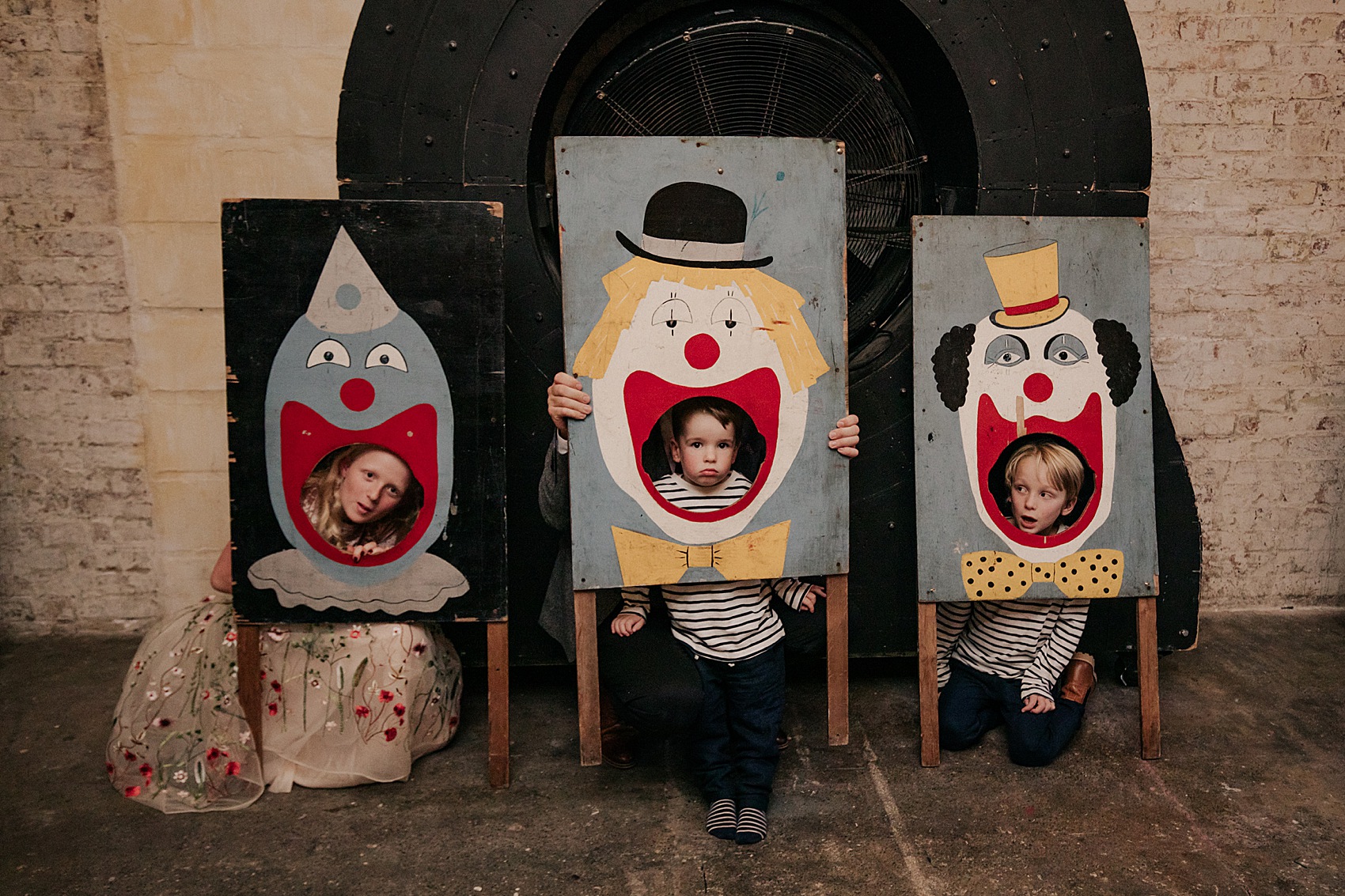 Other on-the-day stationery was made using downloadable templates from The Hello Bureau, and invitations were sourced from Papier. On the long, rustic dining tables there were fairylights woven together with garlands of greenery, and posies of flowers. Place names doubled as favours, which were Polaroid style prints of old family photos.
"Martin's Aunty Julie made us a stunning table plan based around our honeymoon destinations, and then as a surprise added touch, placed a board with a vintage style image on each of the tables as a guest book."
"We used Party Lights for lighting. Jim had set up light at Friendly Place before, so knew the venue. It's a venue that needs lighting to get the right party atmosphere, and Jim absolutely transformed it, managing to get the right atmosphere for both eating and dancing."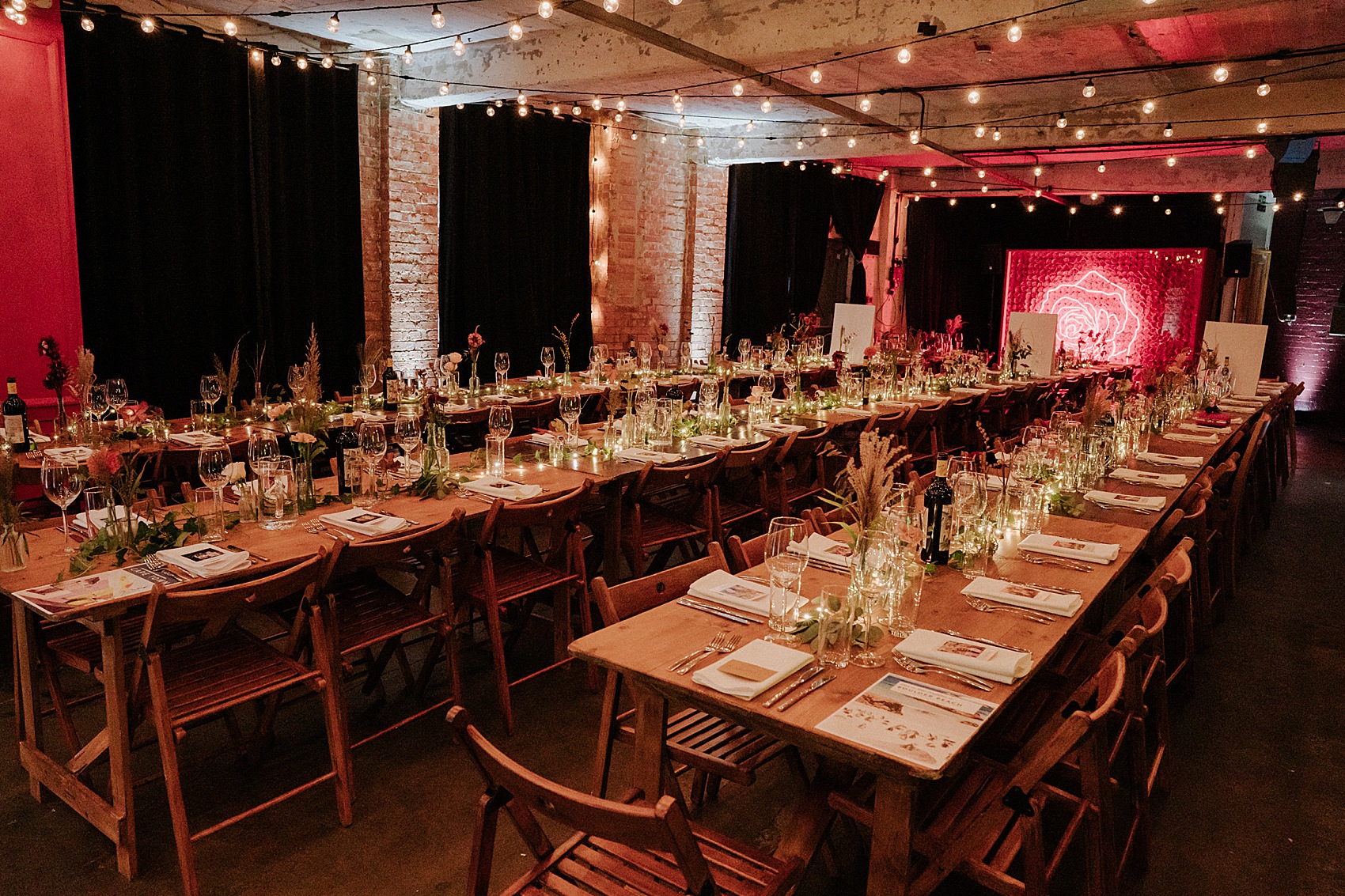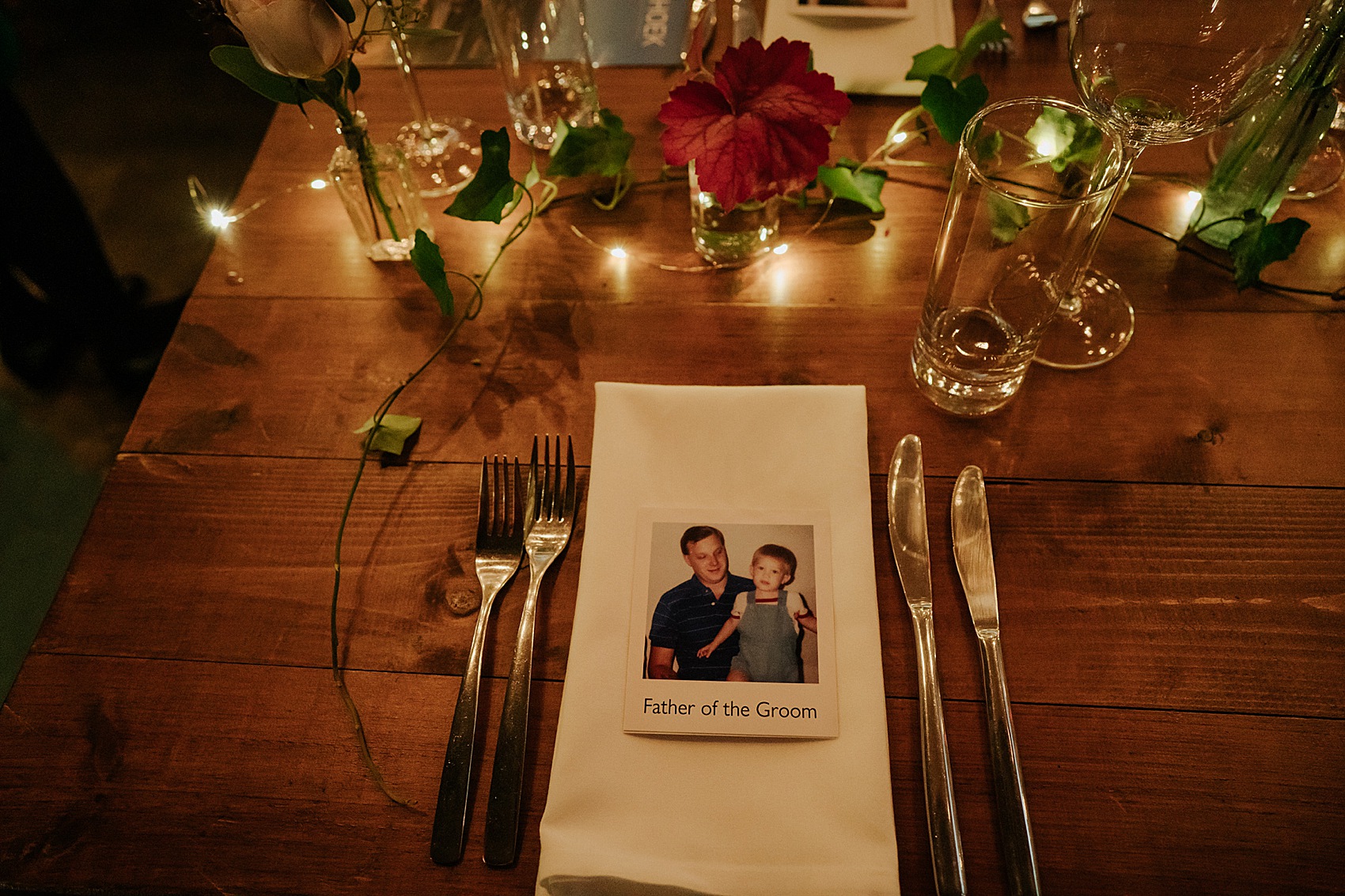 Warbutons Caterering cooked and served a wonderful meal for everyone, and also took care of bar management, too. After dinner there was also cake, which had been lovingly made by Martin's mum. There were two tiers of fruit cake, and one of lemon drizzle, iced and decorated with delicate sugar flowers.
"Paul was wonderful to work with. His food is incredible, the staff are superb, and they were able to provide all of the tables, chairs and bar equipment for us which helpfully reduced the number of suppliers we had to work with. Also, importantly, he is transparent about costs."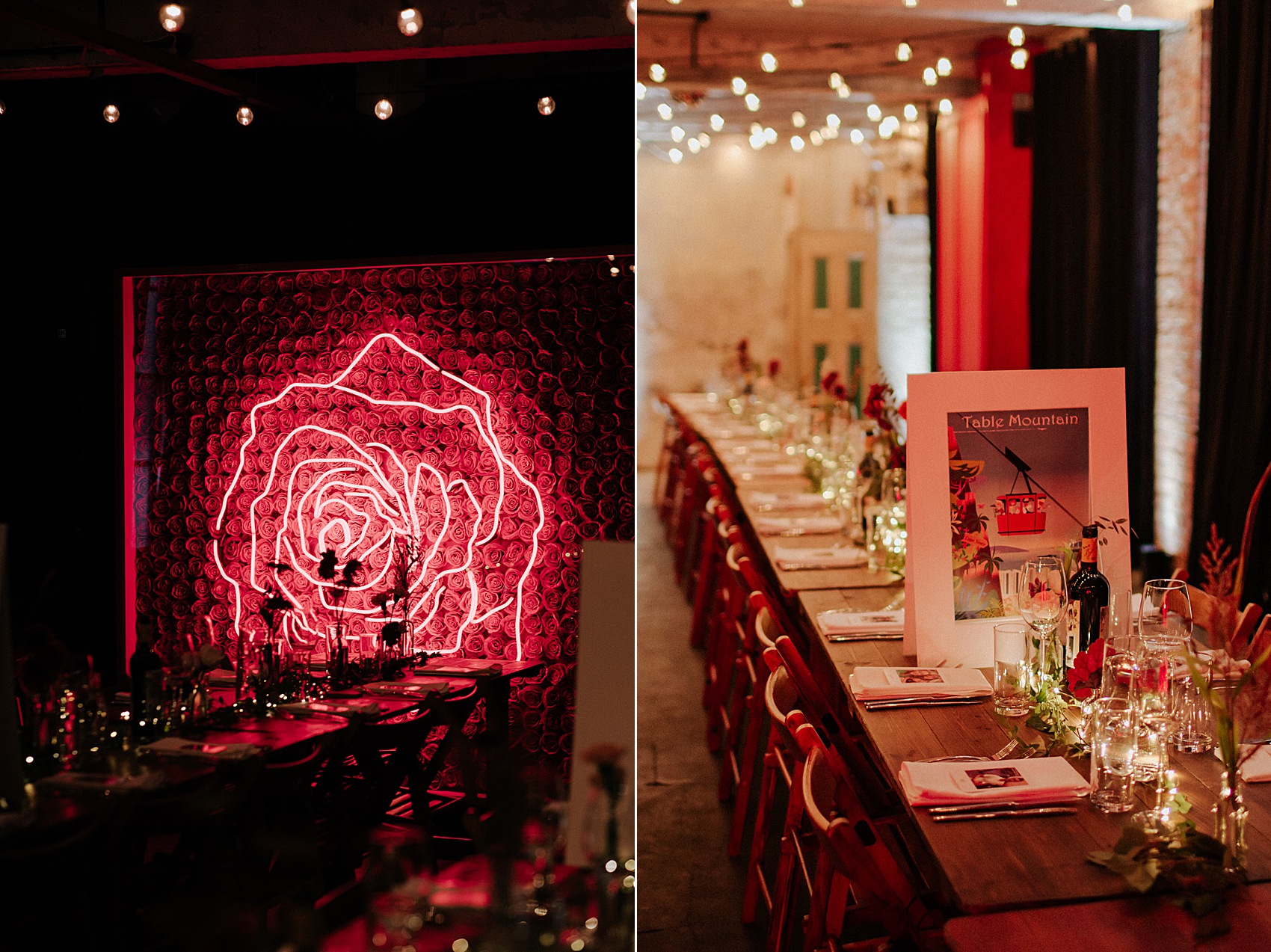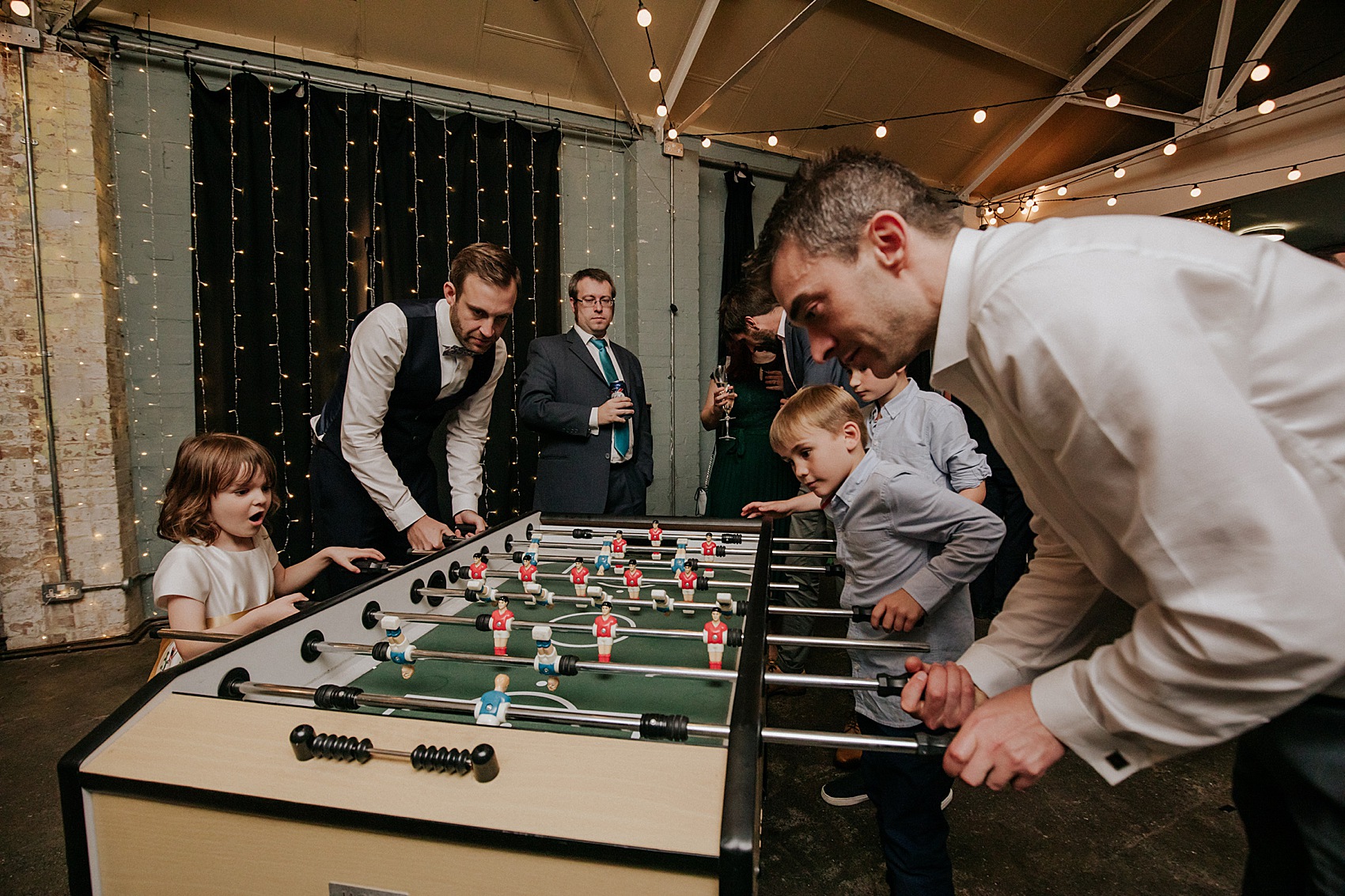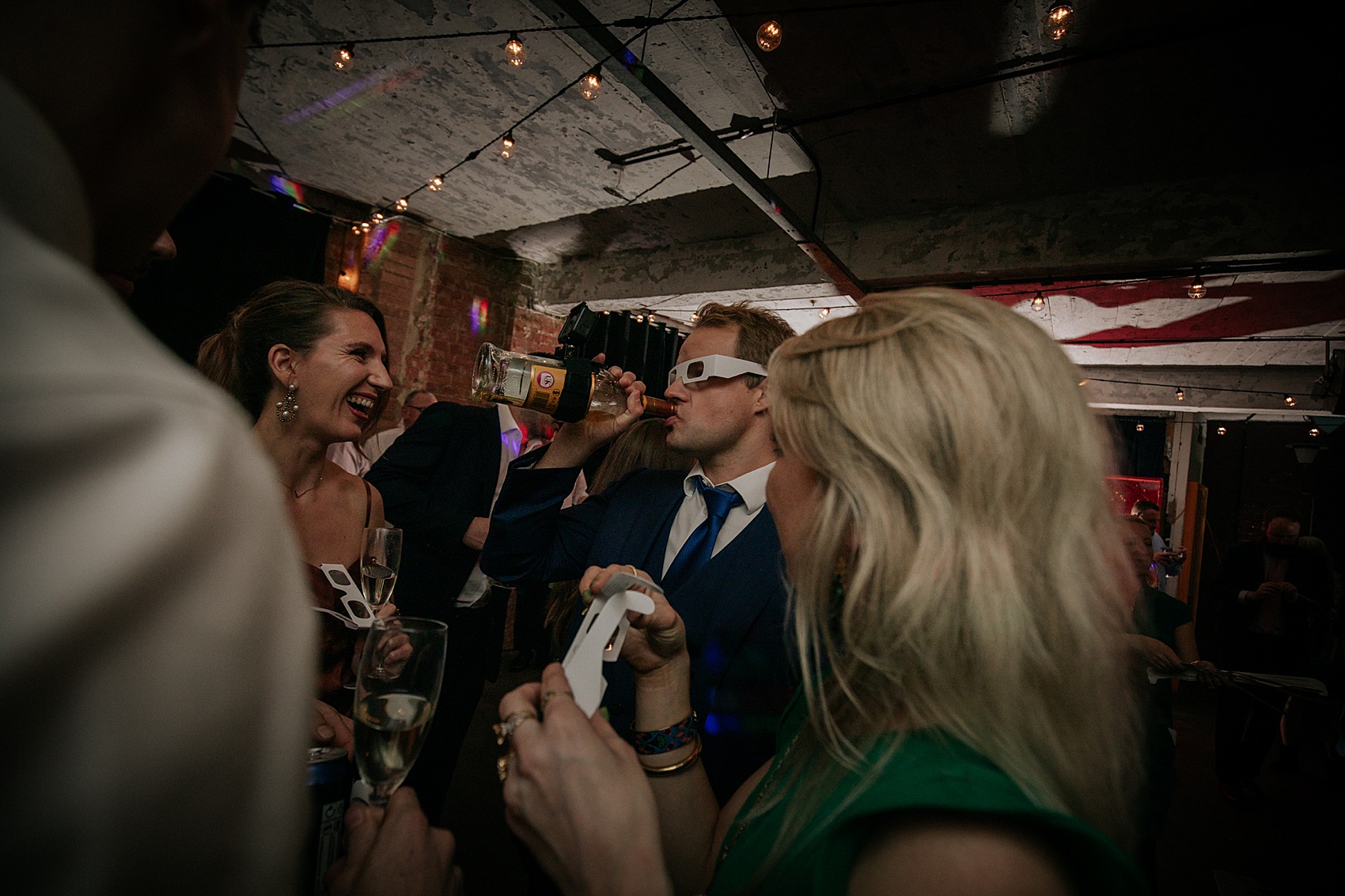 Ahead of their first dance, Esther and Martin gave guests a pair of rainbow heart light diffraction glasses to wear, and they stepped out together to You've Got the Love by Candi Staton.
"Music was by Disco Wed. Paddy was great – I gave him a general guide to the music we like and the music we don't, and he absolutely smashed it out of the park. No needless chat, no wedding music. The dancefloor was full all night, which was exactly what we wanted."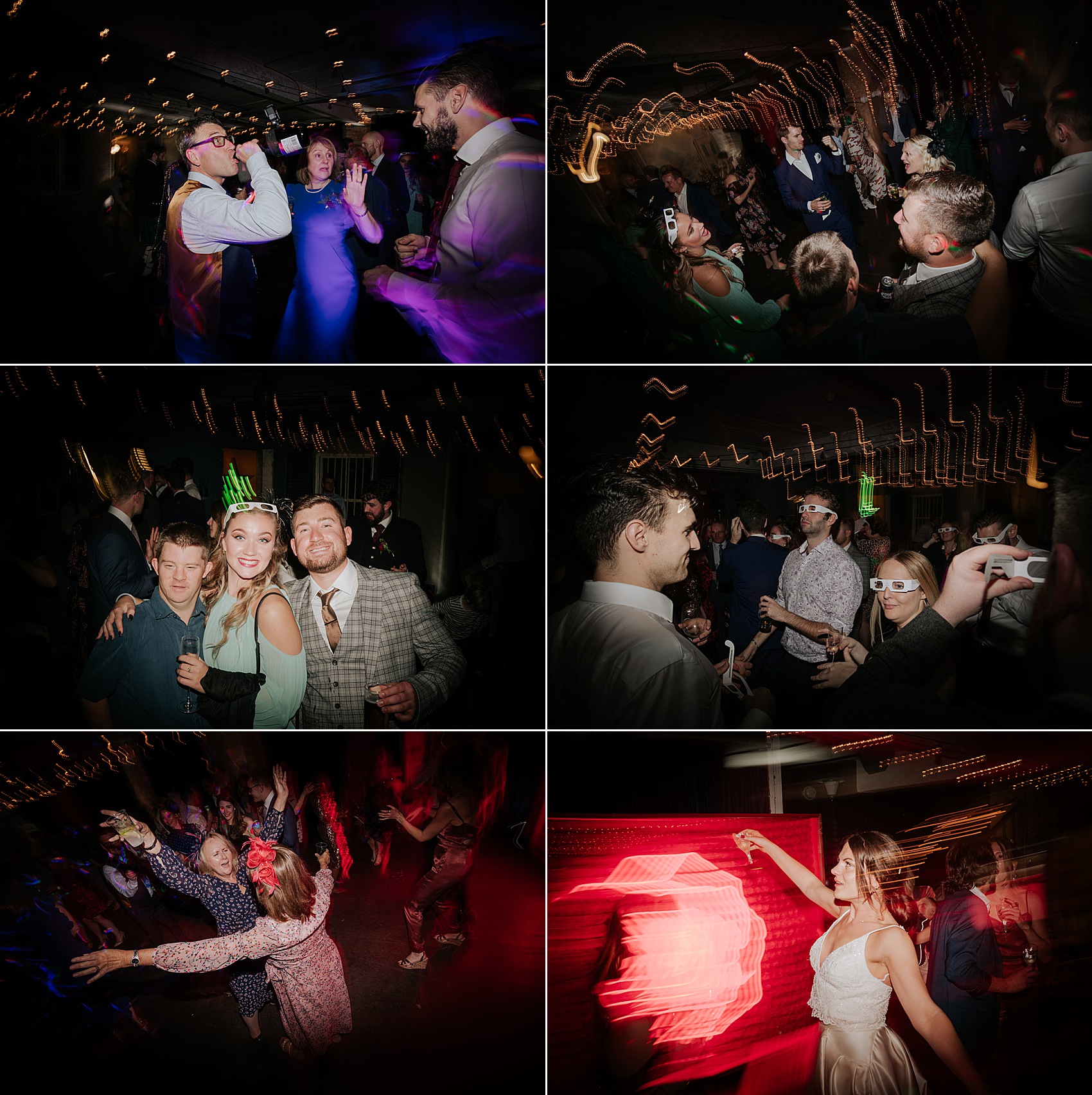 Words of Wedded Wisdom
"Do what you want. If you want women make speeches, then do it (it meant a lot to us to hear women's voices at our wedding), if you want to use venues you're not sure Aunty Bev will like, do it! A lot of the compliments we received about the day were about how it reflected us, and more to the point, it meant we absolutely loved the day!"
Explore superb suppliers and beautiful venues in our Little Book Wedding Directory
"Also, timelines – work it out carefully, think about when you want your party to end. We wished we had another hour or two! 
Also, also, we had wonderful suppliers. Make sure you do, too, as it makes everything much, much easier and much less stressful when those relationships work."
Wasn't that so special and beautiful? Thank you so much Esther and Martin, it's been wonderful to enjoy your day – also through the lens of these exquisite images by Jo from Joasis Photography. Thank you, Jo!
With love,
Laura